October 7, 2010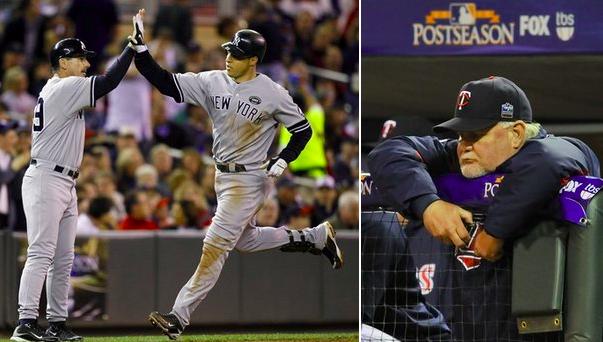 Sigh.
Everything was perfect last night, except for that damn final score. I arrived at the jam-packed Kiernan's Irish Pub in time to see the final three innings of Roy Halladay's no-hitter, eventually made my way to fantastic Target Field seats just past third base, sat in gorgeous weather at a ballpark that was absolutely rocking ... and drove home depressed after watching a story that I've seen too many times before.
Some disjointed notes on another gut-wrenching playoff loss to the Yankees ...
• I didn't like Orlando Hudson bunting after Denard Span singled to lead off the game, just as I didn't like the various times when that situation played out the same way in previous playoff games against the Yankees. Giving up an out and playing for one run just doesn't make much sense when you're facing such a potent lineup. With that said, it's ultimately a pretty marginal situation strategically and I didn't have any major issues with the in-game tactics.
• On the other hand, I thought Joe Girardi did the Twins a favor several times with his bullpen management, first by leaving CC Sabathia in despite having David Robertson all warmed up in the sixth inning and then by using Boone Logan in a way that led to Jim Thome coming to the plate as the go-ahead run versus a righty. Sabathia wriggled out of his jam with the game still tied and Thome struck out, but Girardi's moves in those spots were questionable at best.
• Francisco Liriano was thisclose to out-dueling Sabathia and putting together a great playoff debut, cruising through five very impressive innings, but things unraveled in the sixth inning. Mark Teixeira, Alex Rodriguez, Robinson Cano, and Jorge Posada doing some damage is far from surprising, but Curtis Granderson tripling off the wall in right-center field was shocking given his career-long struggles against lefties and Liriano's dominance against lefties.
• Jesse Crain was knocked around in his final appearance of the regular season Friday, giving up four runs against the Blue Jays, but prior to that he had a 1.06 ERA and .171 opponents' batting average in 51 innings spread over his previous 54 appearances. Perhaps his ugly end to the regular season was a sign that he'd serve up a back-breaking homer to Teixeira, but it would be crazy to not trust a guy who had one bad game following four months of dominance.
• Hudson has made his share of head-scratching plays on both sides of the ball all season, but his going from first to third on Joe Mauer's third-inning squibber showed a ton of smarts and hustle. And it ultimately led to a run.
• In the seventh inning Mauer slashed a line drive into the foul territory along the left-field line and a guy sitting in the row in front of me reached out and snatched it out of the air with his bare hand as if he were catching a set of car keys someone had tossed him underhanded. It sounded like a cross between a gun shot and slapping a slab of meat, yet when asked a few minutes later if it hurt his response was simply: "A little bit."
• Pinch-running for both Jason Kubel and Danny Valencia in the eighth inning is an example of over-managing. Kubel wasn't even the tying run and Valencia is certainly fast enough to run for himself. And if the Twins were going to win the game there was a good chance those two spots in the batting order would come up again, at which point Jason Repko and Matt Tolbert are hitting. A huge deal? No, but needlessly finicky.
• Thome has been so amazing that it felt weird to see him fail to come through in a couple big spots. He struck out on a ball in the dirt with two men on in the seventh inning and popped up to end the game after the umpires gifted the Twins a 28th out. J.J. Hardy also came up empty in two key spots, including whiffing off an incredibly wobbly Sabathia with the bases loaded. They weren't short on chances, but the Twins went 0-for-7 with runners in scoring position.
• Tonight's matchup: Andy Pettitte (129 IP, 4.05 xFIP) vs. Carl Pavano (221 IP, 4.01 xFIP)