December 17, 2010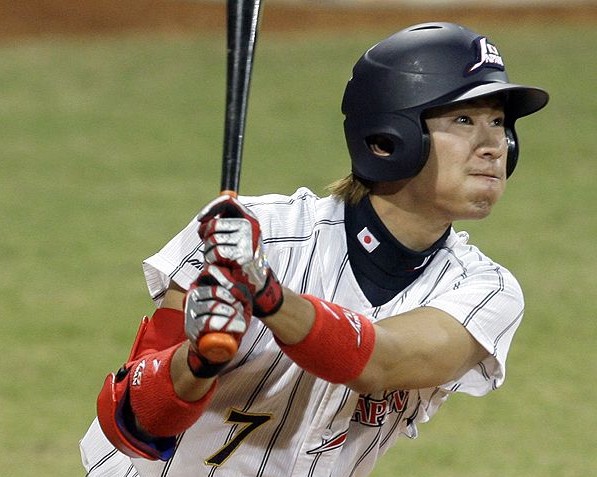 By trading J.J. Hardy to the Orioles last week the Twins signaled that they were all but certain to sign Tsuyoshi Nishioka after bidding $5.3 million last month to secure the Japanese middle infielder's exclusive negotiating rights. And sure enough the 26-year-old switch-hitter arrived in Minnesota yesterday to undergo a physical exam in preparation for signing what's expected to be a three-year, $9 million deal with a $4 million team option or $250,000 buyout for 2014.
General manager Bill Smith has made it clear that the Twins targeted Nishioka largely due to Ron Gardenhire wanting more speed in the lineup, and despite his excellent range defensively Hardy is among the slowest shortstops in baseball. Whether that focus makes sense following the team's most successful three-year stretch offensively since the early '90s is questionable, but there's no doubt that going from Hardy to Nishioka is a huge speed upgrade.
Nishioka averaged 28 steals per season in Japan, including 22 this year, but his career success rate on the bases is a poor 72 percent, which is below the standard break-even point where attempting steals is actually beneficial. His raw speed, while far superior to Hardy, is generally considered very good rather than elite. As for the rest of Nishioka's game, like past Japanese players coming to America projecting his performance requires a lot of educated guesswork.
Nishioka is coming off a career-year, winning the batting title with a .346 average and notching 206 hits in a 144-game season for the most since Ichiro Suzuki in 1994. However, he entered 2010 as a career .280 hitter in six seasons and batted just .260 in 2009. His breakout season was fueled by a .395 batting average on balls in play, which simply isn't sustainable. His career average on balls in play is .327 and no MLB hitter this decade has a career mark above .360.
Based on his track record the Twins should be happy if Nishioka can manage a batting average around .275, which should lead to a solid on-base percentage assuming he's able to maintain some of the plate discipline he displayed in Japan. He drew 79 walks this year and 67 walks in 120 games last year while posting a fairly low strikeout rate. Based on previous hitters going from Japan to MLB his walks will fall and his strikeouts will rise, but a .330 OBP seems doable.
Power hitting in Japan hasn't translated well to MLB, as only Hideki Matsui has been able to maintain any kind of significant pop following the move and even he went from 36 homers per 150 games there to 23 homers per 150 games here. Guys like Kaz Matsui, Akinori Iwamura, and Kosuke Fukudome went from sluggers there to singles hitters here, and even Suzuki was good for 17 homers per season in Japan.
Projecting a similar power dropoff for Nishioka makes sense, except he never actually showed much power even in Japan, with a career-high of 14 homers and just 11 homers in 596 at-bats this year. In fact, among the nine prominent Japanese hitters to come to MLB thus far only So Taguchi did it after showing Nishioka-like power over there, and he went on to smack a total of just 19 long balls in 1,369 at-bats for the Cardinals, Phillies, and Cubs.
Nishioka will be hard-pressed to reach double-digit homers for the Twins and a .400 slugging percentage probably represents his realistic upside, with a mark in the .360-.375 range more likely. Add it all up and an optimistic but reasonable projection would look something along the lines of .275/.335/.375, which is very close to the .268/.338/.372 mark by Orlando Hudson this year and similar to the .281/.345/.385 career mark of another familiar name, Jason Bartlett.
Of course, Kaz Matui's career MLB mark of .267/.321/.380 also puts him squarely in that same company and he was vastly more productive than Nishioka in Japan. Nishioka has a .790 OPS for his career, including .905 in his batting title-winning breakout. Matsui averaged a .920 OPS during his final five seasons in Japan, batting .320 with 25 homers and 25 steals per year. And then he hit .267 with a .701 OPS in MLB, so even .275/.335/.375 by Nishioka is far from certain.
Matsui also provides a cautionary tale when it comes to expectations for Nishioka defensively. Nishioka has won the Japanese equivalent of a Gold Glove award three times, winning as both a shortstop and a second baseman, but Matsui was a four-time Gold Glove shortstop in Japan and proved to be awful at the position in MLB, very quickly getting moved to second base and posting an Ultimate Zone Rating of 12.6 runs below average in 968 total innings at shortstop.
In an effort to learn more about Nishioka following the Twins' winning bid last month I talked to several people who frequently saw him play in Japan, including a pitcher who faced him on multiple occasions, a scout who filed reports on him to an MLB team, and a writer who tracked him closely. They all had doubts about Nishioka's ability to thrive as an MLB shortstop due to his arm strength and the difficult transition Japanese fielders face going from turf to grass.
In signing him the Twins seem to recognize those potential issues, indicating that they'll take a look at Nishioka alongside Alexi Casilla in spring training before deciding who plays shortstop and who plays second base. Since he doesn't project as an impact hitter defense will go a long way toward determining Nishioka's overall value, and for their $15 million investment to be a good one the Twins likely need him to be capable at shortstop or a standout at second base.
If he can hit .275 or so with a solid on-base percentage and be an asset on defense the Twins will have added a nice all-around player at a premium position smack in the middle of his prime years and under team control at reasonable salaries through 2014. Nishioka definitely appears capable of that if his transition to MLB goes smoothly, but his gaudy 2010 totals dramatically overstate his upside and his arrival brings at least as much uncertainty as excitement.