January 15, 2011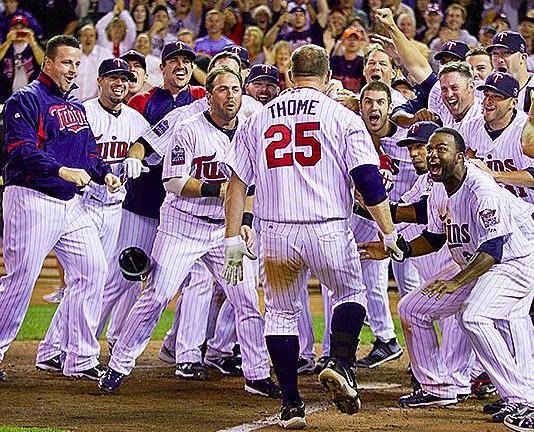 Jim Thome shopped around this offseason, with his agent floating talk of a two-year contract and the Rangers emerging late as legitimate suitors for the 40-year-old slugger, but yesterday Thome turned down Texas' offer and returned to Minnesota for one year and just $3 million in upfront money. Signing him for $1.5 million plus incentives was the best move any team made last winter and the same may be true of keeping him for $3 million plus incentives this winter.
As a left-handed hitter who struggles versus left-handed pitching Thome isn't quite the perfect fit for the Twins' lefty heavy lineup, but ultimately handedness should take a clear backseat to overall production and Thome batted .283/.412/.627 with 25 homers and 60 walks in 340 plate appearances last season to join Justin Morneau, Josh Hamilton, Miguel Cabrera, Joey Votto, and Albert Pujols as the only MLB hitters with a 1.000 OPS in at least 300 trips to the plate.
Thome is unlikely to repeat that MVP-caliber production because no 40-year-old hitter has ever come within even 100 points of the 1.039 OPS he had at age 39, but he could lose 200 points of OPS this season in what would be the worst full season of his career and still be the Twins' third-best hitter. He's an elite bat coming off an amazing year in a part-time role and the Twins re-signed him for less than they paid Nick Punto last season. Perfect fit? No. Great move? Yes.
Thome started just 34 of 84 games prior to Morneau's concussion on July 7, so Thome's return combined with a healthy Morneau would create the same lineup logjam with five good hitters (Thome, Morneau, Delmon Young, Michael Cuddyer, Jason Kubel) for just four spots. And if healthy Morneau is going to play nearly every day, so that would mean one of Thome, Young, Cuddyer, or Kubel on the bench for each game.
Against right-handed pitchers the simple solution would be to bench Cuddyer, who batted just .265/.307/.393 versus righties last season and hit a combined .261/.319/.423 off them during the past three years. In theory sitting Cuddyer against most right-handers should be an easy call, but Ron Gardenhire has shown nothing to suggest he'd be willing to platoon him and in fact Cuddyer has almost never been a healthy scratch at any point in the past five seasons.
My hope is Gardenhire will realize Thome is so spectacular versus righties--clobbering them to the tune of .302/.455/.698 last year and .266/.396/.543 from 2008-2010--that he must be in the lineup whenever one is on the mound, but that certainly wasn't the case before Morneau's concussion forced Thome into a bigger role. Assuming everyone is healthy, any game Thome is not starting versus a righty is a game the Twins likely didn't put their best lineup out there.
Choosing a lineup against righties will be tough for Gardenhire because of the logjam created by Thome's return, but choosing a lineup against lefties will be tough because the Twins simply don't have enough capable right-handed bats right now. Thome hit .228/.321/.481 off lefties from 2008-2010, which is mediocre at best for a designated hitter yet dwarfs Kubel's measly .233/.312/.351 line off lefties during that same time.
Much like Jacque Jones before him Kubel should almost never be in the lineup against lefties, but he started 38 of the team's 56 games versus a left-hander last season and had 183 plate appearances off southpaws overall. Thome is a far better option than Kubel versus lefties, but doesn't actually qualify as a good option versus them and sitting Thome when southpaws start would make it easy to keep the 40-year-old well rested as he joins the 600-homer club.
Bringing back Thome for $3 million in guaranteed money is a no-brainer, but the Twins will only receive the full benefit of the great move by actually playing him over Cuddyer against righties. And while bringing back Thome at a bargain price doesn't do anything to balance their lineup versus left-handed pitching, the Twins should have been looking for a right-handed bench bat anyway and can still address the issue by signing any number of free agents at minimal cost.
He's not the perfect fit, but retaining a middle-of-the-order monster for the 100 games started by righties is a lot more important than finding a solid right-handed bat capable of beating up lefties for the other one-third of the schedule. And the great move can become even better if Gardenhire starts Thome against righties more often than he did prior to Morneau's concussion and the Twins add a righty bench bat decent enough that Thome isn't needed versus lefties.