January 24, 2011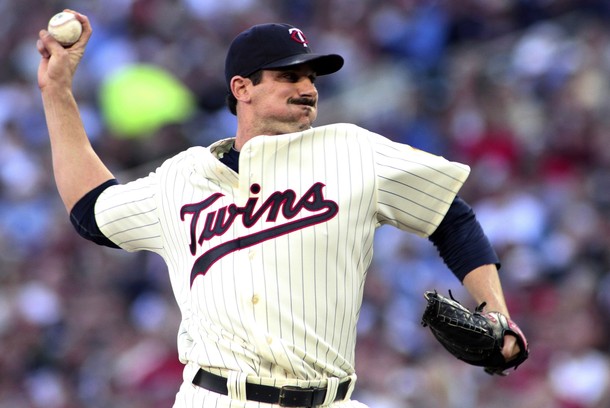 For seemingly the past month various reports described Carl Pavano as being on the verge of re-signing with the Twins and finally Wednesday the two sides officially agreed to a two-year, $16.5 million contract that includes $500,000 in performance bonuses. He'll receive $8 million in 2011 and $8.5 million in 2012, and each season can also earn $100,000 bonuses for reaching 190 and 200 innings as well as $150,000 bonuses for reaching 210 and 220 innings.
Pavano is 35 years old with an infamously lengthy injury history and his 4.8 strikeouts per nine innings last season was the fifth-lowest rate in baseball among the 92 pitchers to qualify for the ERA title, so making a multi-year commitment to him was hardly a no-brainer despite a strong 2010. In fact, last season was just the second time in Pavano's career that he's thrown more than 100 innings with an ERA under 4.00, with the first coming way back in 2004.
And beyond the considerable risk involved in committing to Pavano for his age-35 and age-36 seasons, the Twins also would've gotten two high draft picks as compensation had he signed elsewhere. Those picks carry significant value and should be factored into any analysis of the signing. However, once the Twins decided that re-signing Pavano was the smart idea bringing him back for two years and a slight salary increase is a clear win from their point of view.
Pavano was generally considered the second-best starter in a pretty weak free agent crop, so the right-hander and his agent decided not to engage in any serious negotiations until Cliff Lee signed, no doubt hoping that teams would turn their attention to Pavano after missing out on Lee. On the surface that seemed like a sound plan and it may indeed have been the right move, but the reported interest in Pavano definitely shrunk as the offseason went along.
One problem for Pavano was that several of the teams bidding on Lee didn't really view him as a viable fallback option, so little changed when Lee came off the market on December 15. For instance, the Nationals were constantly linked to Pavano early on, but general manager Mike Rizzo later insisted that they were never all that interested. Another problem was that trading for Zack Greinke on December 19 took the Brewers out of the running for Pavano.
And so once the December reports of Pavano seeking a three-year, $30 million contract from a half-dozen serious suitors died down the Twins welcomed him back on a two-year deal worth slightly more annually than the $7 million he earned after accepting arbitration and re-signing last winter. I'm not completely convinced that bringing back Pavano was the right move, but if the Twins are then the terms of his return are likely pretty close to their best-case scenario.
There's no doubt that acquiring Pavano from the Indians in mid-2009 for prospect Yohan Pino is one of the best trades of the Bill Smith era. I praised the deal at the time and it worked out even better than expected, as Pavano pitched well down the stretch in 2009 and then had the second-best season of his career after re-signing for $7 million. However, making a good move to acquire a player doesn't always mean it's an equally good move to keep that same player.
For example, swapping Bobby Kielty for Shannon Stewart in mid-2003 worked out extremely well for the Twins, but then re-signing Stewart to a three-year, $18 million contract proved to be a mistake as he hit just .287/.345/.405 while playing only 268 of 486 games due to injuries. Trading for Pavano was smart, re-signing him for 2010 was a good move that turned out very well, and re-signing him again is a reasonable risk, but those are three separate decisions.
As for what the Twins figure to get out of Pavano in 2011 and 2012, his injury history makes it tough to say with any kind of certainty. He hasn't skipped a turn in the rotation for two years and ranks 19th among all MLB pitchers with 420 innings during that time, but his 4.39 ERA is the second-worst in that group, his 3.98 xFIP ranks 35th among all pitchers with 300 or more innings since 2009, and Pavano threw a grand total of just 146 innings from 2005-2008.
All of which paints Pavano as more of an innings-eating No. 2 starter than an ace, which is fine given that Francisco Liriano somewhat quietly reemerged as one of the game's elite starters last year, but Pavano's declining strikeout rate could make it difficult to maintain his 3.97 ERA in 44 starts since joining the Twins. Pavano has never been a strikeout pitcher, but his whiffs per nine innings went from 6.6 in 2009 to a career-low 4.8 in 2010 for a dropoff of 27 percent.
Pavano made up for the decrease in missed bats by inducing a career-high 51 percent ground balls, but was also helped by a very strong defensive middle infield of J.J. Hardy and Orlando Hudson, both of whom will be elsewhere in 2011. Obviously the Twins believe the new middle infield duo of Tsuyoshi Nishioka and Alexi Casilla will be strong too, but no one is even sure which guy will play which position yet and the odds are against them being as effective.
In other words, Pavano trading strikeouts for ground balls worked last season and is capable of being a recipe for success in 2011 and 2012 as well, but the change in approach does leave him with a much slimmer margin for error and causes him to rely very heavily on the new-look middle infield to turn those ground balls into outs like Hardy and Hudson (and Nick Punto, who also won't be back with the Twins) did so well.
I've gone back and forth on whether the Twins should re-sign Pavano, leaning slightly toward taking the picks and letting him walk, but $16.5 million for two years is reasonable enough to basically make it a toss-up in my mind. Ultimately the success of the deal depends on Pavano staying healthy, continuing to make up for a lack of missed bats with grounders, and avoiding a mid-30s decline, but what the Twins do with their rotation surplus will also play a big factor.
Pavano's return means the Twins have six starters for five rotation spots and 2009 first-round pick Kyle Gibson should be ready for a call-up at some point this season. It's a nice problem to have, of course, and re-signing Pavano will look even better if the Twins are able to address other needs by either trading one of Kevin Slowey, Nick Blackburn, Scott Baker, and Brian Duensing for good value or shifting someone to the question mark-filled bullpen with success.