January 26, 2011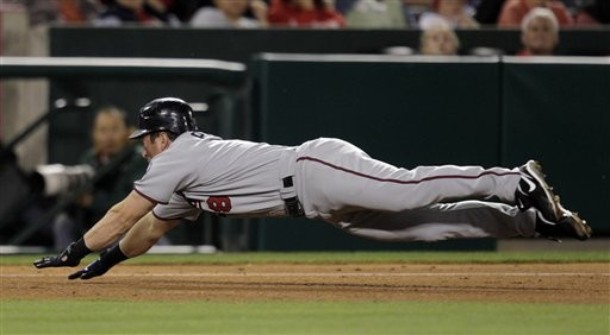 Last week Nick Punto left the Twins as a free agent to sign a one-year deal with the Cardinals and in doing so provided perhaps the most obvious example of the front office overruling the manager's wishes during Ron Gardenhire's decade-long tenure in Minnesota. Some day when Gardenhire retires and is asked about his favorite players I'll be shocked if he doesn't mention Punto right alongside stars like Torii Hunter and Joe Mauer.
As a diminutive, punchless infielder with a great glove and far more frenetic energy than actual talent Punto represents everything Gardenhire looks for (and tends to significantly overrate) in a non-star. No other manager would've given Punto an average of 434 plate appearances per season for a six-year span in which he hit .248/.323/.325 and had a sub-.650 OPS four times. Since his Twins debut in 2005, no MLB player has more plate appearances with a lower OPS.
Some of that can be blamed on the front office, of course, as they re-signed him to a two-year, $8.5 million contract the last time Punto was a free agent following the 2008 season. He hit .232/.328/.291 for that money, posting the worst slugging percentage and third-worst OPS in all of baseball, and Gardenhire wrote him into the lineup enough for Punto to rack up 728 plate appearances even while spending four different stints on the disabled list.
In an offseason full of difficult decisions for the Twins declining their $5 million option on Punto for 2011 and giving him a $500,000 buyout instead has to rank as the easiest, and Gardenhire expressing a desire to bring him back was equally predictable. My assumption was that they'd try to re-sign him at a lesser salary, particularly given the question marks surrounding the new middle infield duo of Tsuyoshi Nishioka and Alexi Casilla, but clearly that wasn't the case.
Not only did Punto leave the Twins for the Cardinals, he did so for a one-year deal worth just $750,000. He earned more than $12 million from 2007-2010 and the Twins gave him $500,000 to avoid paying Punto another $5 million in 2011, so the fact that $750,000 was enough to go elsewhere after being in Minnesota since arriving in 2004 as part of the Eric Milton trade with the Phillies suggests zero effort was made to re-sign him despite Gardenhire's wishes.
Maybe the Twins let Punto go without a fight because they're confident Matt Tolbert or Trevor Plouffe can step into the utility man role. Maybe the Twins let him go without a fight because it was the only way to keep Gardenhire from finding ways to get Punto into the lineup. Or maybe it was a little of both, and after seven years, $14 million, and 2,700 plate appearances they'd simply had enough. Whatever the case, it's a mistake. Or at least it's a mistake for $750,000.
Punto has an awful bat and an excellent glove, which makes him the epitome of a utility man. When that type of player is earning $4 million and getting 435 plate appearances he drags a team down, which is why Punto (and Gardenhire's over-reliance on Punto) has been the target of so much criticism over the years. However, when that same player is earning $750,000 and getting 150 plate appearances he can be a good fit in a limited role.
Punto has long been overpaid and overused, but that doesn't change the fact that the Twins' need for a utility man this season is higher than it has been in years and he's likely a better fit for the role than Tolbert or Plouffe. I understand not wanting to bring back Punto for $4 million and 435 plate appearances or because there's a superior alternative ready to take his place, but neither of those things are true.
He was available for around $350,000 more than the minimum salary and a total commitment that represents less than one percent of the Twins' payroll, and the options to replace him are Tolbert, a 29-year-old poor man's Punto on both sides of the ball, and Plouffe, a 25-year-old marginal prospect whose Triple-A numbers project his bat to be every bit as inept as Punto's. And neither of them will come close to matching his great glove.
There's a tendency to lump utility infielders together because none of them can hit and they all have nice gloves, but there's a difference between good defense and what Punto plays. Based on Ultimate Zone Rating per 150 games, since joining the Twins in 2005 he's 18.9 runs above average at shortstop, 20.0 runs above average at third base, and 4.6 runs above average at second base. In other words, stick Punto out there for a full season and he'll save 10-20 runs.
And that's compared to an average defender, which is already plenty valuable. Among all major leaguers with at least 1,000 innings at a position since 2005, his Ultimate Zone Rating per 150 games ranks No. 1 at shortstop and No. 1 at third base. So yes, he can't hit, but neither can Tolbert or Plouffe or most utility infielders. For that matter, Punto has a higher career OPS than Casilla. At least with Punto you're getting legitimately elite defense along with the bad bat.
To be clear, Punto is a bench-caliber player who's been paid and played too much, and most of the criticism leveled at him, Gardenhire, and the Twins' front office while he logged 2,700 plate appearances has been warranted. However, there's a big difference between someone being overpaid while playing too often and someone being useless, and for $750,000 and a reserve role Punto has value because he's simply likely to be better than Tolbert or Plouffe in 2011.