February 14, 2011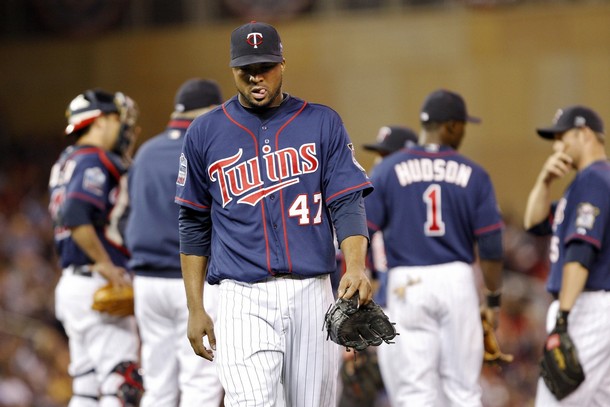 Joe Christensen of the Minneapolis Star Tribune caused a huge stir last week by reporting that the Twins "don't plan to sign Francisco Liriano long term" and added that he's "surprised how open they are" to the possibility of trading Liriano, citing discussions with "team officials" after the two sides avoided arbitration with a one-year, $4.3 million deal. According to Christensen "long-term talks went nowhere" and the Twins are worried about his ability to stay healthy.
Christensen is one of the best beat reporters in the country and rarely engages in speculation or rumors, so there's definitely plenty of fire behind the Liriano-related smoke. Tom Pelissero of ESPN1500.com later confirmed Christensen's report, talking to "baseball sources" who said the Twins are indeed willing to trade Liriano. After reading those two reports my first reaction was that the Twins are severely undervaluing what they have in Liriano.
He was impressive by any measure with 14 wins and a 3.62 ERA in 2010, but a deeper look at less mainstream stats shows a more dominant performance. He had the second-best strikeout rate in the league, ranked fifth in strikeout-to-walk ratio, was one of seven starters to induce more than 53 percent ground balls, allowed just nine homers in 806 plate appearances, and posted the best Expected Fielding Independent Pitching (xFIP) in the league at 3.06.
What kept Liriano from having a more easily recognized Cy Young-caliber campaign was a .331 batting average on balls in play that ranked as the second-highest mark in all of baseball and was 30 points higher than his career mark coming into the season. Whether you want to chalk that up to bad defensive support or bad luck he had an unsustainably high percentage of balls in play drop for hits and that made a great season appear more like merely a very good one.
And while the Twins have become more open to and interested in statistical analysis recently, they're still far more likely to focus on his 14-10 record and 3.62 ERA than his AL-best 3.06 xFIP or various other new-school metrics. If they viewed Liriano mostly through the eyes of modern statistical analysis, my guess is they'd have no interest in trading him and would do everything possible to sign him long term before his old-school numbers catch up to his new-school stats.
None of which means simply writing Liriano a blank check is the correct move either. Evaluating him based on last season's 14-10 record and 3.62 ERA is misguided, but concerns about his durability are valid. Liriano is now four years removed from Tommy John elbow surgery and his performance last year was that of someone fully recovered, but he did fade somewhat down the stretch following a heavy winter league workload and struggled for most of 2009.
However, since returning to the mound with a rebuilt elbow in 2008 he has 3.80 xFIP in 404.1 innings, which ranks 22nd among all MLB pitchers with at least 400 innings during that time. If the Twins want a No. 1 starter ... well, Liriano is it. He's been one of the top 20-25 starters in baseball since returning and performed as a top-10 starter in 2010. He's also still just 27 years old and, while reports have his asking price putting the Twins off, he's still relatively cheap.
Liriano will make $4.3 million this year and will be arbitration eligible for the third and final time next season, with a 2012 salary of at least $6 million and perhaps as much as $10 million likely if he turns in another strong performance. How much money and for how many years would be a fair offer to Liriano? Josh Johnson, who like Liriano has come back from Tommy John surgery to re-establish himself as an ace, recently signed a four-year, $39 million deal with the Marlins.
Johnson's contract covered his final two years of arbitration eligibility and his first two years of free agency. Two winters ago, before he was a Cy Young winner, Zack Greinke inked a nearly identical four-year, $38 million deal covering two arbitration years and two free agent years. One of Liriano's two remaining arbitration seasons is already locked in at $4.3 million, so using Greinke or Johnson as templates the Twins could offer about $34 million for three more years.
Now, if the Twins offered Liriano something along those lines and he turned them down and/or came back with a significantly higher counter-offer it makes sense that they'd begin to explore other options. However, if the Twins are just unwilling to pay the going rate for a young, elite starter's final year of arbitration and first two seasons of free agency they're either incredibly skeptical about Liriano staying healthy or drastically underrating his post-surgery performance.