March 21, 2011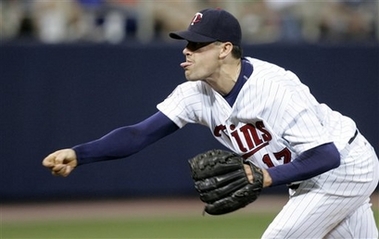 Pat Neshek has struggled to rediscover his velocity and overall effectiveness since undergoing Tommy John elbow surgery in November of 2008 and seemed destined for Triple-A following an unimpressive series of appearances this spring, but instead the Twins made a surprising move by deciding to simply let him go. They removed Neshek from the 40-man roster, which required placing him on the waiver wire, and the Padres claimed him yesterday.
In most cases a player is removed from the 40-man roster because the team needs their spot for another player, but that wasn't the case here. There was no follow-up move after Neshek was placed on waivers and general manager Bill Smith indicated that the 40-man roster spot might remain unfilled for a while. Beyond that, if the Twins did need to create an opening they could have cut Eric Hacker, who was a very questionable addition and is bound for Triple-A.
Had he been out of minor-league options Neshek being let go also would have been less of a surprise, but he does have an option remaining and could have been stashed at Triple-A while being called up or sent down at any point this year. In fact, that's likely what San Diego will do after claiming him. By allowing the Padres to take Neshek and his contract the Twins did save some money, but his $625,000 salary represents less than one percent of their total payroll.
This move wasn't made because the Twins needed a 40-man roster space or because Neshek couldn't be kept unless he was in the majors or because money was tight. No, this move was made because the Twins simply decided to give up on Neshek. He was a shell of his former self last season, which wasn't unexpected after missing all of 2009 following surgery, but Neshek's raw stuff wasn't much better this spring and he'd plummeted down the bullpen depth chart.
Clearly the Twins have zero faith in his ability to turn things around when they'd rather have $625,000 than another bullpen option at Triple-A and Neshek angering the team last year by going public about the handling of his finger injury perhaps made their decision even easier. Giving up on a 30-year-old reliever fighting to top the mid-80s with his fastball 28 months after elbow surgery is understandable, but the timing and motivation behind the move are odd.
Even before the surgery his fastball was typically in the high-80s, which along with a side-arm delivery made the Twins so skeptical of Neshek's dominance in the minors that they didn't give him an opportunity until 2006, shortly before his 26th birthday. Once in Minnesota the Brooklyn Park native showed that he belonged by quickly gaining Ron Gardenhire's trust as the primary setup man and throughout it all Neshek interracted with fans via his website and Twitter.
In other words, it was very easy to root for Neshek whether he was a standout minor leaguer deserving of a shot, a trusted member of the Twins' bullpen, a rehabbing Tommy John survivor, or a guy struggling to get back to where he was. I'm among the many Twins fans sad to see him go, but the Padres' unmatched success plucking relievers off the scrap heap for the past decade and baseball's most pitcher-friendly ballpark makes San Diego the ideal landing spot.
I'd love to see him turn things around, even for the Padres, but regardless of what happens with the rest of his career the excellent but short run Neshek had for the Twins should not be overlooked. From a call-up in July of 2006 to his elbow giving out in May of 2008 he had a 2.91 ERA and 142 strikeouts in 121 innings while opponents hit .188 with a .592 OPS. To put that in some context, Nick Punto's career OPS is .644.
He was death to right-handed batters, who couldn't square up a high-80s fastball coming out of nowhere from that crazy side-arm delivery and flailed away at his frisbee slider while hitting .176 with a strikeout in one-third of their plate appearances. Skeptics focused on his supposed vulnerability against left-handed batters and continued to bang that same drum long after it was proven inaccurate, as Neshek held them to a .211 batting average. He was great, period.
I'm not sure if Neshek will ever rediscover anything resembling his old level of effectiveness, let alone approach his previous dominance, and I'm not sure why the Twins weren't more willing to show a bit of additional patience when there was absolutely nothing or no one forcing them to reach that verdict quite yet, but it was an awful lot of fun to watch while it lasted and I'll be rooting for "Sideshow Pat" with the Padres.