April 15, 2011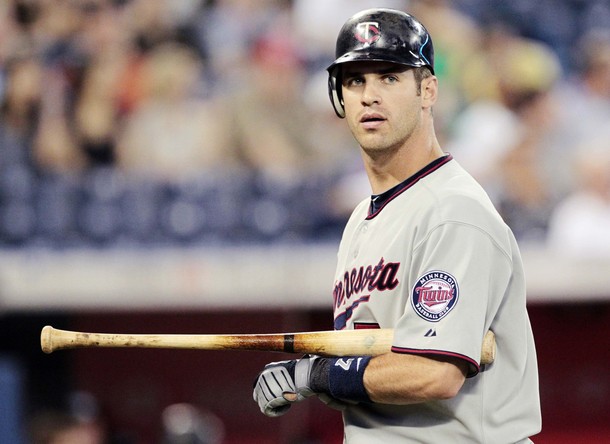 For a brief time last night Joe Nathan and Matt Capps both blowing saves against the Rays to waste Carl Pavano's eight shutout innings seemed like a pretty big deal. And then the Twins announced after the loss that Joe Mauer has been placed on the disabled list with what they are calling bilateral leg weakness. Details on the injury are somewhat scarce for now, but he'll be examined by a specialist in Baltimore early next week and it certainly doesn't sound good.
Mauer, who clearly hadn't looked like his usual self while hitting .235/.289/.265 in nine games, has apparently been experiencing significant soreness in his hip and shoulder in addition to his surgically repaired knee. According to manager Ron Gardenhire "compensating for weakness in his upper leg ... is causing a lot of other problems" and after initially trying to play through the pain Mauer asked out of the lineup last week before missing the past two games.
From asking around and doing a bit of Google digging there are some extremely scary aspects of bilateral leg weakness, but it doesn't make much sense to speculate on anything until he's seen the specialist next week and more details are known. However, it certainly doesn't sound like Mauer will be back from the disabled list anytime soon and unfortunately after trading both Wilson Ramos and Jose Morales the Twins are exceptionally short on catching depth.
Drew Butera will take over as the primary catcher and the Twins have called up minor-league veteran Steve Holm from Rochester to serve as his backup. Butera is very strong defensively and Holm had a couple brief stints in the majors with the Giants in addition to 11 seasons in the minors, but there isn't a worse catching duo in the big leagues and asking them to replace the best catcher in baseball represents just about the largest possible dropoff.
Butera has hit .194/.230/.284 in the majors after batting .214/.296/.317 in the minors, making him perhaps MLB's worst hitter, and Holm has hit just .249/.330/.380 in 170 games at Triple-A. Even if they collectively perform relatively well the Butera-Holm combo is likely at least 60 runs worse offensively per year than Mauer. Or at least a reasonably healthy Mauer, which despite the frequent criticisms of his durability is mostly what the Twins have gotten.
Since missing most of his 2004 rookie season after knee surgery Mauer has played an average of 134 games per year and his 3,494 plate appearances during that time lead all MLB catchers. He also leads all catchers in plate appearances since 2006, since 2007, and since 2008. Not all of those plate appearances have come at catcher, but he's ranked among the league's top five in innings caught in four of the past five seasons.
Mauer has seen 12 percent of his career action elsewhere, but that's common for good-hitting catchers in the AL. For comparison, Victor Martinez is at 12 percent and Jorge Posada is at 10 percent. Mauer's overall lack of durability has largely been overstated because every injury is a huge story and many people don't appreciate that standard catcher workloads involve taking off more games than other positions. Of course, none of that feels like it matters right now.