April 18, 2011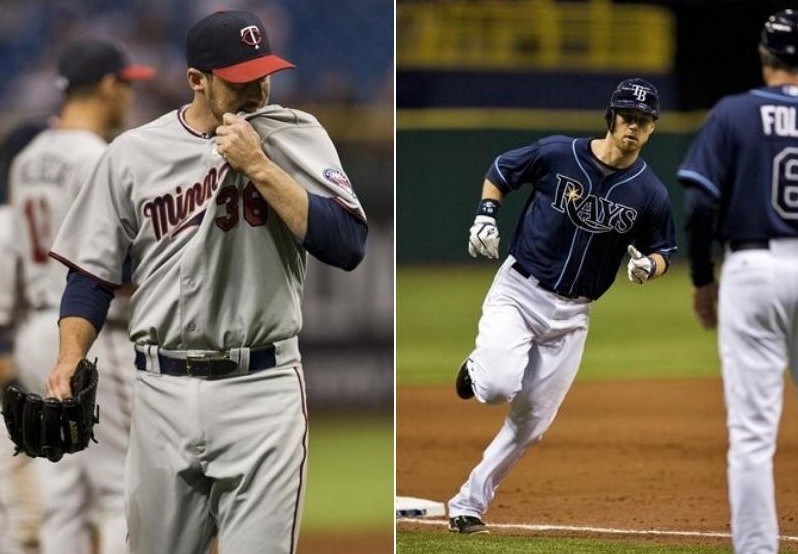 Joe Nathan reclaimed the closer role despite missing all of last season following elbow surgery and posting an 11.05 ERA with diminished velocity during spring training, but the Twins have now stripped him of ninth-inning duties after back-to-back blown saves against the Rays. Matt Capps, who joined Nathan in blowing a save Friday and also allowed a run in the eighth inning Saturday, will take over as closer.
Nathan has gradually increased his velocity after initially throwing in the high-80s during spring training, as his fastball clocked in at 88-91 miles per hour early on and has more often been at 91-93 miles per hour recently. That's still a significant dropoff from throwing 93-95 mph before surgery, but shaky command has contributed to Nathan's struggles every bit as much as lost velocity and both are to be expected from pitchers who undergo Tommy John surgery.
While much of the fan and media focus is on whether Ron Gardenhire should have handed the closer job back to Nathan right away, realistically his choice was between a high-leverage role or a low-leverage role. He could have started Nathan off as a middle reliever, giving him mostly inconsequential work in a Jeff Manship/Alex Burnett-like role. However, once he opted to give Nathan meaningful work resuming closer duties made as much sense as anything.
Capps could have begun the season closing, with Nathan setting him up, but leads are just as easily blown in the eighth inning and the closer role allowed Nathan to start innings fresh and know exactly when he'd be pitching. Gardenhire uses his closer in such a way that it restricts their overall workload to 65-75 innings, whereas through three weeks as a setup man Capps was on a 95-inning pace that the Twins wouldn't have wanted Nathan duplicating anyway.
Believing he should be brought back gradually in a low-leverage role was perfectly reasonable, but believing a high-leverage role was fine while also quibbling over closing or setting up was mostly pointless. If you thought he was ready for meaningful work, closing was logical. And if you thought he wasn't ready for closing Nathan should have been in middle relief, because the fact that you can't get a "save" in the eighth inning doesn't make the three outs any easier.
Whatever the case, it's clear now that Nathan wasn't ready for a high-leverage role 12 months after surgery. He resembles his old self more than Francisco Liriano or Pat Neshek did at this same stage of their Tommy John recoveries, but getting outs in the late innings of tight games is a tall order with a low-90s fastball and shaky command. In his first 130 post-surgery pitches, his fastball and slider were down 2.4 and 0.9 mph, and batters made 32 percent more contact.
If he can stay healthy and avoid setbacks Nathan will continue to add velocity and improve his command, but whether that means he'll eventually be ready to thrive again in the late innings is much less certain. In the meantime Capps will fill the same role he did in the second half of last year for the Twins and the previous three-and-a-half years for the Nationals and Pirates. He's a perfectly solid closer, but Capps shifting roles again creates a big hole to fill.
Gardenhire was willing to deploy Capps in just about any situation as a setup man, using him in both the seventh and eighth innings, bringing him into spots with men on base, and asking him to get as many as six outs. That will change now that Capps is a closer, as he'll mostly be limited to coming into the ninth inning with the bases empty to get three outs. That means 20 percent fewer innings for Capps, with that work and those jams going to someone else.
Presumably by stripping Nathan of closer duties Gardenhire is also taking him out of the mix for other high-leverage roles, at least for now. Glen Perkins and Jose Mijares are seemingly the leading candidates to move up the bullpen ladder, as Perkins has escaped from the doghouse by beginning the year with 7.2 shutout innings and Mijares, despite joining Nathan and Capps with a poor outing Saturday, has a 2.38 ERA in 110 career innings.
Of course, Perkins' track record suggests he wouldn't be able to hang on to a late-inning role for long and Gardenhire has been reluctant to rely on Mijares as much more than a situational left-hander, with his 54 appearances since the beginning of last year totaling just 37.2 innings. All of which leaves the door wide open for Jim Hoey to grab hold of a setup man role after the Twins called him up from Triple-A to replace Manship following yesterday's game.
Acquired from Baltimore as part of the J.J. Hardy deal, Hoey spent all of 2009 and 2010 in the minors following shoulder surgery in 2008.  He failed to beat out Manship for the final bullpen spot during spring training because of control problems and the coaching staff's familiarity with Manship, but Hoey has the hardest fastball in the entire Twins organization and piled up eight strikeouts versus just one walk in 6.2 innings at Triple-A to earn the call-up.
Prior to surgery Hoey appeared in 35 games for the Orioles in 2006 and 2007, averaging 95.5 mph with his fastball, and four seasons later the 28-year-old right-hander has recovered all of that velocity and then some. Hoey had a 3.25 ERA, .196 opponents' batting average, and 70 strikeouts in 53 innings between Double-A and Triple-A last year, but also walked 34 batters and uncorked seven wild pitches.
His mid-90s fastball and hard slider give Hoey the raw stuff to dominate in the late innings, but for that to matter he must throw strikes more consistently than he's been able to so far before or after surgery. Counting on improved control at age 28 is usually foolish, but pitching coach Rick Anderson is certainly the man for the job even if most of his staffs full of strike-throwers over the years have relied on fastballs as slow as Hoey's slider.