May 2, 2011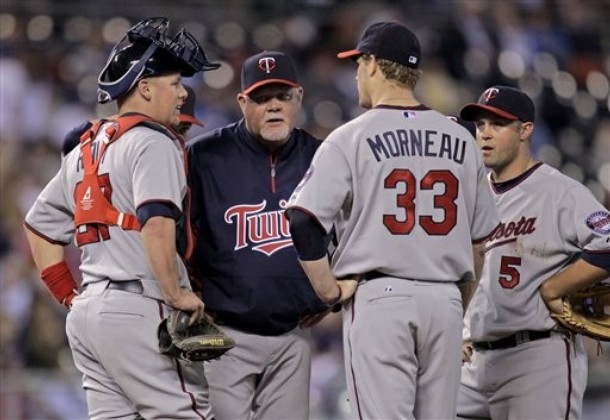 Kevin Slowey is scheduled to make what could be his final minor-league rehab outing tonight at high Single-A, as the Twins are apparently stretching him out to possibly replace Francisco Liriano in the rotation. Ron Gardenhire hinted during a radio interview Friday afternoon that Liriano might only get one more start to save his rotation spot, but then backed off that stance somewhat while still making it clear that the Twins are seriously considering a change.
No one has praised Liriano's performance last year more than me, but instead of repeating his great secondary numbers with some better luck to take the big step forward into clear-cut ace territory he's taken several huge steps backward. He hasn't been as terrible as the 9.13 ERA suggests, but Liriano has been legitimately awful and compared to last year his strikeouts are down 38 percent, his walks are up 115 percent, and his fastball is missing two miles per hour.
Whether you thought Liriano's performance last year was ace-caliber because of his secondary numbers or merely very good because of his 14 wins and 3.62 ERA, it should be pretty obvious that the pitcher we saw in 2010 isn't the same pitcher we've seen through five starts in 2011. Not only do the Twins look smart for balking at a long-term contract extension for Liriano this offseason, he's been so bad and so different that his health is now a major question mark.
I long for those annoying-at-the-time arguments about whether the Twins' ace was Liriano or Carl Pavano. Liriano's issues are more extreme and have gotten more attention, but Pavano has been plenty terrible himself with a 5.84 ERA through six starts. More worrisome than the bloated ERA is that his strikeout rate continues to plummet, dropping from 7.2 per nine innings in 2009 after the Twins acquired him at midseason to 4.8 last year and now 4.1 this season.
For some context, Nick Blackburn's career rate of 4.3 strikeouts per nine innings is dead last among all active MLB pitchers with 500 innings. Pavano, like Blackburn, doesn't induce enough ground balls to thrive with that few missed bats, particularly with a shoddy defense behind them. As a pitching staff the Twins have managed just 5.8 strikeouts per nine innings, which is dead last in MLB. Lots of contact plus sub par defense equals runs in bunches.
Pavano lost to the Royals yesterday, but at least he defeated a trash can in the dugout:
In addition to possibly dumping Liriano from the rotation the Twins also appear to be running out of patience with Alexi Casilla. I never understood why they showed so much faith in him to begin with, basically handing Casilla a starting job in December despite the fact that he was a career .249/.306/.327 hitter with little major-league experience at shortstop and a mediocre defensive track record at second base.
He's struggled even more than usual offensively, batting .190/.257/.286 in 24 games, and his defense has been predictably sloppy and erratic at a position where he started a grand total of 24 times prior to this season. Casilla is overmatched as an everyday player on both sides of the ball, but that should have been pretty clear long before now and unfortunately the options to replace him are lacking because the Twins put so many eggs in his basket all offseason.
Trevor Plouffe is the most obvious in-house replacement and off to a good start at Rochester, but he's also a 25-year-old career .254/.305/.427 hitter in 1,300 plate appearances at Triple-A who draws mixed reviews defensively at shortstop. Plouffe will bring more power to the table than Casilla and probably be somewhat less mistake-prone, but he's a mediocre prospect and hardly a strong everyday shortstop option. They don't have one of those anywhere, sadly.
Gardenhire indicated that Tsuyoshi Nishioka could be an option at shortstop once he returns from a fractured fibula, but that's still several weeks away and he looked very shaky at second base before the injury. Nishioka has plenty of experience at shortstop in Japan, winning a Gold Glove there last year, but he also won a Gold Glove at second base and the combination of iffy arm strength and a stated preference for second base is why he ceded shortstop to Casilla.
Brendan Harris lacked shortstop range, but Gardenhire used him there because he felt Harris struggled turning double plays as a second baseman. Similar logic might apply to Nishioka, but it's unclear if his double play issues are position-based or a function of runners in Japan rarely using hard slides. Beyond that, moving Nishioka to shortstop and starting Michael Cuddyer or Luke Hughes at second base is just a different version of flawed rather than a defensive fix.
This is my 10th year blogging about the Twins and they've essentially had middle infield issues that entire time, which is remarkable for an organization that emphasizes speed, defense, and athleticism so consistently and has a former middle infielder as manager. Here's a list of all the middle infielders to play at least 100 games for the Twins since Gardenhire replaced Tom Kelly as manager in 2002 (which is also the year I started blogging) and their adjusted OPS+ totals:
                     G     OPS+
J.J. Hardy         101      94
Orlando Hudson     126      94
Luis Castillo      227      92
Jason Bartlett     321      88
Luis Rivas         396      80
Brendan Harris     296      79
Cristian Guzman    436      78
Nick Punto         747      74
Luis Rodriguez     206      73
Matt Tolbert       180      70
Denny Hocking      185      70
Alexi Casilla      334      68
Juan Castro        147      64

On the OPS+ scale 100 represents an average MLB hitter, which tells you how ugly the Twins' middle infield has been for the past decade. That list also shows why guys like me wanted J.J. Hardy retained despite his injuries and felt Jason Bartlett never got a fair shake. Casilla ranks second-to-last on the list above only Juan Castro, who played over Bartlett for much of 2005 and 2006. And sadly the farm system is still devoid of any standout middle infield prospects.
There are no shortage of problems with the Twins, but the top of the rotation and the middle of the infield are perhaps the biggest. Being swept by the Royals for the first time since 1998 leaves the Twins with MLB's worst record at 9-18, which is a 54-108 pace with one-sixth of the schedule completed and puts them 10 games behind the first-place Indians. Here's how that stacks up to their record at the same point in nine previous seasons under Gardenhire:
YEAR     W     L     GB
2010    18     9    ---
2009    13    14    3.0
2008    13    14    1.0
2007    15    12    2.5
2006    11    16    8.0
2005    16    11    4.5
2004    16    11    1.0
2003    13    14    5.0
2002    16    11    0.5
Remarkably, last season was the first time under Gardenhire they led the AL Central after 27 games, although they were within one game of first place three other times and within three games in six of the nine years. Their current 9-18 record is two games worse than they've ever been after 27 games under Gardenhire, with 2006 being the closest comparison. That year the Twins were 11-16 and eight games back after 27 games ... and went on to win the division.