May 4, 2011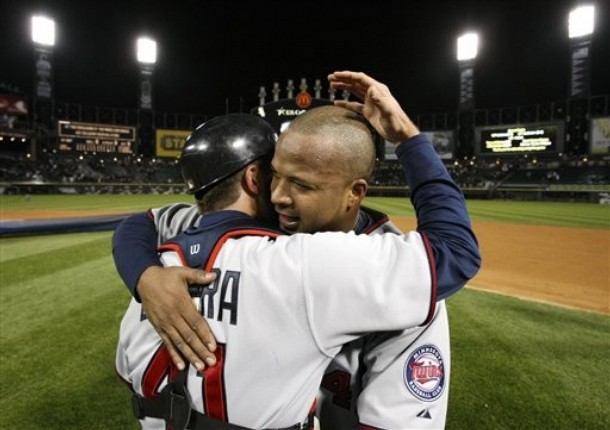 I guess he'll be staying in the rotation for a while.
Making his first start since Ron Gardenhire spoke publicly about dumping him from the rotation in favor of Kevin Slowey if things didn't improve soon Francisco Liriano and his 9.13 ERA took the mound against the White Sox and threw the Twins' first no-hitter since Eric Milton in 1999. And the funny thing is, Liriano was hardly at his sharpest or most overpowering. In fact, it may not have been one of the dozen most dominant starts of his career.
Liriano's velocity was good but not great, as his fastball topped out at 94.2 miles per hour and averaged 92.5. His slider, which is typically Liriano's best pitch, registered just four swinging strikes on 40 offerings. He didn't miss many bats with just two strikeouts, but also didn't really pitch to contact by falling behind 19 of 30 hitters, throwing nearly as many strikes (66) as balls (57), and walking six (including slap-hitting Juan Pierre three times).
Last season and through his first five starts this year the Twins' defense repeatedly let Liriano down, leading to him posting MLB's highest batting average on balls in play, but last night that same defense saved his piece of history on multiple occasions. Before anyone had any notion of it being a special night Denard Span made a terrific running grab in the left-center field gap, preserving the no-hitter and keeping two runs off the board in what proved to be a 1-0 game.
Danny Valencia made a fantastic play for the final out of the seventh inning, snagging Carlos Quentin's hard ground ball down the third-base line and unleashing a strong throw across the diamond. Justin Morneau kept the ninth inning from getting off to a bad start by scooping out a low throw from shortstop Matt Tolbert for the 25th out. Even the final out was a screaming line drive off the bat of Adam Dunn that found Tolbert's glove.
It wasn't pretty to watch, but history doesn't have to be and Liriano seemed genuinely awed by the moment while doing on-field interviews after the final out. He's been through an awful lot since a spectacular 2006 rookie season was cut short by an elbow injury and his road back from Tommy John surgery was filled with potholes that still trip him up five years later, so while a six-walk, two-strikeout no-hitter won't cure all that ails Liriano it had to feel damn good.

And hopefully it can also be the start of the Twins' turnaround.