May 17, 2011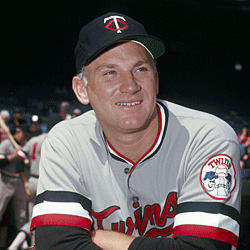 Damn.
Harmon Killebrew entered into hospice care last week following unsuccessful treatments for esophageal cancer and the Twins announced that the Hall of Famer passed away this morning at age 74. Killebrew is arguably the greatest player in Twins history and one of the greatest power hitters in baseball history, ranking fifth all time in home runs and 10th in adjusted OPS+ when he retired in 1975.
However, his legacy goes far beyond that. Killebrew, an 11-time All-Star and 1969 AL MVP who captured six home run titles and was inducted into Cooperstown in 1984, was also universally regarded as one of the game's nicest superstars and beloved by seemingly everyone he ever met, including numerous current Twins players with whom he bonded in recent years. Twins president Dave St. Peter issued a statement about Killebrew's death:
No individual has ever meant more to the Minnesota organization and millions of fans across Twins Territory. Harmon's legacy will be the class, dignity and humility he demonstrated each and every day as a Hall of Fame-quality husband, father, friend, teammate and man.
RIP, Killer.