May 24, 2011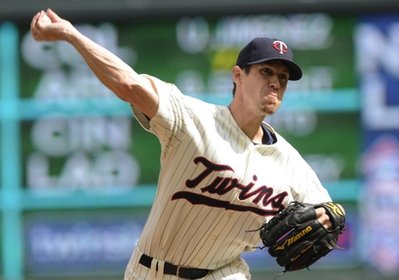 Kevin Slowey has been a full-time starter since he was 19 years old at Winthrop University in 2003 and he wants to continue starting, which makes sense given his 4.42 ERA in 82 starts for the Twins. However, during spring training the Twins decided that they didn't want him in the rotation and moved Slowey to the bullpen, where he's been equal parts injured and miserable while struggling to adjust to a relief workload for the first time in his career.
There's more to the story than that, like rumors of Slowey not being particularly popular in the clubhouse and various media members making it clear that they aren't fond of dealing with him either, but ultimately it boils down to this: Slowey wants to start and the Twins don't want him in their rotation. After unsuccessfully trying to turn him into a reliever the Twins have chosen to send Slowey back to Triple-A, where he can resume starting and showcase himself for a trade.
Slowey has been a solid mid-rotation starter, posting ERAs of 4.60, 3.99, 4.86, and 4.54 in four seasons in the rotation. As an extreme fly-ball pitcher he's allowed lots of homers, but Slowey has made up for the long balls by walking just 1.5 batters per nine innings, which is tied with Roy Halladay for the best walk rate in baseball since 2007. He's also missed more bats than a typical control pitcher, averaging 6.8 strikeouts per nine innings for an average rate.
Overall he has a 4.42 ERA in 464 innings spread over 82 starts, with 354 strikeouts versus 77 walks for MLB's third-best strikeout-to-walk ratio since 2007 behind Halladay and Cliff Lee. He fares even better in advanced metrics, with a 4.16 xFIP, and if for some reason you still prefer to judge pitchers on their win-loss records Slowey (39-21) remarkably has the second-highest winning percentage in Twins history behind only Johan Santana. Seriously.
By any measure he's consistently been an effective third or fourth starter, but what he hasn't been is durable. Slowey has never topped 160 innings in a season and has averaged just 5.65 innings per start. Clearly the lack of durability frustrated the Twins, especially once it extended to his bullpen availability. However, while Slowey isn't blameless and all but forced their hand by being unable or unwilling to pitch regularly in relief it's just as clear why he'd be frustrated.
There was local and national speculation about Slowey being shopped long before the Twins announced his demotion to the bullpen in mid-March and the writing on the wall has been so clear since that decision that I wrote last week: "Even if they avoid going into full-scale seller mode for the first time in a decade I'm now convinced Slowey will be traded." With his situation becoming even more public since then, the only question now is when they'll pull the trigger.
Slowey was never going to fetch a huge return in trade and his value is probably at an all-time low right now, but I'd be surprised if the Twins aren't able to find at least a couple suitors for a 27-year-old mid-rotation starter with a 4.42 ERA and excellent strikeout-to-walk ratios who's earning $2.7 million this year and is under team control for 2012 and 2013. Slowey has burned his bridge in Minnesota, but he's too useful and too cheap not to draw interest elsewhere.