June 13, 2011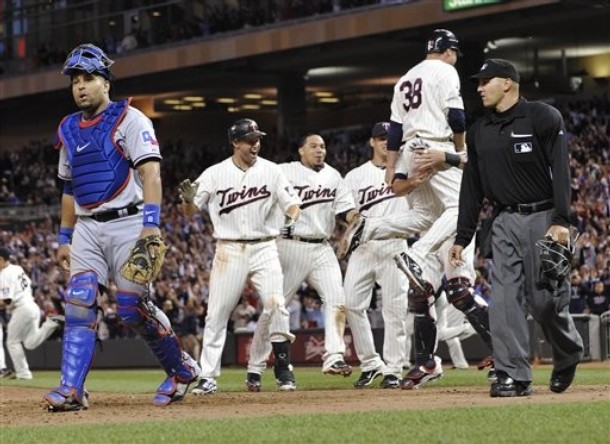 • They still have the worst record in the league at 26-39, still are on pace to go 65-97, and still would need to go 59-38 from here on out to finish with even 85 wins, but by going 9-3 to start June the Twins have at the very least put off a potential fire sale for a while and made their games fun to watch again. Baby steps, sure, but 26-39 looks a whole lot prettier than 17-37 and as usual the thoroughly mediocre AL Central makes much bigger steps seem possible.
• Francisco Liriano had a panic-inducing April, posting a 9.13 ERA with as many walks (18) as strikeouts (18) as the Twins tried to convince him to "pitch to contact" with terrible results. His first May start was a no-hitter versus the White Sox and Liriano flirted with a second no-hitter yesterday against the Rangers, giving him a 1.89 ERA in six starts since May 1. And as Liriano explained after racking up nine strikeouts, his success has come from not following advice:
I've always been the power pitcher, trying to strike out people. I feel more comfortable pitching like that. I'm trying to be me, [the way] I used to pitch last year and the year before. I'm not thinking about contact at all.
Good. It never made much sense that the Twins would try to force Liriano into the same strike-throwing, contact-inducing mold they use for pitchers with inferior raw stuff and less ability to overpower hitters, so thankfully he stayed with the approach that led to so much success last season.  Liriano has allowed two runs or fewer in five of six starts, with the lone outlier coming after throwing 123 pitches in the no-hitter, so hopefully they'll stop trying to fix him for a while.
• Carl Pavano has also put together a strong six-start stretch since beginning the season 2-4 with a 6.64 ERA, logging 43 innings with a 2.49 ERA and just two homers allowed. However, his lack of missed bats continues to be worrisome from a 35-year-old pitcher set to earn $8.5 million in 2012. Pavano has just 16 strikeouts in those 43 innings, which is a minuscule rate of 3.3 per nine innings and even lower than his 3.6 per nine innings through seven bad starts.
Pavano can still be effective by limiting walks and homers, but it'll be tough for the Twins to get their money's worth over the next season-and-a-half if he can't get back to at least 5-6 whiffs per nine innings like 2009 and 2010. Not only are his 3.5 strikeouts per nine innings this year the lowest rate in baseball, no other pitcher is below 4.0 and the last pitcher to qualify for the ERA title with a lower strikeout rate was Livan Hernandez at 3.4 in 2008 ... for the Twins.
• Denard Span's collision with Royals catcher Brayan Pena didn't look like much at the time. In fact, I was watching on television alongside a handful of other Twins bloggers and a few beat reporters, and no one seemed to think much of it beyond Span not turning Pena into Buster Posey with a bigger collision. Span stayed in the game and even played a few days later, but then complained of dizziness and was put on the new seven-day disabled list for concussions.
Span told reporters that he's "definitely scared" about the situation and it's easy to see why. One reason is that Justin Morneau missed the final three-plus months of last season and was sidelined for a total of nine months following a concussion last July and still hasn't gotten back on track 11 months later. Beyond that, Span described what he's currently going through as "a familiar feeling" to when he missed time with vertigo in 2009:
I feel a little like somebody's kind of pushing me from the back a little bit. I'm not going to fall over, but it's the same exact feeling. I want to get this checked out. I'm frustrated, all those things. There's something wrong. I don't know what it is, so I want to get it taken care of.
Span, who'd bounced back from a disappointing 2010 to be the Twins' best all-around player through 60 games, also revealed that he still experiences symptoms related to the vertigo two years later, saying: "It's calmed down a lot and it's manageable, but it's been something I've dealt with since then." That's news to me and is a glimpse into the type of health information players and teams tend to keep to themselves whenever possible.
• Alexi Casilla continues to play very well since escaping from the doghouse thanks to Trevor Plouffe's mistake-filled attempt to replace him and is now batting .337/.401/.421 in 27 games since mid-May. His defense is also improved and Casilla is finally using his elite speed. Despite great stolen base percentages Casilla attempted just 21.5 steals per 600 plate appearances prior to this year. This season Casilla has already tried 12 steals in 198 plate appearances.
Tsuyoshi Nishioka is finally on the verge of returning 10 weeks after an injury expected to last 4-6 weeks and once that happens Casilla seems destined for second base despite starting 10 straight games at shortstop. Nishioka looked shaky at second base before fracturing his fibula thanks in part to incorrect double play positioning, so the Twins presumably wouldn't have him playing shortstop while rehabbing if they planned to bring him back as a second baseman.
• Ron Gardenhire has dropped some strong hints recently about being unhappy with Danny Valencia and Nishioka returning provides an opportunity for the Twins to keep Matt Tolbert as the utility man and Luke Hughes as the starting third baseman while demoting Valencia back to Triple-A. Hughes has hit well in a part-time role of late, but hasn't been impressive overall with a .270/.311/.360 mark and 23-to-5 strikeout-to-walk ratio in 33 games.
What's funny about Valencia's situation is that his power and plate discipline have been fine, but whereas an unsustainably high .345 batting average on balls in play fueled his better than expected rookie season an unsustainably low .239 batting average on balls in play has him fighting for his job now. Ultimately the "real" Valencia is somewhere in between and his career line of .270/.321/.397 is close to both his minor-league track record and Hughes' likely upside.
• Barring a setback it looks like Joe Mauer will come off the disabled list Thursday, returning to the lineup after missing 57 games with complications following offseason knee surgery. In his absence the Twins have gotten the worst production in baseball from their catchers, as Drew Butera and Rene Rivera (and Steve Holm, briefly) have combined to hit .178 with a .497 OPS. To put that in some context, Al Newman has the lowest OPS in Twins history at .581.
They've both done a good job defensively, particularly when it comes to controlling the running game, but Butera has hit .174/.207/.261 in 40 games and Rivera has hit .196/.262/.304 in 20 games. So naturally in discussing Mauer's impending return yesterday Gardenhire talked about what a "tough decision" it will be choosing which replacement-level catcher gets to avoid a trip back to Triple-A and stick around as the backup:
Oh, absolutely. You want tough decisions though. I don't like it when it's carved out, "this is going to happen." You want tough decisions. That means both of them are doing OK, and when Joe comes back, sure, we're going to have to make a tough decision. And both of them have done their parts and they continue to. But it's not going to be easy no matter which way we go.
"Both of them are doing OK" and "both of them have done their parts" is an interesting way to describe two players who've literally combined for the worst production in baseball. How much worse than a .497 OPS could they get before it no longer qualified as "doing OK"? In reality it's only a "tough decision" because neither Butera nor Rivera have played well enough to warrant sticking around, in which case "stub your toe or get a paper cut?" is also a "tough decision."
• Speaking of Rivera, last night he tweeted this charming picture of Ben Revere at Morneau's annual casino night charity fundraiser: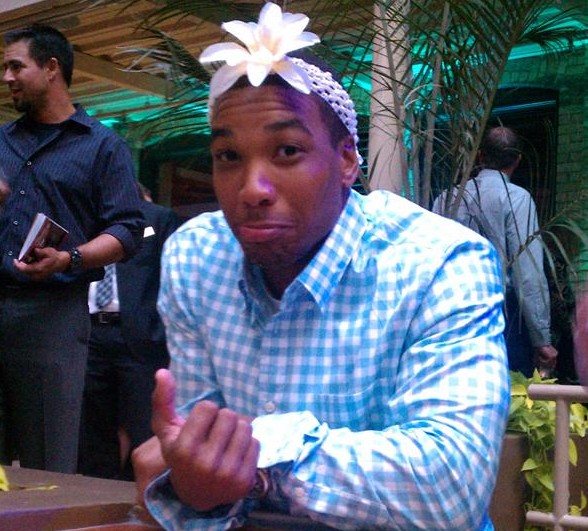 Is that a better or worse look for Revere than this little number from his rookie hazing?
This week's content is sponsored by the Minnesota computer repair shop TCPC Services, so please help support AG.com by considering them for your computer problems.