June 15, 2011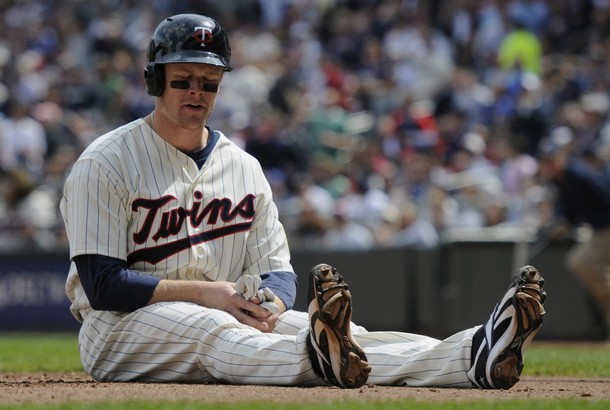 • Just when the Twins are finally getting key players healthy Justin Morneau has been put on the disabled list. And not with symptoms from last year's concussion or the neck pain that led to cortisone injections last month, but because of a wrist injury the origin of which was never really explained. Answers given last night were oddly vague, but Nick Nelson had a source tell him that "Morneau's wrist injury was the result of a locker room tirade after a strikeout."
Whatever the case, the Twins announced last night that Morneau's wrist will be "immobilized" for 10 days. General manager Bill Smith explained that "we're looking at this as a short-term event," but nearly every recovery timetable the Twins have issued this season has proven to be wildly optimistic. Morneau being shut down with Joe Mauer and Tsuyoshi Nishioka on the verge of rejoining the lineup is unfortunate, but Morneau hasn't looked like himself anyway.
He showed some flashes at various points, but was never able to string together any kind of hot streak and went 2-for-27 following a two-homer game on May 31. Morneau was batting .345 with 18 homers and a 1.055 OPS in 81 games at the time of his concussion last July. After nine months on the sidelines he's hit just .225 with four homers and a .619 OPS in 55 games this season. At this point some more time on the DL might be the best thing for Morneau.
• With the Twins now playing well enough to get people thinking about winning the thoroughly mediocre division MinnPost boss Joel Kramer passed along 2007 analysis from Nate Silver at Baseball Prospectus examining the largest comebacks of all time. Baseball Prospectus recently made its archives free and the article is worth checking out, as you can see where the Twins overcoming their current deficit would rank and where their amazing 2006 comeback fits.
• Carson Cistulli at Fan Graphs crunched the numbers and concluded that Denard Span might be the most underrated player in baseball. I wouldn't go quite that far, but twice in the past week I've written that Span has been the Twins' most valuable all-around player this year and both times multiple comments and e-mails strongly disagreed. His performance has definitely flown under the radar, so hopefully the concussion doesn't derail Span's season.
• Speaking of Span being underrated ... I couldn't care less about the All-Star game, but given what I wrote here last month about the local media's treatment of Michael Cuddyer (and the reaction I got from some members of the local media) it was amusing to see Patrick Reusse of the Minneapolis Star Tribune devote an entire column to Cuddyer being deserving of an All-Star spot with a .273/.339/.423 hitting line and versatile but poor defense.
• With every Matt Capps blown save giving up Wilson Ramos for a "proven closer" looks even worse. Capps is 24-for-31 (78 percent) converting saves since the deal, whereas Jon Rauch was 21-for-25 (84 percent) prior to being replaced and is now 7-for-9 (78 percent) in Toronto while earning half as much as Capps. Joe Christensen of the Minneapolis Star Tribune recently wrote that Rauch "might have been a keeper if his personality hadn't grated on the Twins."
Flawed logic regarding the closer role led to mistakenly thinking Capps was a big upgrade over Rauch, poor decision-making led to paying a premium for that non-existent upgrade in the form of a top catching prospect, and the Twins compounded the problem by evaluating Rauch based more on personality than performance or cost. Ramos' current OPS is 30 points above average for a catcher and he's thrown out an MLB-high 50 percent of steal attempts at age 23.
• Christensen also penned a lengthy article about something that has been a frequent topic in this space, which is that the oft-repeated notion of "playing the right way" and "doing the little things" being "the Twins way" has become more perception and less reality with each season. National media members and people who mostly pay attention to other teams haven't caught on yet, but I'm glad to see someone with a mainstream audience busting the myth.
• My grandpa has said for years now that Toby Gardenhire will eventually be the Twins' utility infielder, which I've always laughed off because ... well, he's a career .230/.293/.268 hitter in the minors and nepotism can only go so far, right? Maybe. Tyler Mason wrote a lengthy profile of the manager's 28-year-old son for FSN's website, and between the "Toby Gardenhire moves closer to MLB debut" title and article's content it no longer seems so far fetched. An excerpt:
Gardenhire, now with the Triple-A Rochester Red Wings, is closer than ever to his dream. A call to the majors, however, would mean something more for him: the chance to be coached by his father, Ron, the Minnesota Twins' manager. "Having my dad up there, it would probably just be an added bonus," said Toby Gardenhire, 28, who is primarily a shortstop but has been a jack-of-all-trades in the minor leagues.

"If somebody told me Toby's the guy, we think he deserves a shot to come up here, I don't know how I'd handle it, to tell you the truth," said his dad. "I'd have to regroup. But I know he's worked really, really hard and he's played very well. If that ever happens, it would be a really, really cool thing."
Gardenhire is hitting .254 with a .291 on-base percentage and .349 slugging percentage in 39 games at Rochester for a .640 OPS that's dead last on the team. Yet his dad says "he's played very well" and "has actually swung the bat very, very well." Triple-A manager Tom Nieto says "he's really progressed." Mason notes his "elevated play." Meanwhile, even Drew Butera beat Gardenhire's career OPS by 70 points in the minors. I'm starting to think my grandpa is right.
• Anthony Slama's latest "opportunity" lasted all of two games, as the Twins didn't even see fit to give him a chance when they had the league's worst record and a bullpen in flux. He has a 2.10 ERA and 370 strikeouts in 274 innings as a minor leaguer, including a 2.71 ERA and 118 strikeouts in 106 innings at Triple-A, yet is 27 years old with a grand total of seven games in the majors. Slama isn't going to be great, but he might be useful and they'll never know.
• If the Twins opt to move Mauer to another position in 2012 they ought to call the Reds. John Fay of the Cincinnati Enquirer wrote recently that catcher prospect Devin Mesoraco "killing it in Triple-A" may soon force the Reds to call him up, at which point "a lot of teams would likely be interested in Ramon Hernandez or Ryan Hanigan." Hernandez is 35 years old, but Hanigan is a 30-year-old career .275/.375/.365 hitter with a good arm under team control through 2014.
• Old friend J.J. Hardy hasn't been injury free in Baltimore, missing a month with a strained oblique muscle, but he's yet to make an error in 37 games while hitting .299/.371/.493 for an .864 OPS that ranks third among all MLB shortstops. He's played so well that Orioles president and former Twins general manager Andy MacPhail wants to keep Hardy from becoming a free agent after the season by signing him to a contract extension before the All-Star break. Sigh.
• Earlier this week Nick Nelson and I had a Twitter discussion about Francisco Liriano and all this "pitch to contact" stuff, which Sean Schulte at Hitting The Foul Pole pieced together along with his own take.
• To preview the (now rain-shortened) Chicago series marvelously named White Sox blogger J.J. Stankevitz asked me some questions over at Beerleaguer.
This week's content is sponsored by the Minnesota computer repair shop TCPC Services, so please help support AG.com by considering them for your computer problems.