June 27, 2011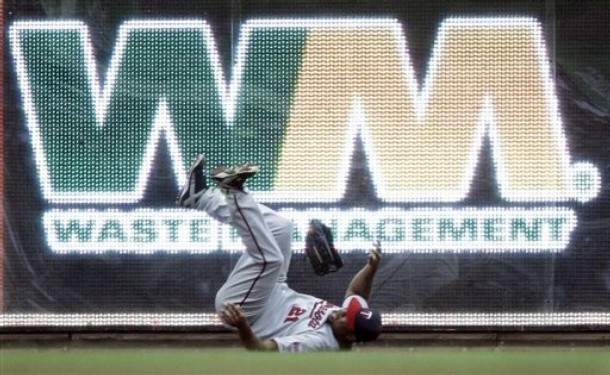 So much for momentum, huh?
Digging out of the massive early season hole seemed possible and then some when the Twins chased Giants starter Madison Bumgarner from Tuesday's game with an eight-run first inning. They'd won eight in a row as part of a 15-2 stretch that improved the Twins from an MLB-worst 17-37 to 32-39, miraculously bringing .500 into reach just two weeks after the season looked all but lost and putting them 6.5 games out of first place in a division there for the taking.
Not only have they lost all five games since then, the Twins have scored a grand total of nine runs in 53 innings since that eight-run opening inning Tuesday, plummeting past the Royals to reclaim the league's worst record. Anything short of ending the first half on a 13-game winning streak would make clawing back to .500 at the All-Star break mathematically impossible and the Twins are now nine games behind the division-leading Tigers with just 86 games to play.
Momentum left as suddenly as it arrived, but the injury bug unfortunately stuck around. Just as they were finally getting healthy with Joe Mauer, Jim Thome, Glen Perkins, Joe Nathan, and Tsuyoshi Nishioka returning from the disabled list Justin Morneau unexpectedly will undergo neck surgery that may end his season, Delmon Young was carted off the field and placed on the DL with an ankle injury, and Jason Kubel's return timetable has been delayed again.
Because they play 21 of the next 25 games at home and the rest of the division is so mediocre even this buzz-killing setback doesn't totally wipe away their great run, but ultimately we're a week from the season's midway point and the Twins have the AL's worst record while being further out of first place than all but the Orioles. Detroit sits atop the division despite being on pace for just 87 wins, but in order for the Twins to win 87 games they'd have to finish 55-31.
Possible? Sure, but before and after the 15-2 stretch they've gone 17-42.
They'll be playing at least half of those remaining games without Morneau, who was on the DL for his wrist rather than his neck, but has complained of neck pain since spring training and got cortisone shots in an unsuccessful effort to play through the injury. Morneau also missed the final 20 games of 2009 due to a back injury and the final 78 games of 2010 with a concussion, meaning by the time he returns he'll likely have missed at least 165 of the past 300 games.
It turns out Mauer was the durable one and an interesting side effect of Morneau's third major injury in three years is that it gives the Twins a convenient excuse to use Mauer somewhere other than catcher. Every indication is that both Mauer and the Twins have no plans to move him permanently--and rightfully so, as he deserves one more chance to get healthy and stay healthy before a career-altering change--but an occasional start at first base makes sense.
As ugly as the first 76 games of this season have been, the Twins' outlook in the second half and beyond won't be a whole lot prettier unless they can get Mauer and Morneau healthy and productive again. They're making a combined $37 million this year, with the same salaries due in 2012 and 2013, and right now long-term, bigger-picture question marks attached to both former MVPs threaten to overshadow the Twins' current struggles in a franchise-defining way.
This week's content is sponsored by Wholesale Gold and Diamond Distributors in Minneapolis, so please help support AG.com by considering them for your jewelry needs.