July 29, 2011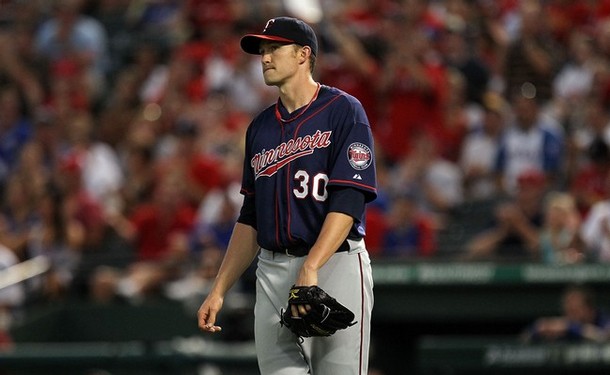 • I'm going to be on 1500-ESPN with Darren Wolfson before Saturday night's Twins-A's game, talking about potential trades and various other stuff from around 6:30 to 7:45. I'm sure we'll take plenty of questions and comments from listeners too, so tune in and/or give us a call.
• Rumors about the Nationals pursuing Denard Span continue to swirl, with Ken Rosenthal of FOXSports.com reporting that they may make closer Drew Storen available after declaring him off limits in talks with the Twins initially. Of course, a short time later Bill Ladson, who covers the Nationals at MLB.com, reported that they're "not willing to trade Storen for Span." In which case the Nationals might save the Twins from themselves.
Whatever the case, it seems clear that the Twins are open to at least discussing Span trades and even that surprises me. Unless they're convinced his concussion is a long-term issue I'm not sure what's accomplished by dealing a 27-year-old center fielder with good on-base skills, solid defense, and a reasonable contract that runs through 2015. Storen is good, young, and cheap, but if they're going to trade Span the centerpiece shouldn't be a 70-inning pitcher.
• Jayson Stark of ESPN.com reports that the Pirates have targeted Jason Kubel in their quest for a "professional hitter." Kubel is an impending free agent and shopping him makes sense, but the Twins will be in a position to either get a compensatory draft pick when he leaves or re-sign him to a one-year deal if he accepts arbitration. That same either/or scenario is riskier with Michael Cuddyer because of his $10.5 million salary, but Kubel is making $5.25 million.
• LaVelle E. Neal III of the Minneapolis Star Tribune reports that the Rockies are among teams interested in Kevin Slowey and speculates that the Twins might look to swap him for reliever Rafael Betancourt or infielder Ty Wigginton. Neither of them do much for me because they're old, mediocre, and relatively expensive for 2012, but in theory targeting a middle reliever or a right-handed hitter for Slowey isn't a bad plan under the circumstances.
• Alexi Casilla injured his hamstring legging out a double Wednesday and has been placed on the disabled list with a Grade 1 strain, which the Twins expect will keep him out for 2-3 weeks. Given their history with return timetables this season, I'd expect to see him again in mid-2013. Casilla has hit just .248/.314/.390 in 37 games since moving from shortstop to second base in mid-June, but he's played better of late and as usual the Twins' middle infield depth is shaky.
My initial assumption was that Trevor Plouffe would be given the opportunity to play regularly at second base with Casilla sidelined and that may still prove true, but last night at least Matt Tolbert got the start. Tolbert was demoted to Triple-A last week after hitting .181 in 55 games for the Twins and went 7-for-36 (.194) during his brief stay at Rochester, but Ron Gardenhire got him right back into the lineup as soon as he rejoined the roster and that worries me.
There's zero upside to be had with Tolbert, who's a 29-year-old career .229/.289/.326 hitter in the majors, whereas Plouffe might actually end up being a decent hitter if given a shot. Plouffe lacks experience at second base, but he played 34 games there in the minors and has another 680 games at shortstop. And lack of experience at a position didn't keep the Twins from calling Plouffe up to man right field and first base, neither of which he'd played prior to last month.
• Not that Casilla is much of a table-setter himself with a .322 on-base percentage this season and a .310 career mark, but without him batting second the top of the Twins' lineup last night had the .249/.294/.283-hitting Ben Revere leading off and the .209/.264/.236-hitting Tsuyoshi Nishioka in the No. 2 spot. And the 7-9 spots were filled by OBPs of .288, .288, and .245. On a completely unrelated note, Scott Baker took a loss despite seven innings of two-run ball.
• Now that Casilla is injured Cuddyer, Tolbert, Danny Valencia, and Drew Butera are the only position players from the Opening Day roster to avoid the disabled list. Span, Kubel, Nishioka, Joe Mauer, Justin Morneau, Delmon Young, Jim Thome, Jason Repko, and now Casilla have each spent time on the DL, along with half of the 12-man Opening Day pitching staff. And there are still more than two months left to play.
• In adding Tolbert and Luke Hughes as infield reinforcements the Twins went from 13 to 12 pitchers, which is good. Chuck James being the odd man out isn't as good, but he was among those knocked around in Monday's blowout loss and they never seemed particularly keen on calling him up in the first place. James has thrived at Triple-A and has a far better track record than Phil Dumatrait, who sticks around with a 14-to-12 strikeout-to-walk ratio in 24 innings.
• Alex Wimmers thankfully seems to be back on track after sitting out three months following a disastrous season debut in which the 2010 first-round pick walked all six batters he faced at high Single-A. Pulled from the rotation and sent to extended spring training, Wimmers saw his first game action in the rookie-level Gulf Coast League last week and is now back at Fort Myers in the bullpen. Baby steps, but he's allowed three runs in nine innings with a 12/6 K/BB ratio.
• Cuddyer stayed hot last night with a pair of hits and is now 34-for-96 (.354) with five homers and 15 walks in 26 games this month. His overall OPS is up to .853, which leads the team by a wide margin and ranks 37th among all MLB hitters with enough playing time to qualify for the batting title. As usual Cuddyer is crushing left-handers, but he has a .407 slugging percentage against right-handers this season and a .435 slugging percentage off righties for his career.
• Mauer passed Tony Oliva for eighth place on the Twins' all-time walk list with 449 and did so in 3,119 fewer plate appearances than Oliva. To put that in context, consider that David Ortiz and A.J. Pierzynski combined for 3,233 plate appearances as Twins.
• After splitting four road games versus the first-place Rangers the Twins are now 27-39 (.409) against teams outside the AL Central, which is a 66-96 pace for a 162-game season. They're also now 22-42 (.344) against .500-or-better teams, which is a 56-106 pace.
• Headline from The Onion: "Twins Shocked To Learn You Can Score Two Runs In Same Play."
• Last but not least, my video analysis of the Twins' season.
This week's content is sponsored by the Minnesota baseball apparel maker DiamondCentric, whose "Thome Is My Homey" t-shirt I wear proudly.