August 3, 2011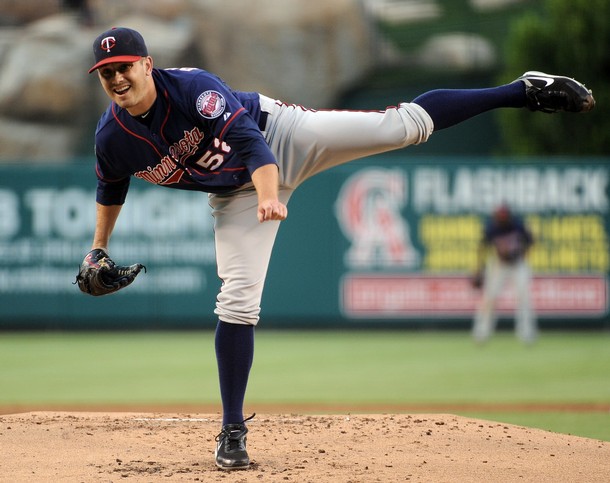 • It's always difficult to dig through all the rumors and speculation at the trade deadline to get a sense for what actually happened with deals that fell apart, but when it comes to the Twins' talks with the Nationals about Denard Span the various reports form something resembling a consensus. It sounds like the Twins were willing to build a deal for Span around Drew Storen, but the Nationals balked when asked to include infield prospect Stephen Lombardozzi as well.
There are other stray details that appeared in some reports but not others, such as the Twins' interest in outfielder Roger Bernadina or the Nationals trying to substitute Tyler Clippard for Storen as the reliever centerpiece, but ultimately the starting point of the talks was Storen for Span, with Lombardozzi's inclusion proving to be the hurdle that tripped everything up. And if that's true, it should be scary for Twins fans.
Trading a 27-year-old center fielder with good on-base skills, plus defense, and a team-friendly contract that runs through 2015 for a 70-inning reliever is a fundamental mistake in logic--not to mention player evaluation--that you'd think the Twins would've learned to avoid at all costs after last year's Wilson Ramos-for-Matt Capps swap with those same Nationals. Lombardozzi would've tipped the scales a bit back in the Twins' direction, but not that much.
His father, Steve Lombardozzi, played four years with the Twins, hitting .233/.307/.345 in 423 games from 1985-1988. Father and son are both second basemen and occasional shortstops with good strike-zone control, plus speed, and modest power. Stephen has advanced through the minors more quickly than Steve and his numbers project slightly better, but he didn't crack Baseball America's top 10 Nationals prospects and is no sure thing to become a solid regular.
Lombardozzi's performance in the minors is good but not great and built around a .300 batting average. That's obviously a positive thing, but he's managed just 16 homers in 417 games and averaged only 55 walks per 600 plate appearances, including just 28 free passes in 473 trips to the plate between Double-A and Triple-A this season. With minimal power and iffy patience it's tough to project a big impact in the majors from a .298/.370/.412 hitter in the minors.
Storen is a very good, young, and cheap reliever and Lombarozzi is a decent enough prospect who should settle in somewhere between nice utility man and mediocre starter. Together they have plenty of long-term value, but not enough to part with a good, young, and cheap center fielder with a .366 career on-base percentage. I'm relieved the Twins passed on the deal, but also worried the Nationals merely temporarily saved them from again overpaying for saves.
• I'm very curious to see how Ron Gardenhire handles the outfield logjam now that Span has returned from a two-month stint on the disabled list following his June 3 concussion. Last night against a right-handed pitcher Span started in center field and Ben Revere was on the bench, but presumably the Twins won't keep the 23-year-old Revere around in the big leagues unless he's starting at least somewhat regularly.
That could be accomplished pretty easily by platooning Revere and Delmon Young in left field, but Gardenhire has never seen the value of platooning and has yet to see the value of sitting Young versus right-handed pitching, against whom he's hit just .263/.298/.340 this year and .283/.315/.405 for his career. Either way, Span will provide some much-needed on-base skills atop the lineup after Revere got on base at a measly .301 clip in 52 leadoff starts.
Apparently the Twins wanted Span to see some action as a corner outfielder in Rochester, but he refused (or maybe declined, depending on your preferred wording choice). Rhett Bollinger of MLB.com reports that "Span didn't want to play in any games in left or right field during his rehab stint." Or as Gardenhire phrased it: "We talked before, about doing that in the minor leagues, but we didn't get that done. So he's in the big leagues, in center field."
I'm not yet convinced Revere in center field and Span in left field is better than Span in center field and Revere in left field anyway, but it's an interesting situation given how much criticism Joe Mauer took during his rehab assignment for insisting on playing catcher. Young has never played right field for the Twins despite a strong arm being his only asset defensively, so unless Gardenhire changes his mind on that issue we'll see Span or Revere in right field soon enough.
• So far this year 16 hitters have gotten at least 100 plate appearances for the Twins and 10 of them have an on-base percentage of .300 or lower (the AL average is .322):
                     PA      OBP
Danny Valencia      425     .289
Delmon Young        295     .295
Ben Revere          269     .300
Justin Morneau      231     .281
Luke Hughes         198     .296
Drew Butera         168     .210
Tsuyoshi Nishioka   171     .259
Matt Tolbert        159     .250
Trevor Plouffe      117     .291
Jason Repko         111     .287
No other team in Twins history had more than seven position players notch 100 or more plate appearances and a .300 or lower OBP. We're seeing some historic ineptitude when it comes to getting on base. As a whole the current team's .309 on-base percentage is the Twins' lowest since 1981 and their first sub-.320 mark since 1984.
• According to general manager Bill Smith the Twins finished runner-up in the winter bidding for Japanese right-hander Hisashi Iwakuma, as the A's easily topped them $19 million to $7.7 million. Contentious negotiations followed and the two sides couldn't agree on a deal, so the A's were refunded and Iwakuma headed back to Japan. And now Jerry Crasnick of ESPN.com reports that Iwakuma has hired a new agent with an eye toward coming to MLB in 2012.
Crasnick notes that because Iwakuma has now played 10 seasons in Japan he can become an outright free agent without the need for bidding, posting fees, or exclusive negotiating rights. He'll simply hit the open market in November alongside other free agent pitchers, which likely takes the Twins out of the running even if Tsuyoshi Nishioka's extreme struggles following a $15 million investment haven't already soured them on pursuing other Japanese players.
• Last spring I criticized the Twins for handing Nick Blackburn a four-year, $14 million deal, as they already had him under team control via arbitration and minuscule strikeout rates meant it would be hard to sustain his status as a mid-rotation starter. Sure enough, since the signing his 4.2 strikeouts per nine innings is MLB's lowest rate and Blackburn has a 5.00 ERA and .302 opponents' average in 291 innings. He's owed $4.75 million in 2012 and $5.5 million in 2013.
In his last seven starts Blackburn has given up 39 runs on 58 hits and 13 walks in 33 innings, allowing opponents to hit .387 with a .607 slugging percentage. Brian Duensing hasn't been nearly that awful, but his rough patch dates back much further. After last night's loss Duensing has a 5.14 ERA in 92 innings spread over 16 starts since May 1, allowing opponents to hit .290 and slug .458. And just a reminder: Kevin Slowey has a 4.42 career ERA as a starter.
• Capps has quietly strung together seven straight scoreless outings since being stripped of closer duties in mid-July, although recording just two strikeouts in 21 plate appearances during that stretch doesn't exactly inspire confidence. Overall this season Capps has struck out just 12.1 percent of the batters he's faced, compared to 19.3 percent last season and 18.7 percent for his career. He's also allowed more homers (eight) than walks (six). Brad Radke approves.
This week's content is sponsored by Minnesota's leading variable frequency drive company, IDEAL Service, so please help support AG.com by considering them for your industrial electronic needs.