July 9, 2014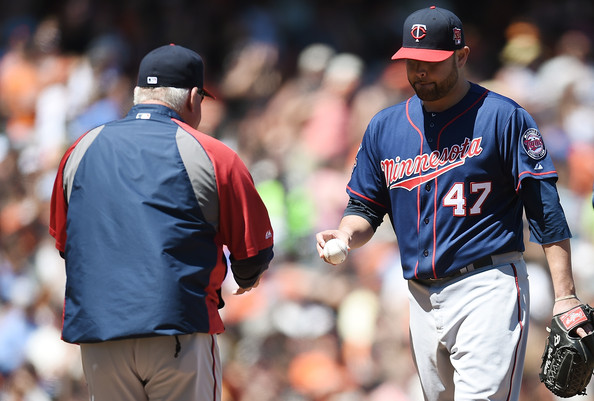 • In signing Ricky Nolasco to a four-year, $49 million contract the Twins touted his durability as a major selling point, as the 31-year-old right-hander had started at least 30 games and logged at least 185 innings in five of the previous six seasons. Now, just four months into his Twins career and with an ugly 5.90 ERA in 18 starts, Nolasco has been shut down with elbow soreness that he's apparently been pitching through since spring training.
If everyone involved is to be believed that news came as a surprise to the Twins, which means either Nolasco went out of his way to hide the injury from trainers and coaches or those same trainers and coaches went out of their way not to investigate his season-long struggles. Or maybe a mixture of both. Certainly if he was hiding the elbow injury that has to be very frustrating for the Twins and Nolasco is absolutely at fault.
However, it's also worth noting that the Twins--from the front office to manager Ron Gardenhire and his coaching staff--have created and repeatedly fed into a culture in which acting like a tough guy and playing through pain is considered noble rather than stupid or irresponsible. Even in discussing how Nolasco hid the injury from the team Gardenhire almost couldn't help acting as if there was something positive about the so-called "old school" approach taken by the pitcher.
Meanwhile, seemingly every season one or two key players try to tough their way through injuries with disastrous results and no one ever seems to learn a lesson from it. Who knows whether that played a role in Nolasco pitching through pain, but it certainly didn't play a role in convincing him to do otherwise. When can we end this outdated, shortsighted approach of letting hugely valuable athletes risk their short- and long-term health and productivity in the name of being tough guys?
If you're a player and you're hurt, tell someone in charge. And if you're someone in charge and a player tells you he's hurt, don't let him continue playing. As simple as those two directives sound, they've been sadly lacking for the Twins in recent years. This time around it led to their trotting out an injured pitcher for 18 horrible starts and putting at risk a $48 million investment. If that's "old school" then everyone flunked out.
• Worst single-season adjusted ERA+ in Twins history among pitchers with 100 or more innings:
68 - Jim Deshaies, 1994
66 - Ricky Nolasco, 2014
71 - Boof Bonser, 2008
72 - Ray Corbin, 1974
72 - Joe Mays, 2003
72 - Jim Hughes, 1976
Helluva list.
• MLB starting pitchers have a combined 3.90 ERA. Twins starters have the following ERAs:
3.70 - Phil Hughes
4.17 - Kyle Gibson
4.79 - Kevin Correia
4.98 - Yohan Pino
5.90 - Ricky Nolasco
6.52 - Sam Deduno
7.99 - Mike Pelfrey
As a group Twins starting pitchers rank 29th among MLB teams in ERA, ahead of only the Coors Field-inflated Rockies. Last season they ranked 30th in ERA and in 2012 they ranked 29th in ERA, also ahead of only Colorado.
• Byron Buxton finally returned from a wrist injury after sitting out the first three-plus months of the season and despite all the missed time Baseball America's midseason update still ranked him as the No. 1 prospect in all of baseball. Miguel Sano also ranked No. 9 even though the Twins just announced that he'll miss the entire season following elbow surgery and pitchers Jose Berrios, Kohl Stewart, and Alex Meyer also cracked Baseball America's updated top 40.
• Meyer looks to be back on track at Triple-A after some struggles last month. He struck out 10 last night and has a 2.00 ERA with 20 strikeouts in 18 innings over his last three starts.
• No. 5 overall draft pick Nick Gordon has hit .359/.408/.500 with five extra-base hits and four stolen bases through his first 15 pro games for rookie-level Elizabethon.
• Chris Parmelee is 26 years old and has batted .235 with a .299 on-base percentage and .370 slugging percentage in 677 plate appearances since his big September debut, so it's probably time to stop getting excited whenever he has a decent week.
• His batting average isn't pretty, but Brian Dozier's current 112 adjusted OPS+ is the best by a Twins middle infielder since Todd Walker in 1998 and Chuck Knoblauch in 1994-1996.
• He's a deserving All-Star, but it's odd to hear Kurt Suzuki endlessly praised for "handling" a pitching staff that ranks 28th in ERA, especially when pitch-framing stats show him as poor.
• This offseason the Twins were believed to be deciding between Suzuki and John Buck as their veteran catcher addition. Buck hit .226/.293/.286 for the Mariners and just got released.
• I looked this up after watching him leg out a single Monday evening: Kendrys Morales has 48 career infield hits, including at least 10 in three different years. Imagine that.
• Eduardo Escobar was hitting .314/.357/.473 on June 15. Since then he's 9-for-66 (.136) with 17 strikeouts and 2 walks. Track records: Trust 'em.
• Hisashi Iwakuma owns the Twins, with a 5-0 record and 0.00 ERA in five starts against them.
• Vance Worley has a 2.28 ERA and 18/5 K/BB ratio in four starts for the Pirates, who think they've fixed whatever ailed him with the Twins last season.
• Pat Neshek, who has a 2.39 ERA since being waived by the Twins in 2011, made his first All-Star team at age 33.
• Lew Ford, now 37 years old, is hitting .372 with a .445 on-base percentage and .568 slugging percentage in the independent Atlantic League. And he's the team's hitting coach too.
• One-time Twins minor leaguer Yangervis Solarte turned back into a pumpkin after a big April and May for the Yankees.
---
This week's blog content is sponsored by Uber, which is offering a free ride to first-time users who sign up with the promo code "UberGleeman."