November 12, 2015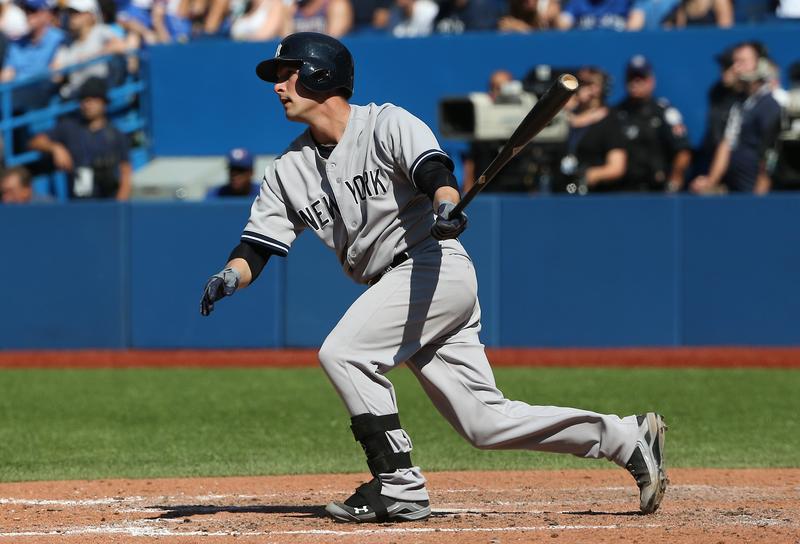 In a move that clears some of their outfield logjam and brings in a much-needed alternative to Kurt Suzuki behind the plate, the Twins traded 26-year-old center fielder Aaron Hicks to the Yankees for 24-year-old catcher John Ryan Murphy. It's a classic example of dealing from an organization-wide area of strength (young outfielders) to address an organization-wide area of weakness (catching), although that in itself certainly doesn't guarantee a successful trade.
Hicks is a former first-round draft pick and top prospect who turned his career around this year, hitting .256/.323/.398 with plus defense in 97 games for the Twins after looking lost in his first two years as a big leaguer. As a switch-hitter with decent power, good plate discipline, excellent speed, and a strong arm he has all the tools needed to become an above-average starting center fielder, but Hicks is held back by his inability to hit right-handed pitching.
Through three seasons and 247 games in the majors Hicks has hit just .206/.284/.311 off righties and his time in the minors tells a similar story. He's been great off lefties, hitting .272/.360/.447 in the majors after also crushing them in the minors, but until proven otherwise Hicks looks best suited to start 2-3 times per week when a lefty is on the mound--which is the role he'll probably fill for the Yankees initially--and that severely limits his long-term upside.
Beyond that, even if Hicks shows enough improvement against righties to develop into a viable everyday player the Twins have no shortage of younger, higher-upside outfielders. By midseason their starting outfield could be Byron Buxton in center field flanked by Eddie Rosario and Max Kepler, and publicly at least the Twins have been talking about giving Miguel Sano some outfield action too. Oswaldo Arcia and Danny Santana are also still in the mix.
Hicks is already a very useful part-time player with the potential to become more, but counting on that transformation would require a leap of faith the Twins were clearly not willing to take and his long-term role in Minnesota was tenuous. Trading him coming off his first positive showing in the majors makes sense from a hypothetical value standpoint, but it's unclear if Murphy represents particularly good value in return.
Murphy has served in a backup role for the Yankees, hitting .267/.311/.374 in 115 games spread over parts of three seasons. He got his most playing time this year, logging 172 plate appearances in 67 games, and hit .277/.327/.406. Those numbers would make him an above-average catcher offensively, but the sample size is very small, Murphy's poor 43/12 K/BB ratio is worrisome, and his track record in the minors is underwhelming.
Last season he hit just .246/.292/.397 with six homers and an ugly 42/13 K/BB ratio in 51 games at Triple-A and Murphy has a career OPS below .750 at Single-A, Double-A, and Triple-A. There's little in his track record at any level to suggest he has significant upside offensively, but Murphy establishing himself as a decent-hitting catcher certainly seems doable considering the position's low standard for offense.
Ultimately, though, this trade may hinge on Murphy's defense. He has a good defensive reputation and unlike the same being said of Suzuki the numbers don't totally contradict that notion. Murphy has thrown out 28 percent of steal attempts in the majors, which is right around the MLB average, and his pitch-framing has graded out as neutral. Small sample sizes are involved, so this is a case where the Twins' scouting evaluation of Murphy needs to be right.
It would have been nice for the Twins to shoot a little higher in their search for catching help, but the free agent market is barren aside from Matt Wieters and trading for an established starting catcher would've required parting with more than just Hicks. To target a young backup with the potential to become a solid starter is a sound approach, but Murphy's skill set and track record leave room for plenty of skepticism that he fits the bill.
---
For a solid 90 minutes of Byung-ho Park talk and a look at the domino effect his arrival has on the Twins' lineup, check out this week's "Gleeman and The Geek" episode.