July 12, 2011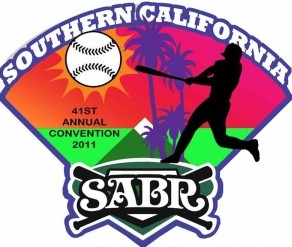 I avoid airplane small talk because an iPod usually beats chatting with strangers and I feel bad for people stuck next to the fat blogger listening to his iPod, but on Wednesday's flight to Los Angeles for some reason I struck up a conversation with a mom and daughter who happened to be from Long Beach, where I was headed for the 41st annual SABR convention. They were baseball fans and seemed genuinely intrigued by the Society for American Baseball Research.
We talked about ballparks in California, they told me Long Beach wasn't a great place to hang out except compared to Oakland, and then the daughter posed a question I've wanted hear my entire life: "Do you want free drinks?" I replied like I would to "do you want to meet Mila Kunis?" and from her purse came a stack of cards good for one drink apiece. They used two on Bloody Marys and, it being a late-morning flight, I used used two on orange juice ... and vodka.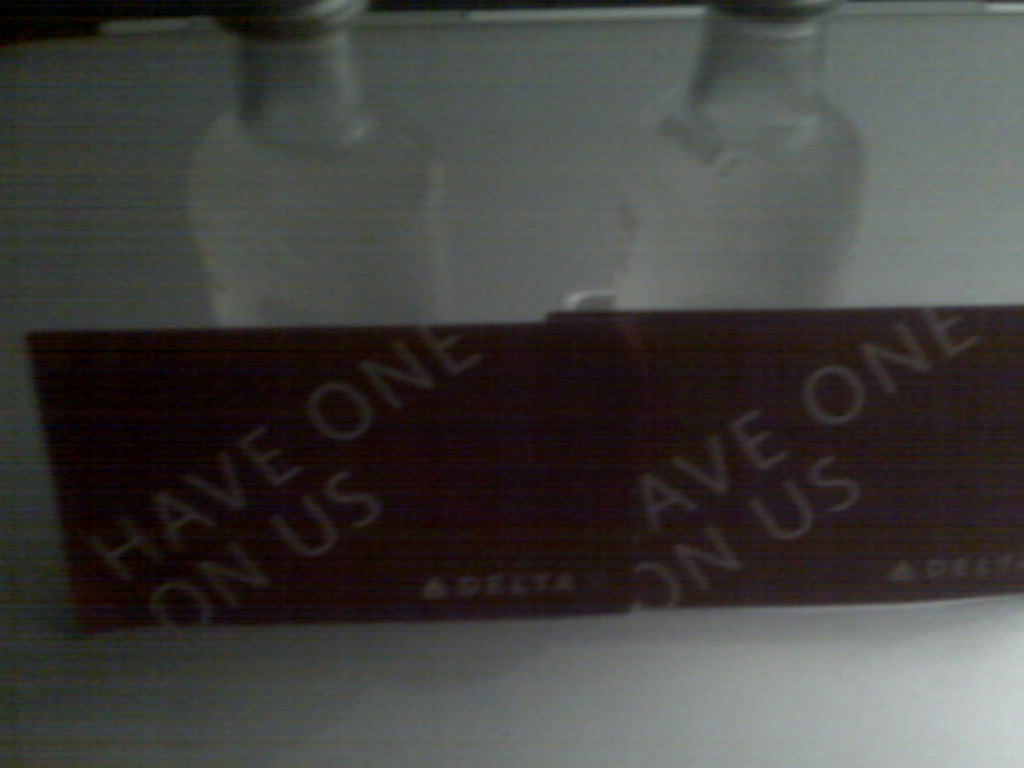 It didn't even dent the stack, so as we exited the plane four hours later they insisted on giving me another handful. And so on the way to an event where I spend five days each year talking baseball and drinking I talked baseball and drank. There are other fantastic things about SABR and the convention, but for me it's mostly an excuse to get together with friends I've made in the online baseball world. My first convention was 2004 and now I can't imagine missing one.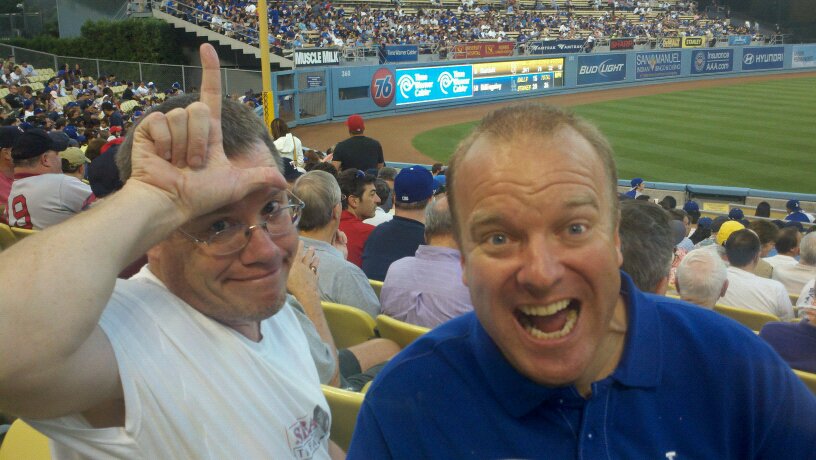 (BTF's power couple, Dial and Giacalone, on a date at Dodger Stadium)
Within seconds of arriving at the hotel I was in the lobby bar catching up with two of my oldest online buddies, Joe Dimino and Chris Dial, whom I originally "met" on the old Baseball Primer site and then actually met at that 2004 convention. Along with Baseball Think Factory regulars Anthony Milazzo and David Peng we drove to The Yardhouse near Staples Center, where The Hardball Times staffer Ben Jacobs and Paramount vice president Bryan Ellenburg joined us.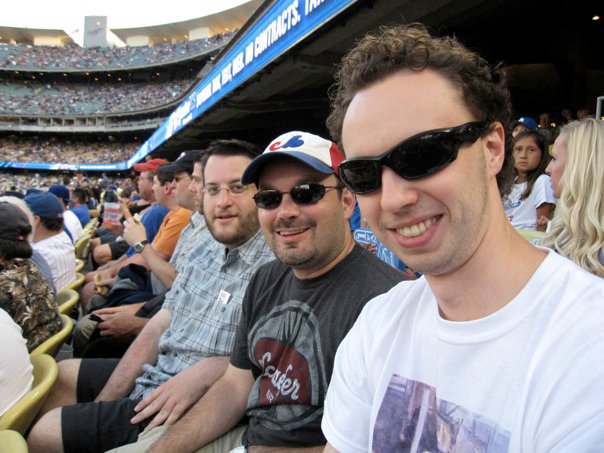 (From left to right at Dodger Stadium: Gleeman, Dimino, Jacobs)
From there we headed to the Dodgers-Mets game at Dodger Stadium, where the announced attendance was 31,000 and the actual attendance was probably closer to half of that. Dimino, Peng, Jacobs, Milazzo, and I bought $30 tickets for $20 and then almost immediately upgraded to the section where Dial and Ellenburg were sitting, finding five empty seats in their exact row because there were five empty seats in basically every row.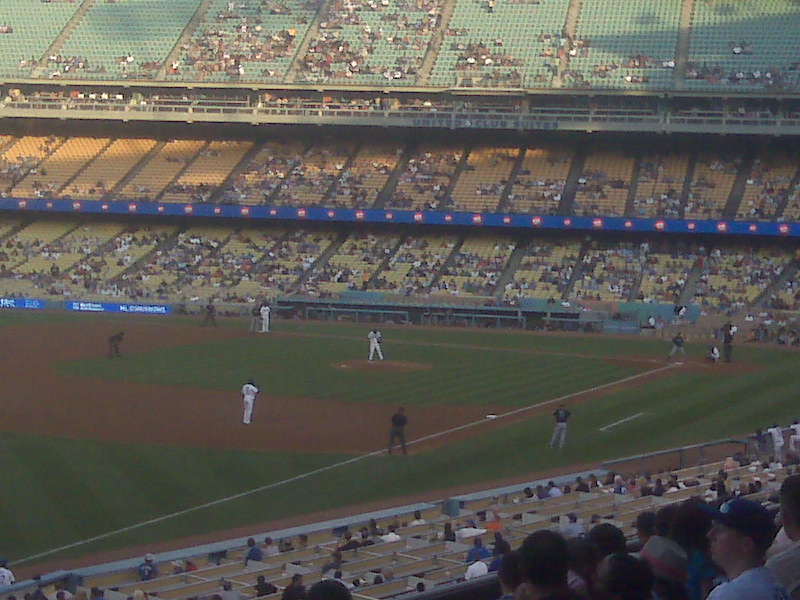 (What "31,000" fans look like in the middle of the first inning)
It was my first game at Dodger Stadium and the experience was underwhelming despite great company and nice seats. Mets fans nearly outnumbered Dodgers fans and the half-empty park had all the excitement of spring training. There was more excitement two nights later when I returned for what was a 1-0 win over the Padres, but the beer was still $11, the seats were still half-empty and not facing home plate, and the parking situation was ridiculous.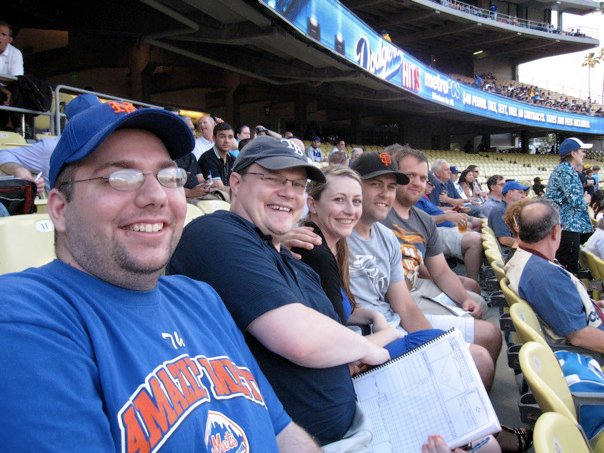 (From left to right at Dodger Stadium: Milazzo, McCullough, Daley, Munk, Wyers)
On the way back from Wednesday night's game we stuffed six guys into a car that comfortably sat four, got stuck in that famous Los Angeles traffic I'd heard so much about, and stopped for six-packs because the hotel bar charged $7.50 for beer and closed before midnight. They hate money, apparently, so Dimino, Jacobs, and I took our six-packs upstairs along with BTF regular Mike McCullough, MLB Advanced Media boss Cory Schwartz, and SI.com writer Will Carroll.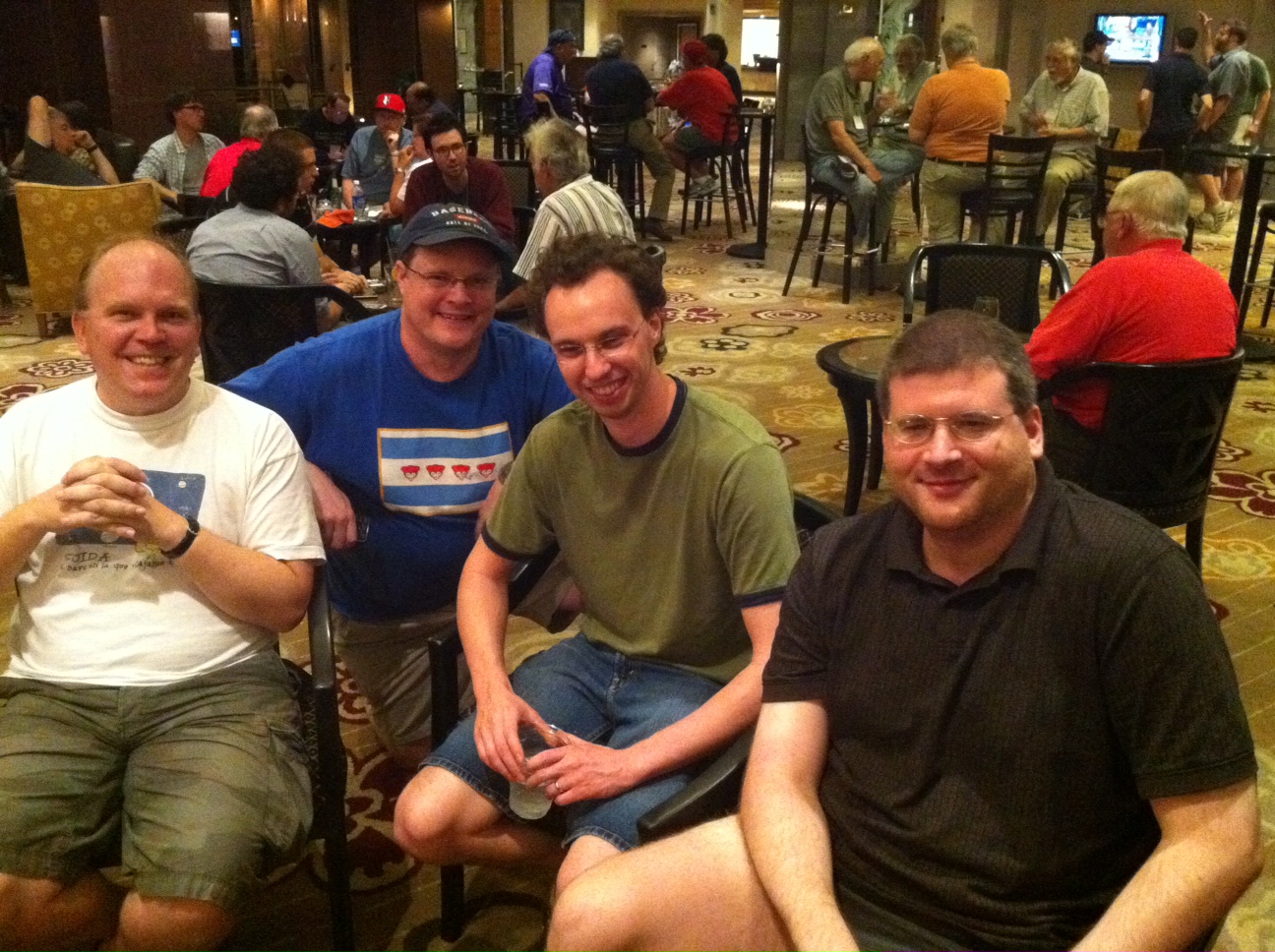 (From left to right in the hotel bar: Brewer, McCullough, Jacobs, Jaffe)
By coincidence Carroll's room was right next to my room and had an adjoining door, which we opened in an attempt to create a quasi-suite where a half-dozen guys drinking beer in a hotel room until 3:00 a.m. seemed far more fun than sad. And then because the convention is about beer and baseball, I was up at 8:30 a.m. the next morning to attend SABR's annual business meeting and see keynote speaker Scott Boras.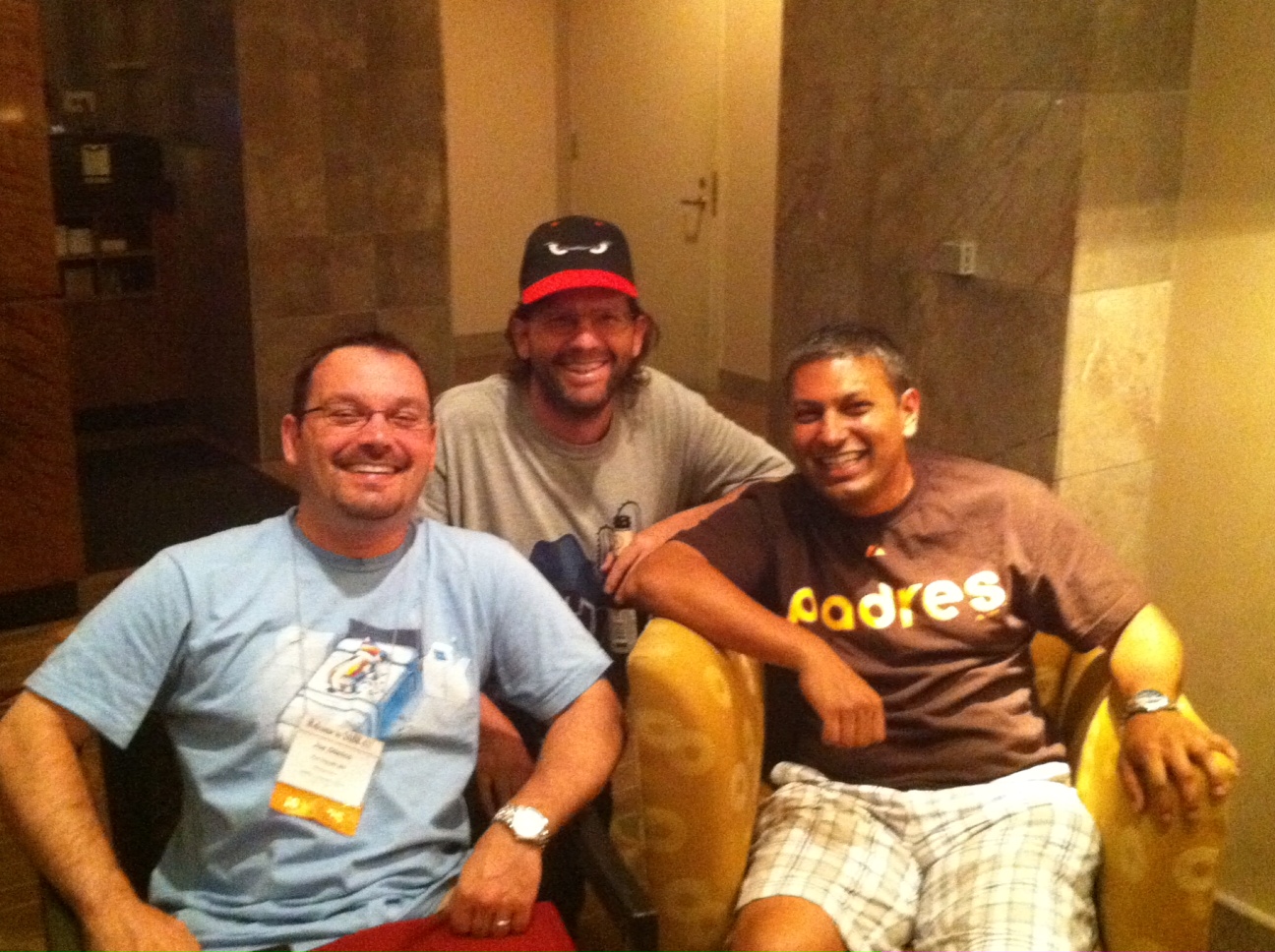 (From left to right in the hotel bar: Dimino, Young, Kumar)
His speech focused on the transition from minor leaguer to agent and how he built his hugely successful company. I've been critical of Boras, mostly for his hyperbolic hyping of clients and ability to manipulate certain media members, but he showed the type of charm and humor that makes it easy to understand how he's able to talk star players into choosing him and general managers into signing his star players. It also made me want to buy a used car.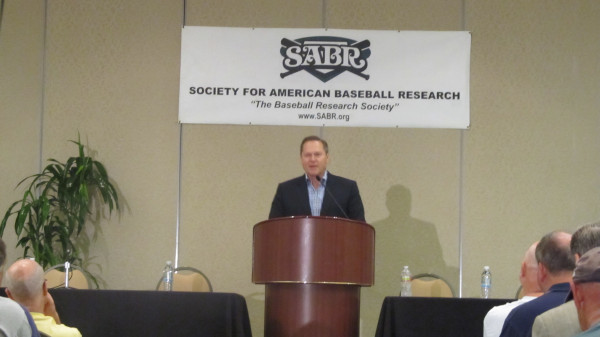 (Boras speaking before SABR's annual business meeting)
At one point the lights in the room dimmed and Boras didn't skip a beat, quickly quipping that "SABR is a lot like the Dodgers, they don't pay their bills either." He got big laughs throughout and even discussed the first time he realized how much "managing the media" would help him, which would've gotten the biggest laugh of the entire 45-minute speech had my HardballTalk blogmate Craig Calcaterra been in attendance.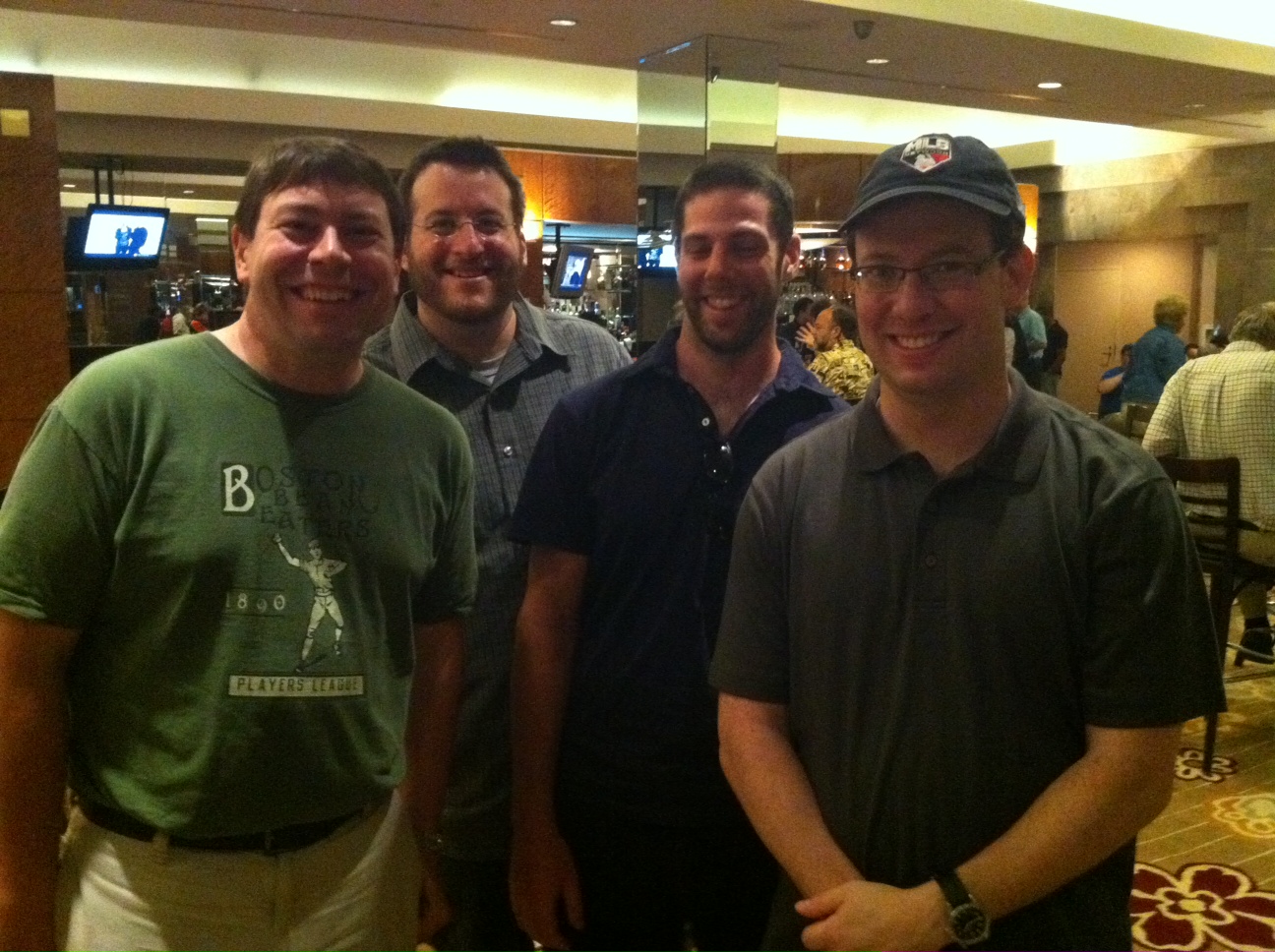 From left to right in the hotel bar: Webber, Gleeman, Reisner, Forman)
Boras' speech and a somewhat sobering business meeting were followed by lunch and beer at Rock Bottom, where I met Colin Wyers of Baseball Prospectus and Geoff Young, whose blog Ducksnorts is one of the few that predates this one. We got back to the convention in time for a baseball media panel featuring Sean Forman of Baseball-Reference.com, Dave Cameron of Fan Graphs, Bill Squadron of Bloomberg Sports, and Russ Stanton of the Los Angeles Times.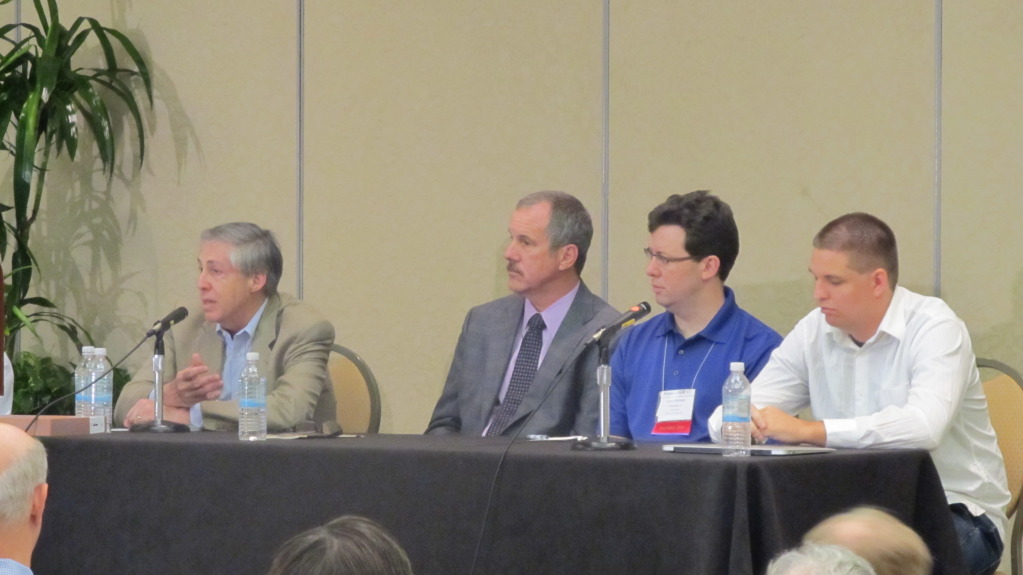 (From left to right at the media panel: Squadron, Stanton, Forman, Cameron)
It was an interesting discussion, but my favorite part of the panel came afterward when I met one of my favorite writers, Sam Miller of the Orange County Register, and along with Young we had our own lengthy discussion about the state of baseball writing. That evening Miller was among the panelists at a star-studded Fan Graphs event that also included Rob Neyer, Jonah Keri, Jon Weisman, Rich Lederer, Eno Sarris, Eric Stephen, David Appelman, and Cameron.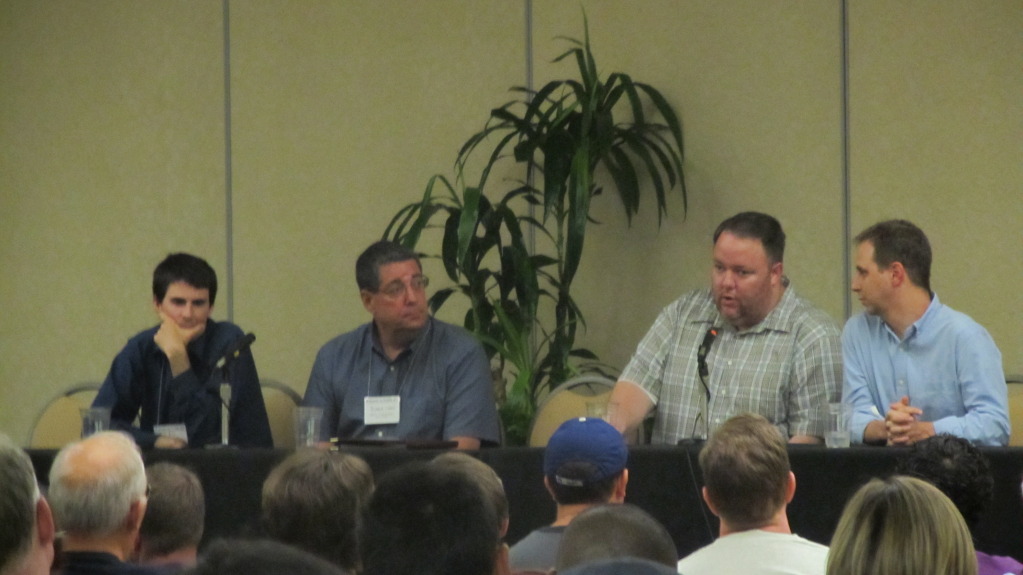 (From left to right at Fan Graphs event: Miller, Lederer, Stephen, Weisman)
Great weather and proximity to multiple ballparks were good reasons to hold the convention in California, but the best part of SABR returning to the West Coast for the first time since Seattle in 2006 was the number of great writers attending. Not meeting Keri and only having a couple minutes with Weisman were my main regrets of the convention after a decade reading them, but it was great to finally meet Cameron, Lederer, Stephen, Appelman, Sarris, and Sarris' hair.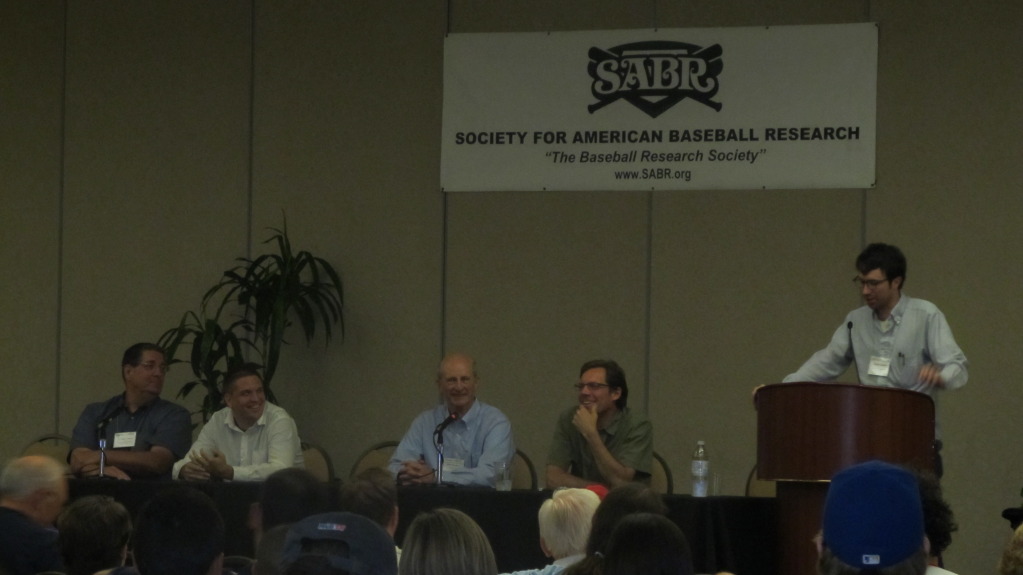 (From left to right at Fan Graphs event: Lederer, Cameron, Gennaro, Neyer, Cistulli)
Carson Cistulli stole the show, hilariously moderating a panel and proving he's even funnier in person than in writing, which is quite a feat. It was a wonderful three-hour event made even better by a couple hours hanging out with panelists in the hotel bar afterward. And when the hotel bar closed too early again I went with a smaller group to a dueling-piano bar and closed it down too, stumbling back to the hotel to amusingly find Cameron on his laptop in the lobby.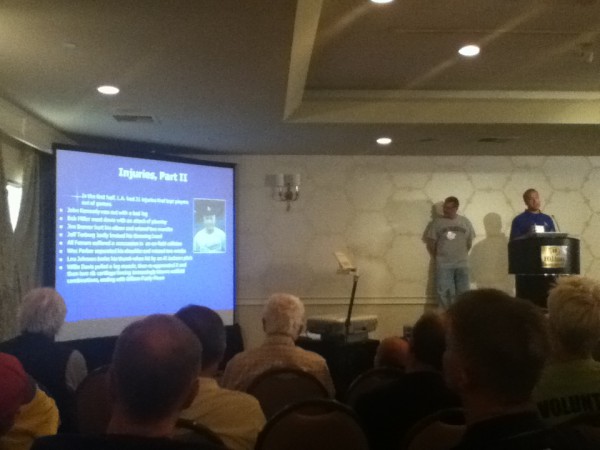 (Treder and Giacalone, mid-presentation)
I woke up bright and early Friday, narrowly missing the start of a 10:30 co-presentation about the 1965 Dodgers by BTF regular Anthony Giacalone and original The Hardball Times member Steve Treder. Giacalone and Treder are two of my favorite online baseball friends and did a great job, even if the presentation was about a team that beat the Twins in the World Series. Plus, as an added bonus the Dodgers' first baseman in 1965, Wes Parker, was in attendance.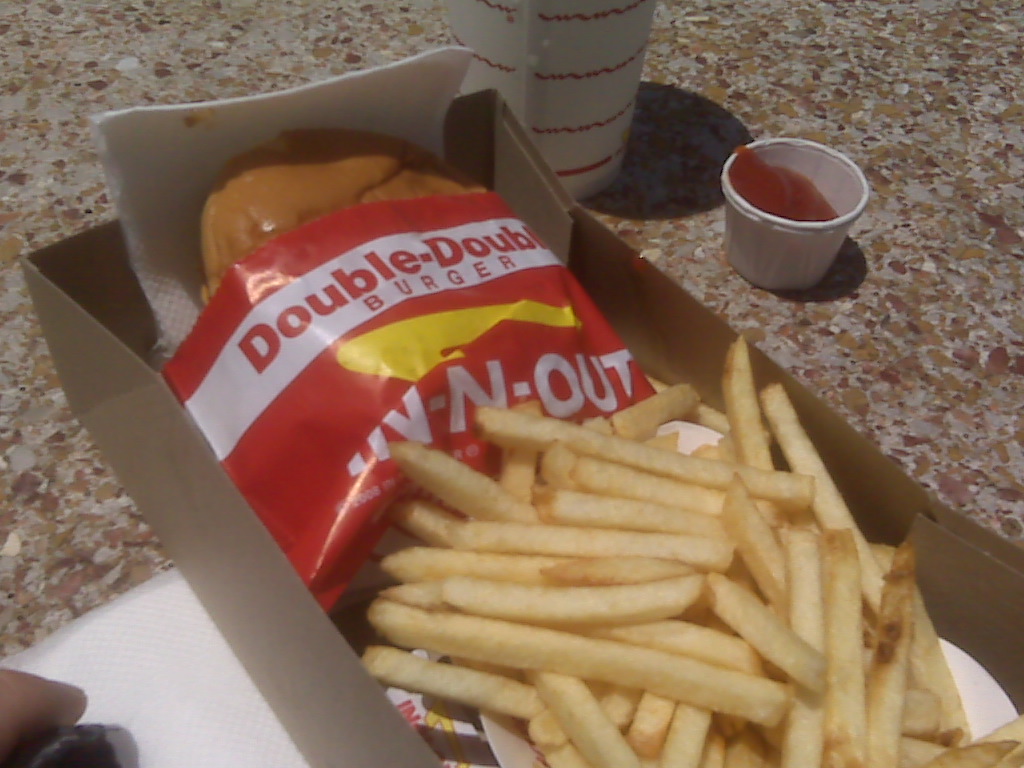 After the presentation a group of 15-20 piled into two cars and a van for lunch at In-N-Out, the famous West Coast hamburger chain where the line was literally out the door at 1:00 p.m. on a Friday. It was well worth the wait, as I graded my burger and fries as amazing but just short of life-changing. From there I hopped in a convertible and drove to The Yardhouse, where we did $393 worth of pregame drinking despite everything being half-off during happy hour.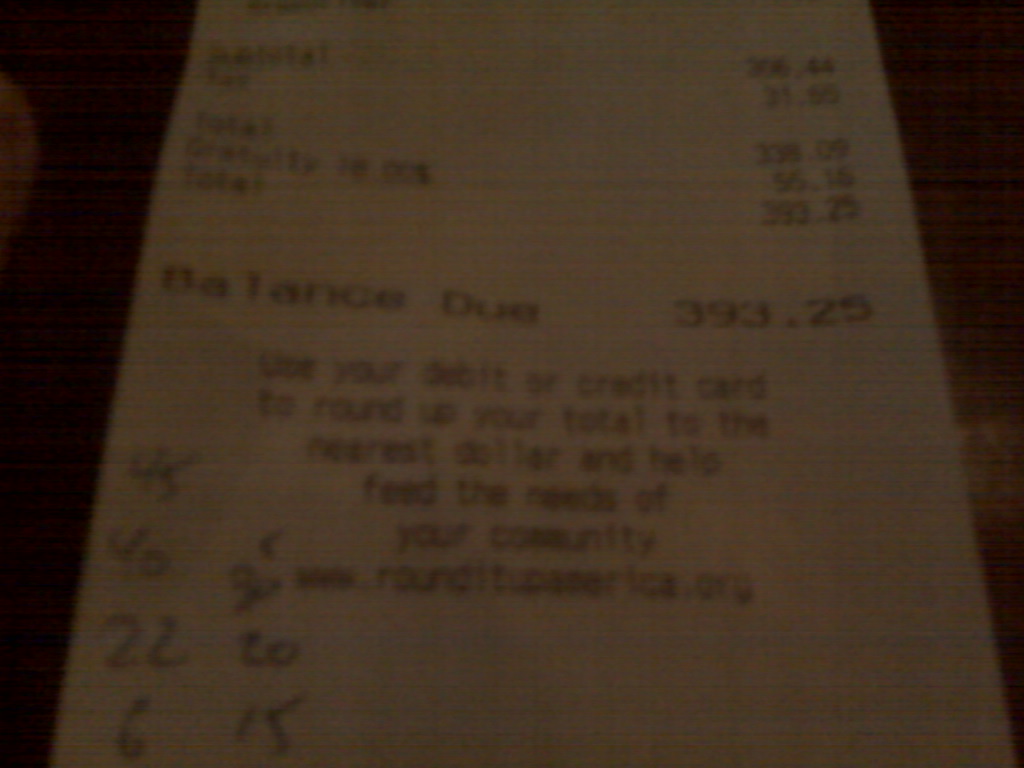 Back at Dodger Stadium for a Dodgers-Padres game I was fortunate enough to sit by Forman, who along with creating and running the world's greatest website is simply a helluva guy. Alex Reisner was also a lot of fun to talk to and the crazy ninth inning made up for an otherwise nondescript game, the highlight of which was watching the man pictured below snatch a beach ball out of the air and stuff it underneath his seat as his whole body shook from anger.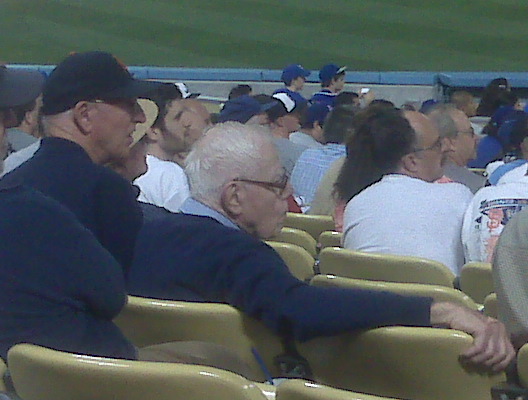 (President of the Society for American Beachball Rejectors)
We retreated back to the hotel following a 1-0 game, opting against the lobby bar and instead creating our own bar in the bathroom of the room Giacalone was sharing with BTF regular, The Hardball Times writer, and occasional AG.com commenter Chris Jaffe. Based on his convention recap apparently Jaffe wasn't thrilled by that, but their room had a walk-out balcony with an amazing 14th-floor view of the city that comfortably fit a dozen guys and tons of booze.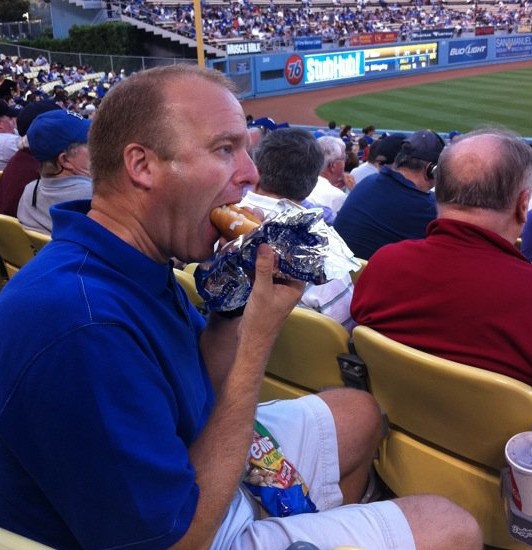 (SABR's foremost Jack Bauer impersonator performing fellatio on a Dodger Dog)
We drank, cracked jokes about each other, and argued about stuff like the Negro Leagues and Major League Equivalencies in what I'd more or less describe as a perfect few hours. It's tough to beat baseball, beer, friends, and 75-degree weather from a 14th-floor balcony overlooking California and the night was such a perfect representation of why I come to SABR conventions that it had me quoting Snoop Dogg on Twitter after finally going to my room at 4:15 a.m.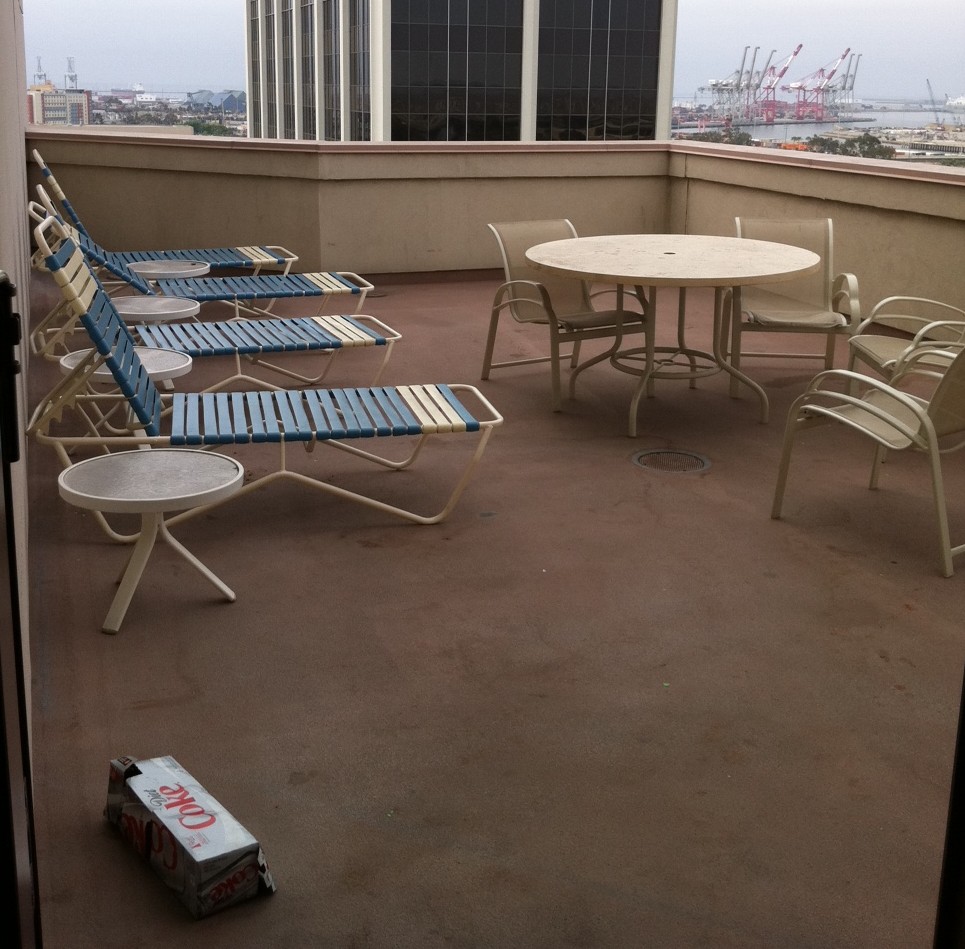 (Giacalone's balcony, sans sabermetricians and beer)
I woke up just in time to have lunch Saturday and then went to a Neyer-moderated panel with Padres general manager Jed Hoyer and former Dodgers GMs Fred Claire and Dan Evans. The fun panel was made even better by the Padres no-hitting the Dodgers for 8.2 innings before losing on a walk-off as a blissfully unaware Hoyer kept his phone off. At one point he asked for an update, was told 0-0 in the sixth, and said: "Great, another pillow fight." Little did he know.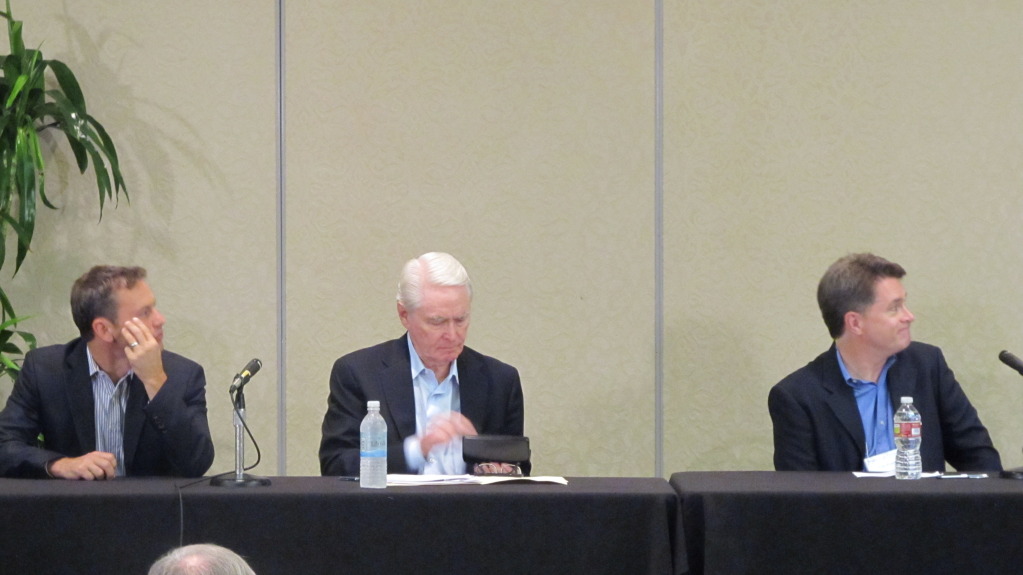 (From left to right at the GM panel: Hoyer, Claire, Evans)
From there I went to Angels Stadium for the Angels-Mariners game with my roommate, Jacobs, and Dimino and Vinay Kumar, who convinced me to attend my first SABR convention in 2004 by telling me how much fun they had in 2003. Not only did we see Mike Trout's first career hit and Torii Hunter's two-homer game, I got to hear Wyers utter the phrase "your Rally Monkey is getting in my beer" after his spilled drink started flowing into the row in front of us.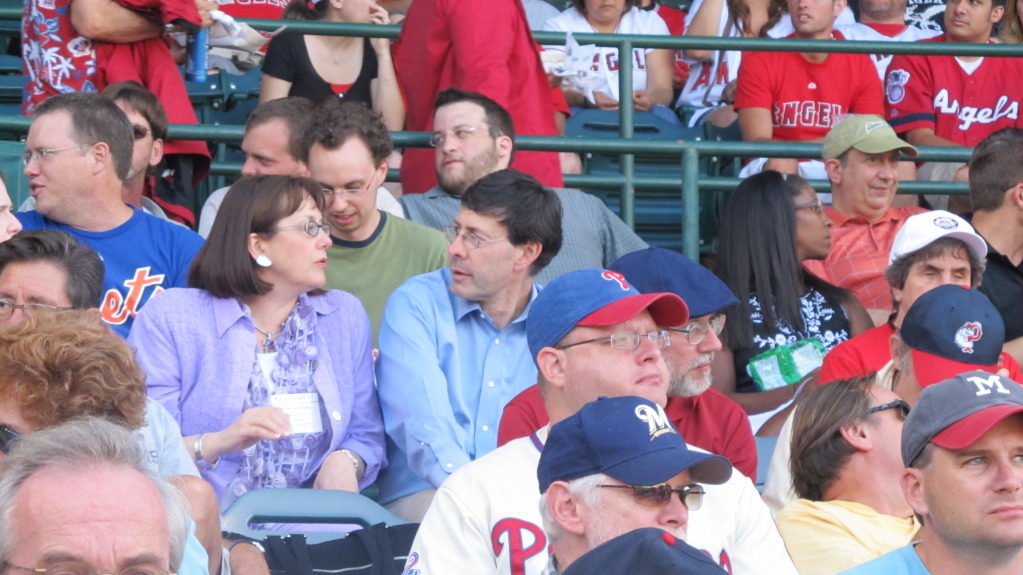 (From left to right at Angels Stadium: Dial, Wyers' dad, Wyers, Jacobs, Gleeman)
We didn't stay for Dierks Bentley's postgame concert, partly because his cowboy hat-wearing fans kind of freaked me out and I'd never heard of him, but mostly because we needed to get back to the hotel for the annual SABR convention poker tournament. Ellenburg brought the chips from his high-stakes home game, Dial talked the hotel manager into opening a ballroom for us at midnight, and we spent the next few hours playing a 15-person tournament.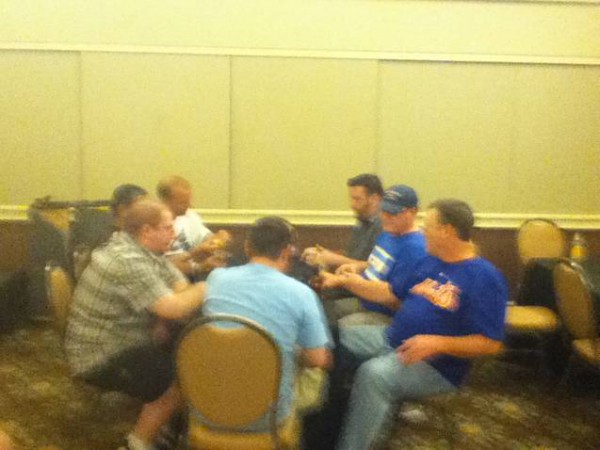 (SABR convention poker tournament final table)
Actually, to be more accurate we spent the next three hours drinking while occasionally playing poker, although there was a solid group of spectators that grew to include Neyer and, ever so briefly, Mark Armour. I finished out of the money in fifth. Giacalone won the whole tournament after complaining beforehand that he hadn't played since the convention in Toronto five years earlier and the Scotty Nguyen of the SABR convention, Dial, was runner-up.
(Just like the World Series of Poker, we put the money on the table for heads-up play)
As players were knocked out and onlookers smartly concluded that sleeping sounded better than watching us the group gradually got smaller, but when the tournament was over about 10 of us carried what was left of the booze to a third-floor balcony and held an official chapter meeting. Or tried to, at least. I don't remember much aside from refilling my glass of Jameson, but my headache riding a shuttle to the airport in the morning suggested I had a great time.
(My dance partner Saturday night)
Sitting on the flight back to Minnesota, sipping some more orange juice and vodka courtesy of those nice women and their drink tickets, I was already thinking ahead to the 2012 convention and how much fun it was going to be. SABR42 is in Minneapolis, which initially didn't sound all that great to me because part of the reason I love going to conventions so much is traveling to another city and seeing games in other ballparks.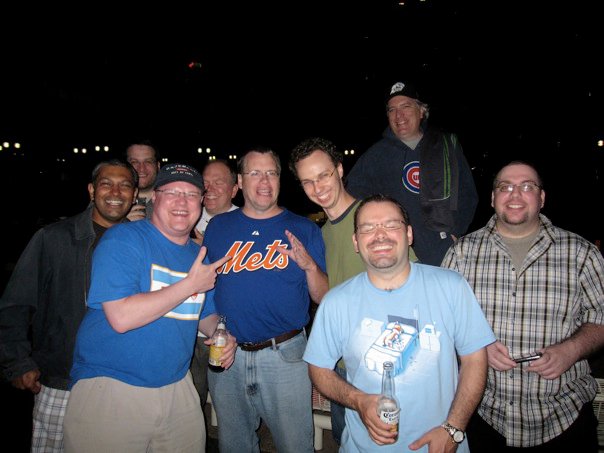 (Left to right: Kumar, Gleeman, McCullough, Brewer, Dial, Jacobs, Dimino, Ellenburg, Milazzo)
However, more than any of that the SABR convention is about hanging out with like-minded friends who love baseball and poker or drinking or just shooting the shit, and my hope is that the event coming to Minnesota means the excellent and ever-growing Twins blogosphere will be well-represented. I'll be there, because I'll never miss another convention, but I'm hoping to see tons of AG.com readers and my fellow Twins bloggers too. You won't regret it, promise.
You have 12 months to clear your calendar and prep your liver. Women of Minnesota, look out.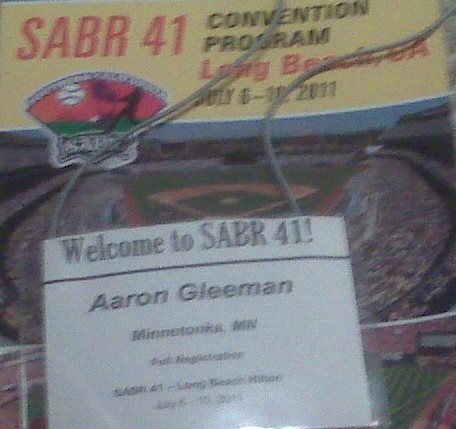 This week's content is sponsored by the St. Paul band Shoveldance, so please help support AG.com by checking out their new album.