July 18, 2011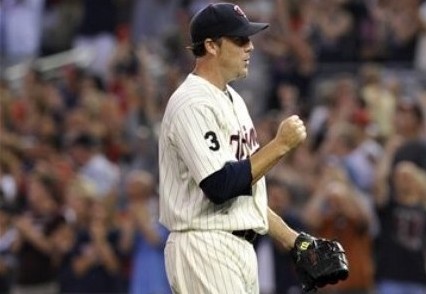 • Matt Capps blew a 1-0 lead and took the loss Friday, serving up a mammoth two-run homer to Royals rookie Eric Hosmer for his league-leading seventh blown save of the year, at which point Ron Gardenhire finally made a change at closer. Gardenhire turned back to former closer Joe Nathan rather than give the bullpen's most effective reliever, Glen Perkins, his first shot in the role, which I agreed last week makes the most sense as a short-term solution.
Perkins may eventually prove to be an elite closer, but he's been so valuable in part because of Gardenhire's willingness to use him in crucial spots whenever the need arises, whereas the manager's closer usage has always been far more rigid. For now at least I'd rather see Perkins throw 80 innings in a variety of tight situations than 65 innings with a lead of 1-3 runs in the ninth inning and Nathan's past closer experience makes the move even more of a no-brainer.
Nathan hasn't looked quite like his pre-surgery self, but he's still been impressive since coming off the disabled list in mid-June. His velocity is up compared to earlier this season, he pitched on three straight days over the weekend for the first time since 2009, and Nathan has allowed just one run in 9.1 innings since the month-long DL trip, with seven strikeouts versus one walk and a .125 opponents' batting average. As for Capps, there isn't much left to say at this point.
By focusing on save totals and supposed "proven closer" status the Twins overvalued a setup-caliber pitcher, paying a premium in players and money. It was a huge mistake then and looks even bigger now, but Capps has also fallen apart. He's managed just 4.8 strikeouts per nine innings, which is 30 percent below his career rate, and command issues have hitters teeing off on what's always been a nearly all-fastball repertoire. Bad process, bad decision, bad result.
• Fortunately even with Capps turning a 1-0 lead into a 2-1 loss Friday night the Twins began the 18-day, 19-game stretch that figures to define the season by taking three of four from the Royals. They're now just five games below .500 for the first time since April and sit five games back in the AL Central with the first-place Indians and second-place Tigers coming to town for back-to-back four-game series. Giddy up.
• Scott Baker was scheduled to start Game 1 of today's doubleheader versus the Indians, but was scratched from that outing yesterday and placed on the disabled list with the elbow injury that prematurely ended his last start on July 5. Scott Diamond will start in Baker's spot, as the Twins bypassed No. 1 prospect and Triple-A rotation-mate Kyle Gibson. Kevin Slowey wasn't an option because he last started Friday at Rochester.
Diamond hasn't impressed at Triple-A, posting a 4.70 ERA and 68-to-30 strikeout-to-walk ratio in 92 innings while allowing opponents to hit .291 off him, but he's fared better of late and the Twins clearly think very highly of him. They picked Diamond in the Rule 5 draft and then, when it was clear there wouldn't be an Opening Day spot for him on the pitching staff, they overpaid to keep him by giving the Braves hard-throwing reliever prospect Billy Bullock.
Under normal circumstances the Twins likely would've replaced the injured Baker with Anthony Swarzak and avoided calling up Diamond (or even adding him to the 40-man roster), but with Swarzak already set to start Game 2 of the doubleheader they needed another stretched-out arm and promoting Gibson for a one-and-done start didn't make sense. And instead of taking Baker's spot tomorrow Gibson started yesterday at Triple-A, coughing up nine runs.
• In addition to sticking Baker on the DL and calling up Diamond the Twins also optioned Matt Tolbert to Triple-A so they could add another pitcher for the doubleheader, increasing the staff to a ridiculous 13 arms. Chuck James never should have been sent back to Triple-A in the first place when the Twins chose to keep Phil Dumatrait over him last month and has continued to dominate with a 2.25 ERA, .197 opponents' batting average, and 48 strikeouts in 40 innings.
• Jim Thome's monstrous three-run homer yesterday was the 596th of his Hall of Fame career and came in his 150th game for the Twins. Thome, who earned around $2 million last season and will make about $3 million this year, has hit .264/.392/.573 in those 150 games, with 31 homers and 82 walks in 476 plate appearances. That works out to a .965 OPS, which is by far the best OPS and adjusted OPS+ in Twins history among all hitters with 150 or more games:
                       G      OPS                                 G     OPS+
JIM THOME            150     .965          JIM THOME            150     160
Harmon Killebrew    1939     .901          Harmon Killebrew    1939     148
Joe Mauer            871     .878          Rod Carew           1635     137
Chili Davis          291     .862          Chili Davis          291     135
Justin Morneau      1003     .855          Joe Mauer            871     134
Thome is also the only hitter in Twins history with a slugging percentage above .550 (.573) or an Isolated Power above .300 (.309), topping Harmon Killebrew in each category. My favorite part of Thome's homer may have been Delmon Young's reaction to it from the on-deck circle: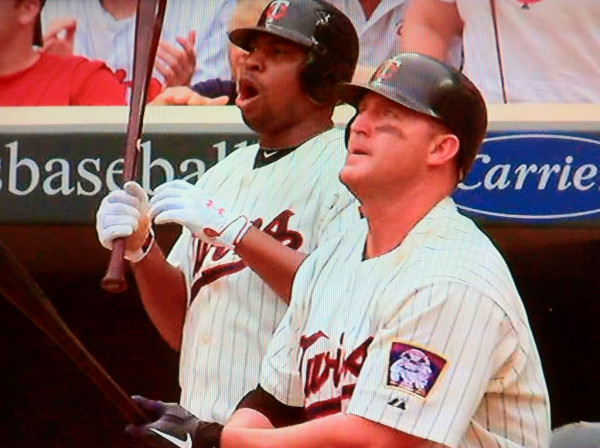 Thome has 31 home runs and 82 walks in 476 plate appearances for the Twins. Young has 45 home runs and 83 walks in 1,884 plate appearances for the Twins.
• Joe Christensen of the Minneapolis Star Tribune talked to a source who says "the Twins have no plans to trade Michael Cuddyer even if they fall from contention" and in fact "an effort will be made to re-sign Cuddyer this fall." Among impending free agents Cuddyer would bring back the most in a trade, but considering his extreme popularity it's certainly not surprising that the Twins aren't shopping him despite various reported interest from contending teams.
As a good but not great 32-year-old making $10.5 million on the verge of free agency Cuddyer is exactly the type of player most sub-.500 teams should be looking to cash in for future value at the trade deadline, but because the division is so weak the Twins aren't like most sub-.500 teams. With that said, not trading Cuddyer for long-term help could be a missed opportunity if they fall out of contention and re-signing him for similar money would be very dangerous.
• Trading away J.J. Hardy, much like trading for Capps, was a poor move at the time that now looks considerably worse. Hardy has hit .278/.335/.490 through 65 games for the Orioles after hitting .302/.356/.436 in his final 65 games for the Twins, and passed up free agency by inking a three-year, $22.5 million extension over the weekend. He surely would have been cheaper for the Twins to sign, but instead they spent $15 million for three years of Tsuyoshi Nishioka.
Meanwhile, neither player acquired for Hardy has impressed. Jim Hoey is faring well enough at Triple-A to think he may still provide some value, but he flopped with the Twins by allowing 17 runs in 12 innings as opponents hit .344 with nearly as many walks (8) as strikeouts (9). Brett Jacobson has split time between the rotation and bullpen at Double-A, posting a 4.24 ERA and ugly 60-to-48 strikeout-to-walk ratio in 74 innings. From the Baltimore Sun extension story:
Hardy, who came over this offseason in a trade with the Minnesota Twins for two minor-league pitchers, is a free agent at season's end and was looking for more stability after being with three teams since 2009. The Orioles have been pleased with his offense, defense, and leadership in the clubhouse.
Funny how that works. Bad process, bad decision, bad result.
• I've already written plenty about Slowey, so I won't delve back into that situation other than to say for as much harsh criticism as he's taken from fans, media members, and the Twins their handling of him fits on the same list of terrible decisions as the Capps and Hardy trades. He's currently in the rotation at Triple-A, trying to build back arm strength, and Jon Paul Morosi of FOXSports.com reports that the Pirates and Rockies have expressed interest in Slowey.
Slowey's value has likely never been lower and he's under team control for 2012, so there's no major urgency to move him. On the other hand, that 2012 team control would come with a salary of around $3 million and he's deep enough in the doghouse that it's awfully difficult to imagine digging out, in which case salvaging some kind of value for Slowey might make sense. He's the most likely player to be traded by July 31 whether the Twins are buyers or sellers.
• One offseason move that definitely worked out was not bringing back Nick Punto. Declining his $5 million option and instead giving him a $500,000 buyout was a no-brainer, but given the Twins' lack of quality middle infield depth I thought re-signing him for $1 million would've made sense. He ended up signing a one-year, $750,000 deal with the Cardinals, but missed much of April following hernia surgery and now may need season-ending elbow surgery.
• After taking three months off from game action following his disastrous season debut 2010 first-round pick Alex Wimmers has finally taken a big step in his recovery from extreme control problems. He returned to the mound last week at rookie-ball with just one walk in a scoreless inning, after which the Twins assigned him back to high Single-A. He's nowhere near out of the woods yet, but hopefully Wimmers can get somewhat back on track heading into 2012.
• I've written a few times that Ben Revere runs so fast that it often looks like his feet almost can't keep up as he flies around the bases. He took that to another level Friday night, losing his balance rounding second base and falling into a somersault before ending up on third base with a triple. Revere's long-term upside is still very much in question, but there's no doubt that he's been as fun to watch as a player could possibly be while hitting just .278/.314/.320.
This week's content is sponsored by Wholesale Gold and Diamond Distributors in Minneapolis, so please help support AG.com by considering them for your jewelry needs.