July 21, 2011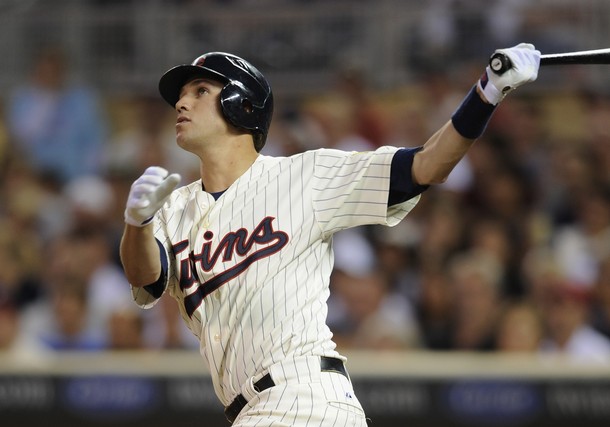 Trevor Plouffe was a mess in his first taste of the majors last year, going 6-for-41 (.146) with 14 strikeouts and zero walks, and began this season back at Triple-A for the fourth year in a row, where he'd hit just .253 with a .303 on-base percentage and .419 slugging percentage in 1,194 plate appearances. Recalled to help replace the injured Tsuyoshi Nishioka at shortstop in early May, he went 12-for-60 (.200) with sloppy defense and was sent back to Rochester.
At that point Plouffe was a 25-year-old with 1,200 unimpressive plate appearances at Triple-A who had gone 18-for-101 (.178) in the majors and the Twins seemed convinced that he lacked the defensive skills to be a regular shortstop, which left "utility man" as his upside. And then a funny thing happened: Plouffe went back to Rochester and destroyed Triple-A pitching, hitting so well that the Twins gave orders to play him at first base and right field.
Plouffe had never played a single inning at either position through his first seven-plus seasons as a pro, but after starting seven times at first base and six times in right field the Twins called him back up last week. He was supposed to start at first base Thursday, but instead moved to designated hitter when Jim Thome was a late scratch from the lineup with a sprained toe, and then Plouffe started in right field for all three weekend games against the Royals.
His time as a regular right fielder figures to be limited, as the Twins are hoping to get Denard Span and Jason Kubel back from the disabled list relatively soon and once that happens the outfield logjam won't leave any room for Plouffe. However, the far bigger question is whether Plouffe's performance at Triple-A this season is for real and what that means for his suddenly resuscitated prospect status.
After seven mediocre-at-best years in the minors, including three consecutive underwhelming seasons at Triple-A, has Plouffe truly gone from a light-hitting, shaky defensive shortstop to a slugging corner outfielder at age 25? Probably not, as focusing on 50 good games following seven so-so years doesn't usually make sense, but Plouffe's performance at Triple-A goes well beyond good and Span is another former Twins first-round pick who had a very similar story.
Coming into the 2008 season Span was a 24-year-old repeating Triple-A after hitting just .267 with a .323 on-base percentage and .355 slugging percentage in 139 games the previous year and had hit just .283/.348/.348 overall in five pro seasons. Much like Plouffe he narrowly clung to a spot on my annual list of the Twins' top 40 prospects and seemed destined for a career as a bench player.
And then Span hit .340 in 40 games at Triple-A, showing dramatically improved patience and power. Called up to Minnesota for his big-league debut in mid-2008, he hit .294/.387/.432 in 93 games and then showed it was no fluke by hitting .311/.392/.415 as an everyday player in 2009. Span's production declined to .264/.331/.348 in 153 games last season, but he bounced back to hit .294/.361/.385 in 56 games this year before suffering a concussion on June 3.
Span looked like a first-round bust heading into 2008, but an impressive 40-game stretch at Triple-A forced his way into the Twins' plans and now he's one of the better all-around center fielders and leadoff men in the league, hitting .289/.366/.391 through 447 career games with the Twins after batting just .283/.348/.348 through his first 507 games in the minors. Span's overall skill set remains mostly the same, but he suddenly became a different player in 2008.
Span making massive strides at age 24 after five unimpressive seasons in the minors doesn't actually make it any more likely that Plouffe will do the same at age 25 after seven mediocre seasons under his belt, but it does provide an example that's both recent enough and similar enough to warrant some optimism. And as far as disappointing former first-round picks having two-month breakouts at Triple-A go, Plouffe stands out even more than Span did.
What made Span's breakout at Triple-A more impressive than just another fluky 40 games was that his lofty batting average also came along with significant improvements in plate discipline, strike-zone control, and power. In other words, he didn't just hit .340 for 40 games, he hit .340 with more walks, fewer strikeouts, and more power. Plouffe is similar in that his breakout at Triple-A wasn't simply driven by a fluky batting average.
Plouffe also smacked 15 homers in 51 games, which matched his career-high for a season and represented a 235 percent leap in Isolated Power compared to his previous career mark. He continued to strike out at around the same rate, but drew about 25 percent more walks than usual. Plouffe didn't just hit .313 for 51 games, he hit .313 with twice as much power and 25 percent more walks while maintaining a similar strikeout rate. He showed signs of changing.
With that said, in the grand scheme of things 51 games is still a very small sample, particularly within the context of a seven-season career that looks nothing like it. However, these aren't just any 51 games. Not only did Plouffe show improvements beyond his lofty batting average, those improvements added up to perhaps the most dominant performance any Twins hitting prospect has had at Rochester in ... well, ever.
As is often the case with minor leaguers the raw numbers don't tell the whole story. Plouffe hitting .313/.384/.635 would be impressive anywhere, but rarely does anyone approach those numbers in the pitcher-friendly International League. Not only does his 1.019 OPS lead the league this year, Carlos Santana and Dan Johnson were the only International League hitters from any team to top a 1.000 OPS in more than 50 games during the previous five seasons.
Rochester became the Triple-A affiliate for the Twins in 2003 and in the nine years since then Plouffe is just the sixth Red Wings hitter to top a .900 OPS in at least 150 plate appearances:
                  YEAR      PA      OPS
TREVOR PLOUFFE    2011     220    1.019
Justin Morneau    2004     326     .992
Jason Kubel       2004     390     .958
Brian Buscher     2008     214     .915
Denard Span       2008     184     .915
Randy Ruiz        2008     456     .902
Plouffe sits atop a list that includes Span's aforementioned breakout and the final step Kubel and Justin Morneau took before becoming impact hitters in the majors. It also includes Randy Ruiz and Brian Buscher, so a .900 OPS in Rochester doesn't guarantee stardom in Minnesota, but then again Plouffe posted a 1.019 OPS, not a .900 OPS, and the only two Rochester hitters in nine years to come within 100 points went on to be two of the best bats in Twins history.
There's plenty of reason to be skeptical, as even with this monster season thrown into the mix he's a .262/.316/.451 hitter in 337 games at Triple-A. Those numbers translated to the majors project poorly at shortstop, let alone right field, but the breakout was so spectacularly out of character that it may make Plouffe's track record an afterthought and there's still a shot he can handle a position with more defensive value and a lower offensive standard than right field.
This week's content is sponsored by Wholesale Gold and Diamond Distributors in Minneapolis, so please help support AG.com by considering them for your jewelry needs.