August 22, 2011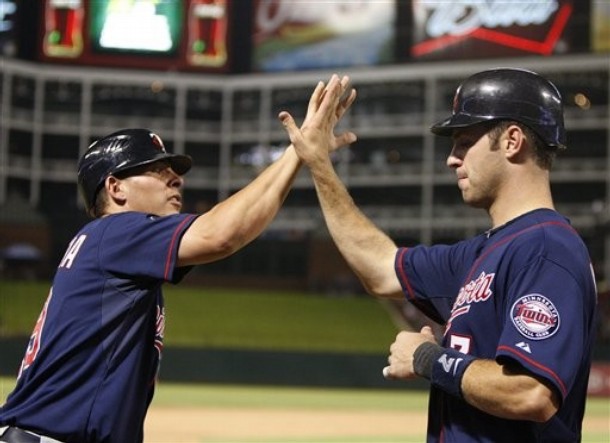 Ron Gardenhire has had no shortage of worthy subjects for postgame criticisms this year, but the manager has seemingly focused on Danny Valencia's various shortcomings more than any other player during his daily media briefings. Thanks to a nice-looking RBI total Valencia's poor hitting has mostly gotten a free pass, but Gardenhire has repeatedly and consistently singled out the 26-year-old third baseman for his defensive miscues and mental lapses.
Gardenhire's focus on Valencia was never more apparent than on August 12, when the infield collectively imploded behind starter Carl Pavano and most of the manager's postgame criticism centered around Valencia misplaying a bunt in the third inning rather than, say, Matt Tolbert's misplay in the seventh inning or any number of Tsuyoshi Nishioka's wide-ranging assortment of mental and physical errors.
Phil Mackey of 1500-ESPN suggested on Twitter afterward that Gardenhire picked on Valencia because he thinks there's the potential for him to become a much better player, whereas with Nishioka (and Tolbert) he has no such hopes. And there's no doubt plenty of truth to that, but it's also clear that Gardenhire is simply frustrated by Valencia on several different levels, some of which were perceived issues dating back to his days in the minors.
Before calling him up at age 25 the Twins weren't shy about citing Valencia's defense and work ethic as issues keeping him in the minors, but then he hit .311 and played surprisingly well at third base as a rookie to make it easy to overlook any doubts. However, now that he's come back down to earth offensively--as strongly hinted at by an underwhelming minor-league track record--and his defense has also slipped Valencia's flaws are again at the forefront.
So much so, in fact, that Joe Christensen of the Minneapolis Star Tribune reports "not everyone views Valencia as the long-term answer at third base." Meanwhile, the underlying aspects of Valencia's offensive production mostly haven't changed much from his optimism-creating rookie campaign and in fact in some key areas like line-drive percentage he's actually faring better as a sophomore, but his batting average on balls in play has plummeted from .345 to .275.
None of which is to say the Twins are wrong to view Valencia skeptically long term. He's not as great as he looked with a .345 batting average on balls in play last year and he's not as awful as he looks with a .275 batting average on balls in play this year, so the question is whether the player in between those two extremes is a long-term building block. And the answer likely depends on Valencia's defense at third base.
Despite the wild swings in production his overall .271/.315/.412 line through 207 games in the majors is basically what should have been expected from someone who hit .288/.338/.452 in 246 games between Double-A and Triple-A. During the past three seasons MLB third basemen have collectively batted .260/.325/.410, which makes Valencia almost exactly average for the position offensively.
Defense is a similar story, as blending together last season's strong showing with this year's terrible showing gives Valencia a combined Ultimate Zone Rating of 0.2 runs above average in 1,700 innings at third base. For a 26-year-old making the minimum salary average at the plate and average in the field is plenty valuable, but his current poor defense more closely matches his minor-league reputation.
At his salary even average offensively and slightly below average defensively would make him a valuable player for the next several seasons, particularly in an organization lacking in quality alternatives at third base, but the Twins are likely right not to view Valencia as "the long-term answer" at the position and his short-term status could change in a hurry if, as Christensen reports, some Twins officials "privately hope Joe Mauer adds third base to his repertoire."
I'm still of the opinion that Mauer should remain at catcher unless or until he's sidelined again for a lengthy stretch, but lessening his workload behind the plate by using him more at other positions is clearly in the Twins' plans and certainly a worthwhile idea. And if he does make the switch away from catcher at some point third base is an intriguing destination where catchers like Joe Torre, Johnny Bench, B.J. Surhoff, Todd Zeile, and Brandon Inge have landed.
A huge portion of Mauer's value comes from manning a key defensive position at which only a few players can even compete with his hitting, so moving him to an offense-driven position like first base or designated hitter would dramatically decrease the strength of his bat relative to the competition and wipe away nearly all defensive contribution. As a way to take a break from catching twice a week first base or DH is fine, but as long-term homes they're problematic.
No position is more demanding defensively or less productive offensively than catcher, so on paper there isn't a way to move Mauer without having his overall value drop unless his hitting and/or health significantly improves as part of the switch. With that said, compared to first base or DH at least third base would allow him to remain an elite hitter for the position while giving him the opportunity to contribute sizable value defensively.
In other words, if the Twins decide Mauer has to make a position switch beyond simply taking a couple days off from catching each week third base could be the lesser of all evils. It should also be noted that Mauer is certainly no sure thing to be an asset at third base after playing exclusively catcher for more than a decade, but his skill set suggests the potential to do well there in time and the possibility existing in the Twins' collective mind is bad news for Valencia.
This week's content is sponsored by PosterBurner.com, where you can turn your photographs into high-quality custom posters.