September 19, 2011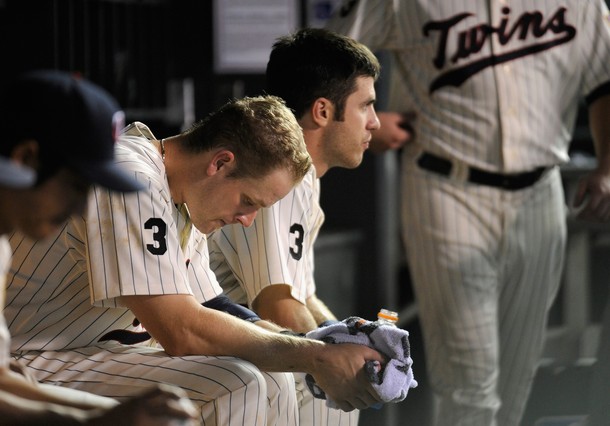 • Joe Mauer's mess of a season came to a premature end Friday as the Twins announced that he'd be shut down for the final two weeks after being diagnosed with mild pneumonia. Mauer missed six games last month with what the Twins called an upper respiratory infection, leading to even more criticism and mockery from fans and media members, but as has too often been the case with various players and injuries this year the team's initial diagnosis proved lacking.
Mauer played through the pneumonia after returning to the lineup on August 30, starting 12 of the next 14 games while hitting .289/.438/.500 with two homers and nine walks. Had another hitter produced that well playing through what turned out to be pneumonia it would likely be used as an example of toughness, but the narrative surrounding Mauer has been established in such a way that potential positives are simply ignored and negatives are magnified.
He finishes the first season of an eight-year, $184 million contract batting .287/.360/.368 in 82 games, which Fan Graphs calculates as worth $7.7 million to the Twins. When you produce $8 million in value and earn $23 million in salary that's a recipe for deserved criticism, but Mauer certainly isn't the first star player to have a poor, injury wrecked season in the midst of a huge contract and the level of fan vitriol and venomous media coverage has reached absurd levels.
Based on those same Fan Graphs calculations Mauer provided the Twins with $137.7 million in value from 2004-2010 while earning $34 million in salary. That speaks mostly to the nature of MLB's pre-free agency system of team control, but it also puts his 2011 performance and pay in a larger context. For the first seven seasons of Mauer's career the Twins got $4 in value for every $1 they paid him and unfortunately in his eighth season those numbers were reversed.
Mauer obviously needs to get healthy, stay healthy, and work extremely hard this offseason to return to where he was prior to undergoing knee surgery in December. Whether he's capable of doing that and specifically whether he's capable of doing that as a full-time catcher is a big question mark that looms over the Twins' future, but hopefully Mauer hitting .312/.390/.405 in 66 games and 269 plate appearances since mid-June shows a glimpse of better days ahead.
• Sadly there have been no such glimpses from Justin Morneau and Denard Span as they try to recover from concussions. Span initially suffered his brain injury on June 3, pushed himself to return two months later despite continued symptoms, and went right back on the disabled list after performing horribly for nine games. Span still isn't symptom-free four months after his concussion and Morneau is seemingly back to square one 15 months after his concussion.
Morneau, unlike Span, was able to return to the lineup for a long stretch, but looked nothing like his usual self before being placed on the DL with a wrist injury in June. It turned out the wrist injury was the least of Morneau's problems, as he underwent neck surgery while on the DL, re-triggered the concussion symptoms on a fairly routine lunging play in late August, and is now having foot and knee operations. He's played just 69 of the last 230 games, hitting .227.
This offseason will be filled with crucial decisions for the Twins as they try to bounce back from arguably the worst season in team history, but no moves would have a more significant impact than their three best long-term building blocks getting healthy and in the case of Morneau and Span there's really nothing that can be done beyond waiting, monitoring, and hoping. Morneau in particular seems to be nearing the stage where talk of retirement could become very real.
• Tsuyoshi Nishioka's season is also over, as the Twins shut him down with an oblique strain. From breaking his leg in the sixth game to being overmatched both offensively and defensively Nishioka's first season couldn't have gone much worse. He hit .226/.278/.249 in 68 games with three times as many strikeouts as walks, stole two bases and was thrown out four times, and Ultimate Zone Rating pegged him as 7.2 runs below average defensively in only 508 innings.
In addition to the $5 million posting fee the Twins paid for exclusive negotiating rights Nishioka is owed $3 million in 2012 and 2013, so he'll remain in the team's plans unless he decides to follow Kenji Johjima's footsteps and voluntarily go back to Japan. However, according to Phil Mackey of 1500-ESPN the Twins are contractually able to demote Nishioka to the minors and at the very least he'll have to compete for a spot on the Opening Day roster next season.
• For a while it looked like Trevor Plouffe would be the obvious answer to unseat Nishioka at shortstop in 2012, but he's resumed struggling defensively and has hit just .220/.294/.369 in 71 games. Plouffe created some optimism by crushing Triple-A pitching for 50 games and with seven homers and 13 doubles in 241 at-bats he's maintained much of the power he displayed in Rochester, but hitting .220 with 61 strikeouts and 22 walks looks like the pre-2011 version.
His breakout at Triple-A was impressive enough that he warrants an extended chance in some kind of role next season, but it's difficult to imagine the Twins feeling comfortable with Plouffe and Nishioka atop their shortstop depth chart next spring. Plouffe is a 25-year-old with shaky defensive skills and a .262/.316/.451 mark in 1,400 plate appearances at Triple-A, so slotting him into a utility role with an emphasis on facing left-handed pitching makes the most sense.
• As a group Twins shortstops are second-worst in baseball defensively with a combined 10.6 runs below average according to Ultimate Zone Rating, with Nishioka (59), Plouffe (34), Alexi Casilla (36), and Matt Tolbert (22) each getting at least 20 starts there. UZR also pegs Twins second basemen at 5.9 runs below average and third basemen at 5.7 runs below average, so Ron Gardenhire is predictably determined to shore up the infield for next season:
We're going to definitely do a lot of research and a lot of digging on what's going to make us better in the infield. There's going to be a lot of people in camp, we hope, that are going to all push each other, and we're going to come out with a good defense. If you've got guys that pitch to contact, and you don't catch the ball, you're in trouble. We have to catch the ball. We have to cover more ground, the whole package. That's going to be huge.
Regardless of what you think of the wisdom behind building staffs full of pitch-to-contact arms, Gardenhire is absolutely correct that it places even more emphasis than usual on the defense converting all those extra balls in play into outs. Twins pitchers have the fewest strikeouts in baseball and it isn't even close, as they trail the next-worst team by 10 percent and the MLB leaders by 30 percent. They're also dead last in turning balls in play into outs at 69.8 percent.
Gardenhire has already hinted pretty strongly that Casilla will be the starting second baseman next year, so connecting the dots he's clearly viewing shortstop and third base as the areas to improve. All of which is more reason to believe the Twins won't go into 2012 with Plouffe and Nishioka as their top two shortstop options and adds to the speculation that Danny Valencia will be shopped because his place in Gardenhire's doghouse is due largely to defensive lapses.
This week's content is sponsored by Jane Gallop's new book, "The Deaths of the Author: Reading and Writing In Time."