September 26, 2011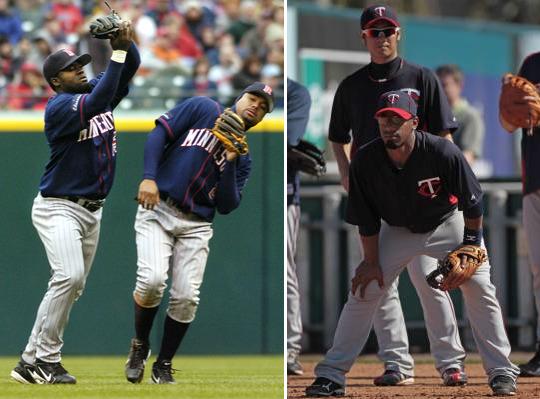 One of the constants throughout my 10 seasons of blogging about the Twins is their inability to develop or acquire middle infielders who can hit. I started blogging in 2002, when the Twins hadn't been to the postseason in a decade, Ron Gardenhire was a rookie manager, and the double-play duo was Cristian Guzman and Luis Rivas. In the 10 years since then they've had 10 different players start at least 100 games at shortstop or second base:
                      G      OPS
Nick Punto          430     .652
Cristian Guzman     423     .684
Luis Rivas          359     .686
Alexi Casilla       335     .643
Jason Bartlett      301     .706
Luis Castillo       227     .720
Brendan Harris      160     .666
Orlando Hudson      124     .712
Juan Castro         117     .599
Matt Tolbert        113     .570
Yuck.
During that 10-season span the average American League middle infielder has posted a .730 OPS, yet all 10 of the middle infielders to start at least 100 games for the Twins posted an OPS below .730. In fact, each of the Twins' four most-used middle infielders had an OPS below .690 and the 10-player group combined for a .670 OPS that's 60 points below the league average, with the high-water mark being Luis Castillo's mediocre .720 OPS from 2006 to mid-2007.
Here's how Twins shortstops have ranked in OPS for the 14-team league each year:
YEAR     RANK     SHORTSTOPS
2002     12th     Guzman, Hocking
2003      8th     Guzman, Hocking, Gomez
2004     11th     Guzman, Punto
2005     14th     Bartlett, Castro, Punto
2006      8th     Bartlett, Castro, Punto
2007     10th     Bartlett, Punto
2008     12th     Punto, Harris, Everett
2009      9th     Cabrera, Punto, Harris
2010      6th     Hardy, Punto, Casilla
2011     13th     Nishioka, Casilla, Plouffe, Tolbert
On average during the past 10 seasons Twins shortstops have ranked 10th among AL teams in OPS and the only time they've finished higher than the middle of the pack was last season, when J.J. Hardy's decent .714 OPS helped them rise to sixth and they immediately jettisoned him. Twins shortstops have been above average offensively once in 10 years and even then it was just barely, whereas they've been 10th or worse six times and 12th or worse four times.
And now here's the same list, but with Twins second basemen:
YEAR     RANK     SECOND BASEMEN
2002      9th     Rivas, Hocking, Canizaro
2003     12th     Rivas, Hocking, Gomez
2004      7th     Rivas, Cuddyer
2005     12th     Punto, Rivas, Rodriguez, Boone
2006      9th     Castillo, Punto
2007     13th     Castillo, Casilla, Punto
2008     10th     Casilla, Harris, Punto
2009     14th     Casilla, Punto, Tolbert
2010      9th     Hudson, Casilla, Tolbert
2011     13th     Casilla, Hughes, Tolbert, Cuddyer
Believe it or not the Twins' second basemen have actually been slightly worse than the woeful shortstops, ranking 11th among AL teams in OPS on average during the past 10 seasons and never placing higher than seventh. In those 10 years they've been ninth or worse nine times and 12th or worse five times. And this year both the Twins' shortstops and second basemen are second-to-last among AL teams in OPS.
It's also worth noting that they haven't been any better at finding productive third basemen, at least since Corey Koskie left as a free agent. Koskie was the Twins' starting third baseman from 2000-2004 and on average during those five seasons their OPS at third base ranked fifth in the league. Koskie signed with the Blue Jays after the 2004 season and since then here's how Twins third basemen have ranked in OPS among AL teams:
YEAR     RANK     THIRD BASEMEN
2005     10th     Cuddyer, Rodriguez, Tiffee, Castro
2006     13th     Punto, Batista, Rodriguez
2007     14th     Punto, Rodriguez, Buscher
2008     11th     Buscher, Lamb, Harris
2009     11th     Crede, Harris, Buscher, Tolbert
2010     10th     Valencia, Punto, Tolbert
2011      9th     Valencia, Hughes
Actually that's even uglier than the middle-infield picture. This year is the first time since Koskie left that Twins third basemen have ranked better than 10th in the league in OPS and they're still below average in ninth place. Koskie started 762 total games at third base for the Twins, producing an .839 OPS. In the seven seasons since his departure they've started six different players at least 75 times at third base and none of them have cracked a .750 OPS:
                      G      OPS
Nick Punto          246     .653
Danny Valencia      222     .724
Michael Cuddyer     107     .741
Brian Buscher       106     .702
Brendan Harris       86     .688
Joe Crede            84     .729
If you combine their shortstops from 2002-2011, second basemen from 2002-2011, and third basemen from 2005-2011 that's 27 total years of infielders. And in those 27 positional years the Twins have had an above average OPS twice (shortstops in 2010 and second basemen in 2004) and have never finished higher than sixth in the league while ranking 10th or worse 18 times. All of which is a very long way of saying they can't find any infielders who can hit.
As for why they can't find any infielders who can hit ... well, there are a few theories that seem to make sense. First and foremost is that the Twins clearly focus on speed and defense more than most teams. Whether they do so successfully is up for debate, but when Nick Punto has the team's most middle-infield starts since 2002 and most third base starts since 2005 glove work and running fast are obviously priorities.
There are some exceptions, of course, particularly at third base, but even in the cases where the Twins attempted to sacrifice defense for offense they did so with non-sluggers. Third base has long been a power-hitting position and during the past 15-20 years more and more teams have viewed second base and to a lesser extent shortstop as a spot for guys with the power for 20-plus homers, but the Twins have never really come around to that approach.
Their shortstops and second basemen have almost always been diminutive players with a low strikeout rate, above-average speed, and below-average power, and that skill set rarely adds up to strong offensive production. They've been more willing to stray from that player type at third base in guys like Tony Batista, Mike Lamb, Joe Crede, Brian Buscher, Brendan Harris, and now Danny Valencia, but in none of those cases was there upside beyond solid regular.
As a tall, slow shortstop with 25-homer power Hardy is perhaps the most obvious example of the Twins going against their usual infield focus and not surprisingly they tired of him after just one year despite the highest OPS by a Twins shortstop since Guzman in 2001. Hardy's injuries were a big factor, but so was Gardenhire's desire to add speed to the infield. And now Hardy has 30 homers and an .800 OPS for the Orioles while Twins shortstops are back to not hitting.
Hardy and his .750 career OPS were sent packing because of injuries and lack of speed, while Valencia and his .735 career OPS are entrenched in the doghouse because of shaky defense and a general lack of awareness. Valencia is hardly a long-term building block, but he's a solid all-around player with a better bat than most Twins third basemen since Koskie and has plenty of value while earning the minimum salary.
It'll be interesting to see if the Twins ditch Valencia a year after ditching Hardy because neither player fits the organization's preferred infield mold and there's little indication they've realized how ineffective that mold is at finding competent hitters. Trevor Plouffe might be another test case, because in addition to possessing 20-homer power he's bigger, slower, and considerably less reliable defensively than the Twins like.
Trading away Hardy and replacing him with Tsuyoshi Nishioka showed a discouraging inability to properly evaluate those two players, but it also speaks to an overall approach to acquiring and developing infielders that's resulted in a decade of consistently awful offensive production from second base, shortstop, and third base. It's long past time to find infielders who can hit, but it remains to be seen if the Twins are capable of learning from mistakes and adapting.