September 29, 2011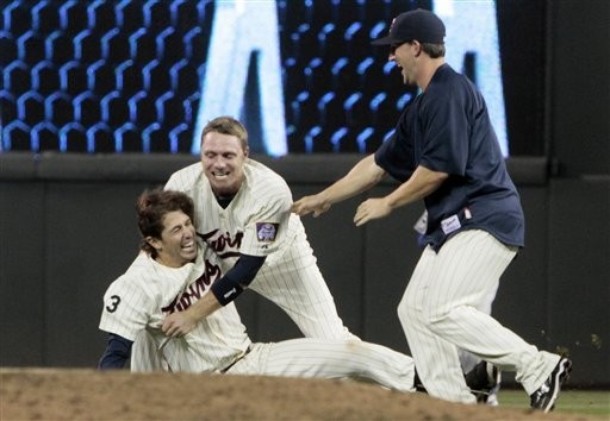 Well, at least they avoided 100 losses.
I paid my last respects to the worst Twins season of my lifetime Tuesday night at Target Field, enjoying nine innings of perfect weather and a game that meant absolutely nothing. It was an odd feeling after nine seasons of blogging about a team that was at worst on the fringes of contention every year and more often than not advanced to the playoffs, but the evening (and last night's MLB-wide craziness) was also a nice reminder of how great baseball will always be.
At times this season it was easy to forget that, as the Twins ceased playing meaningful games two months ago, had nearly the entire roster wrecked by injuries, and limped to the finish line with an execrable 13-43 collapse. It wasn't much fun to watch and it wasn't much fun to write about, so perhaps more than ever before I really appreciate everyone who continued to stop by here on a regular basis.
My hope is that you'll continue reading AG.com throughout the offseason, because I'll be trying to figure out how the Twins can get back on track while analyzing potential free agent targets, speculating about possible trades, jump-starting my long-delayed series on the best players in team history, and rolling out my annual ranking of Twins prospects. I might take a few days off to decompress before diving into the offseason, but it'll be business as usual here all winter.
Thank you for reading this blog, thank you for listening to my podcast and radio appearances, thank you for following me on Twitter, thank you for supporting my writing at NBCSports.com, Rotoworld, and MinnPost, and thank you for all the kind words and even the not-so-kind ones. If you'll keep reading and listening I'll keep writing and talking, and maybe this time next year we'll be looking over playoff matchups again. And if not, at least baseball will still be baseball.