October 31, 2011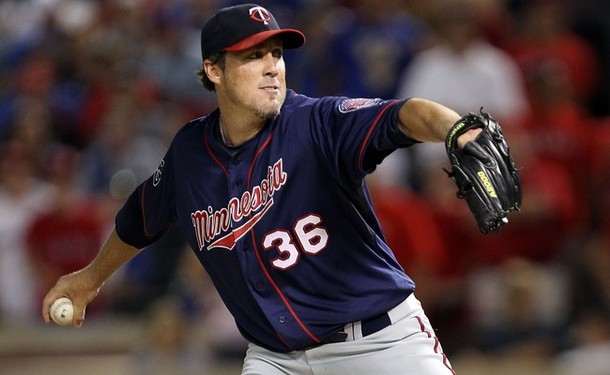 • As expected, the Twins declined their $12.5 million option on Joe Nathan and instead paid a $2 million buyout, making the 36-year-old a free agent. General manager Bill Smith has said repeatedly that they're interested in re-signing Nathan for a lesser salary, but doing so may require a two-year deal and there's no shortage of closers available this offseason. Declining the option was a no-brainer, but the wisdom of bringing Nathan back depends on the price.
Nathan looked nothing like his old self upon returning from Tommy John surgery and ended up going back on the disabled list with more elbow problems in late May. He came off the shelf a month later and reclaimed closer duties within a few weeks, posting a 3.38 ERA and 28-to-5 strikeout-to-walk ratio in his final 29 innings. Those numbers aren't quite pre-surgery Nathan and his velocity remained several ticks below his peak, but he looked very good.
With about $30 million to spend and at least a handful of holes to address coming off a 99-loss season the Twins would be smart not to commit tons of money to a 70-inning pitcher, let alone a 70-inning pitcher who'll soon be 37 years old and has just 29 innings of success since elbow surgery that cost him miles per hour. Nathan's price tag rising any higher than one year and $7 million or so should push the Twins to strongly consider cheaper, younger bullpen options.
• Smith has indicated that the Twins are unlikely to pursue Jim Thome as a free agent, citing their desire to have a more flexible roster that doesn't include a 41-year-old designated hitter who can't run or field. All things being equal that makes sense, particularly since they already limit the bench options by carrying 12 pitchers, but if Thome is available for $1 million it would be silly to rule him out completely.
There's a lot he can't do, but Thome still hit .256/.361/.477 with power and patience this year and slotting him into the DH spot for a minimal investment would give them a much-needed big bat while leaving most of their money to patch other holes. Roster flexibility is nice, especially given the Twins' many health issues, but if you can add an .800-OPS hitter for $500,000 more than the minimum salary it's probably worth living with some bench limitations.
• Matt Eddy of Baseball America notes that the Twins released 12 minor leaguers: Kyle Wahl, Nick Alloway, Marcus Limon, Bobby O'Neill, Nick Cicio, Justin Parker, Sam Spangler, Matt Tone, Jamaal Hawkins, Nick Romero, Brandon Henderson, Derek McCallum. Most of those guys were late-round picks and organizational depth, but Romero was the Twins' fifth-round pick in 2008 and McCallum was their fifth rounder in 2009.
McCallum was the first Gophers hitter with a .400 batting average since Brent Gates in 1994, broke Robb Quinlan's single-season school RBI record, and led the Big Ten in hits, home runs, slugging percentage, and RBIs during his final season, but struggled with injuries as a pro and simply never hit. McCallum was never considered a good defender at second base and hit just .215/.295/.302 with 179 strikeouts in 201 games while failing to advance beyond Single-A.
• I'm still holding out some hope that Alex Burnett can develop into a solid setup man despite a 5.40 ERA through his first 107 appearances, but Parker Hageman of Over The Baggy passed along a discouraging stat: This season Burnett got a swinging strike on just 5.4 percent of his pitches, which is the lowest rate of any reliever in baseball. By comparison Jonathan Papelbon led baseball at 16.8 percent and Glen Perkins led the Twins at 11.2 percent.
• Last winter the Twins reportedly finished runner-up in the bidding for Japanese right-hander Hisashi Iwakuma, who ultimately failed to sign with the A's after they bid $19 million for his exclusive negotiating rights. Oakland got a refund and Iwakuma went back to Japan, where he posted a 2.42 ERA and 90/19 K/BB ratio in 117 innings at age 30. Iwakuma is now an outright free agent and requires no bidding, so it'll be interesting to see if the Twins try again.
• Last but certainly not least, here's Ben Revere singing (sort of) "Single Ladies" by Beyonce:
Apparently a bunch of Rochester players showed off their pipes, because there's also YouTube evidence of Brian Dinkelman singing "Wanted Dead Or Alive" by Bon Jovi and Andy Baldwin singing "Rock With You" by Michael Jackson.