November 22, 2011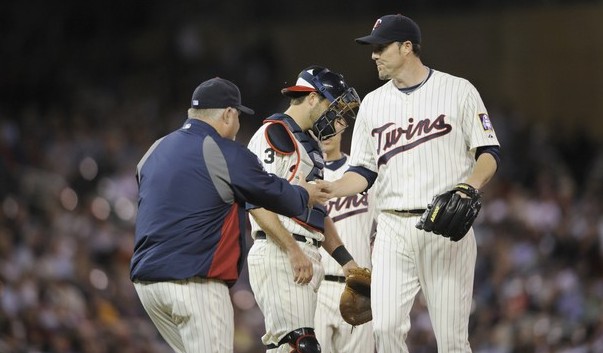 Joe Nathan became a free agent last month when the Twins declined his $12.5 million option for 2012, buying him out for $2 million instead, and yesterday the 37-year-old reliever signed a two-year, $14.5 million contract with the Rangers. Nathan was born in Texas and repeatedly talked about wanting to finish his career as the closer on a winning team, so the Rangers are an ideal fit coming off back-to-back AL titles with plans to move Neftali Feliz into the rotation.
Making a multi-year commitment to pay a 37-year-old relief pitcher $7.25 million per season for 65 innings is questionable enough for a nearly guaranteed contender like the Rangers with an otherwise stacked roster, but from the Twins' point of view it would've been extremely difficult to justify. There are too many other issues to address and too little money to spend thanks to a shrinking payroll. And he may not have trusted the Twins to turn things around anyway.
Nathan missed all of 2010 following elbow surgery and initially struggled in his return this year, showing decreased velocity and allowing 15 runs in 15.1 innings before a disabled list stint for more elbow problems in late May. He spent a month on the shelf and then looked like a new man for the final three months of the season, throwing 29 innings with a 3.38 ERA and 28-to-5 strikeout-to-walk ratio while holding opponents to a .193 batting average.
His velocity was still down a couple miles per hour compared to his pre-surgery dominance, but Nathan's control and off-speed pitches looked very sharp and he's certainly capable of thriving with a low-90s fastball. If he stays healthy and performs like he did down the stretch Nathan will rack up tons of saves in Texas, but counting on that at age 37 and one year removed from Tommy John surgery is a big risk and the Twins shouldn't be paying a premium for saves now.
Nathan went to a better team, likely for more money, and the Twins put themselves in position to spend half of their remaining payroll space on something more vital than 65 innings of relief pitching. Whether or not they will actually accomplish that wiser spending obviously remains to be seen, but in the meantime they made the right decision (or at least had the right decision made for them) and Nathan's just-completed contract paid him $47 million for 181 innings.
None of which should take anything away from how amazing Nathan was in seven seasons for the Twins. He was a 29-year-old with zero closing experience and just one season of bullpen experience when the Twins acquired him from the Giants along with Francisco Liriano and Boof Bonser in a November of 2003 deal for A.J. Pierzynski, but Nathan quickly emerged as Eddie Guardado's ninth-inning replacement and leaves as the greatest closer in team history.
And even that might be selling Nathan short. From joining the Twins in 2004 through 2009 he saved 246 games with a 1.87 ERA and 518 strikeouts in 419.1 innings. During that six-season stretch his 1.87 ERA was the lowest in baseball and his 246 saves were the most in baseball, topping second-place Mariano Rivera (1.90 ERA, 243 saves) in both categories. Nathan wasn't merely great, he had one of the greatest six-year runs by any closer in baseball history.
Nathan going down in 2010 led to the Twins overpaying for a so-called "proven closer" in Matt Capps and my hope is that the incredibly costly mistake at least taught them a valuable lesson about the role. Closers are created, not born, and Nathan, Guardado, and Rick Aguilera going on to become the three best closers in Twins history after beginning their careers as starters and setup men should make that point just as clearly as Capps' failures did.
Their challenge now should be to identify the next pitcher capable of stepping into the role like Nathan in 2004 or Aguilera in 1990 or Guardado in 2001. Find a very good reliever and let him become a very good closer, and in the process avoid the temptation to once again overpay for the "closer" label that can only be earned through opportunity in the first place. That doesn't mean it'll be easy, but focusing on ability rather than saves worked before and will work again.