November 28, 2011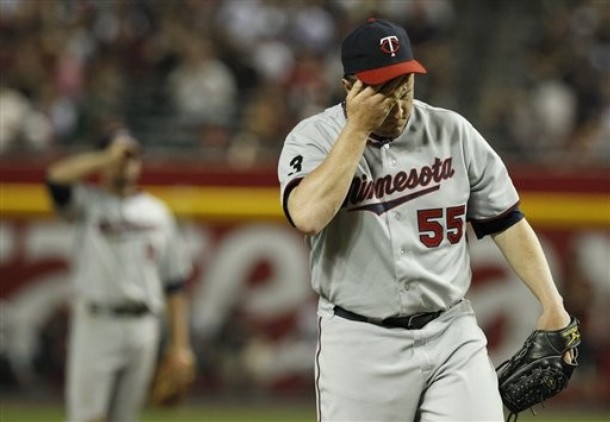 • Changes in the new collective bargaining agreement inked last week benefit the Twins in the short term, as offering Matt Capps arbitration is no longer required to receive a compensatory draft pick for the free agent. Under the old system they wouldn't have risked offering Capps arbitration because he could have simply accepted and locked the Twins into a one-year deal for around $8 million, but the changes basically equal a free, no-risk draft pick for the reliever.
Assuming, of course, that the Twins don't re-sign Capps themselves. Not only has Terry Ryan already ruled out Glen Perkins replacing Joe Nathan as closer, he's repeatedly talked about wanting the role filled by someone with previous closing experience and the Twins have made no secret about attempts to re-sign Capps. For the right price and the right role Capps would be fine, but re-signing him makes much less sense now that his leaving would net a draft pick.
Perkins can potentially be more valuable as an all-purpose setup man, so not handing him the closer job is fine, but Ryan's quotes about searching for an experienced closer bring back bad memories of the Twins talking up Capps as a "proven closer." I noted last week that the three best closers in team history each had zero experience before taking over as Twins closer, so you'd hope that and Capps' failure would have taught them to value ability over experience.
Nathan, who has the most saves in Twins history, was 29 years old and had one career save when they made him a closer. Rick Aguilera, who has the second-most saves in Twins history, was 27 years old and had seven career saves when they made him a closer. Eddie Guardado, who has the third-most saves in Twins history, was 30 years old and had never saved even 10 games in a season when they made him a closer. Closers are created, not born.
• Michael Cuddyer and Jason Kubel also saw their free agent statuses change slightly as part of the new collective bargaining agreement, but unlike with Capps the end result is basically the same. If they sign elsewhere the Twins get two draft picks for Cuddyer and one draft pick for Kubel, and in both cases arbitration still had to be offered to be eligible for compensation. They'd gladly welcome Cuddyer or Kubel back on one-year deals, so the Twins happily offered.
Cuddyer's leverage is even stronger under the new system, because teams no longer have to forfeit their first-round pick to sign the Type A free agent. Instead the Twins would receive the same first-round pick and supplemental first-round pick for his leaving, but the first-rounder is now created from scratch rather than taken from a signing team. That should lead to an even stronger market for Cuddyer, but his odds of re-signing already seemed pretty slim.
• Gene Glynn, a 55-year-old Minnesota native who spent the past five years as a scout for the Rays, is the Twins' new Triple-A manager. He hasn't managed anywhere since 1992 and never managed above rookie-ball, but Glynn spent 13 years on major-league coaching staffs under managers Don Baylor and Felipe Alou. Glynn also grew up a Twins fan, was Minnesota's first "Mr. Basketball" in 1975, went to Mankato State, and played seven seasons in the minors.
Joe Christensen of the Minneapolis Star Tribune notes that Glynn scouting Twins players for the Rays played a big part in the trade that sent Matt Garza and Jason Bartlett to Tampa Bay for Delmon Young, and minor league director Jim Rantz revealed that the Twins tried to hire him multiple times in the past. Toss in all the glowing reviews from various big names he's worked with over the years and on paper at least Glynn is an ideal fit.
Rochester fired manager Tom Nieto and hitting coach Floyd Rayford after going 102-186 over the past two seasons, losing 90-plus games in back-to-back years for the first time since 1904. Pitching coach Bobby Cuellar held onto his job and will join new hitting coach Tom Brunansky on Glynn's staff. They won't have many top prospects to work with next season, but the Twins have signed a slew of minor-league veterans in an effort to make Rochester competitive again.
• Daryl Thompson is the latest of those Triple-A pickups, agreeing to a minor-league deal with the Twins after spending the past six seasons in the Reds' system. Thompson was originally the then-Expos' eighth-round pick in 2003 and was sent to the Reds as part of an eight-player swap in 2006. Cincinnati's general manager at the time was Wayne Krivsky, who rejoined the Twins' front office as a special assistant and has brought in several of his former players.
Thompson is a 26-year-old right-hander with 17 innings in the big leagues and 711 innings in the minors, primarily as a starter. He was never considered a particularly good prospect and fits the Twins' mold as an extreme fly-ball pitcher with a low-90s fastball and good control. This year between Double-A and Triple-A he had a 123-to-40 strikeout-to-walk ratio and 4.26 ERA in 137 innings, allowing 18 homers and a .280 batting average.
• Deadspin posted a lengthy and not-safe-for-work article on Dan Lozano that included many unsavory allegations about the agent whose client list includes Albert Pujols, Alex Rodriguez, and other big names. Buried near the bottom of the piece was this Twins-related tidbit, which seems downright quaint compared to the various other details:
When Rodriguez signed with Lozano in May, it raised questions: Rodriguez's contract runs through 2017, and his endorsement deals are handled by another agency, so there's little a new agent could do for him. But Rodriguez is reportedly doing plenty for Lozano. According to agents familiar with the South Florida baseball scene, Lozano has repeatedly used Rodriguez as a recruiter for young talent.

Over the winter, even before Rodriguez made it official with Lozano, he was seen hanging out with a trio of highly ranked Miami-based prospects: the Orioles' Manny Machado, the Reds' Yonder Alonso, and the Twins' Danny Valencia. A South Florida-based agent says Rodriguez was the elder statesmen showing the kids a good time: parties, events, and just chilling at his condo. In February, all three left their current agencies and signed with Dan Lozano.
Deadspin alleges that Rodriguez got a piece of Lozano's agency in exchange for helping recruit Danny Valencia and others. None of which suggests Valencia did anything wrong, of course. Well, other than choosing an agent who's now being called "the king of sleaze mountain."
• Kansas City re-signed Bruce Chen to a two-year, $9 million deal, which seemed funny until Jon Heyman of SI.com reported that the Twins and Cubs "were the main other teams showing interest" in the 34-year-old southpaw. If true the Twins dodged a bullet and the fact that they even targeted Chen is disappointing. He posted some decent-looking ERAs, but throws in the mid-80s with poor secondary numbers, including xFIPs of 5.22, 4.79, and 4.68 from 2009-2011.
• Javier Maymi of ESPN.com notes that Ivan Rodriguez and Dereck Rodriguez "became the first father-son tandem in history to play for the same team in the Puerto Rico winter league." Dereck was the Twins' sixth-round pick this year and Maymi reports that they're thinking about switching the 18-year-old from outfielder to pitcher. He debuted in rookie-ball and hit just .156 with zero homers and a 35-to-5 strikeout-to-walk ratio in 29 games.