December 5, 2011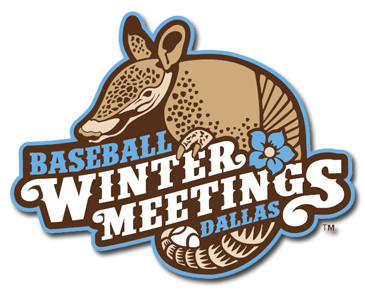 This weekend was devoid of Twins news, but with the annual winter meetings starting today in Dallas and every general manager in the same hotel it should be a very busy week across MLB. I'll be posting any interesting Twins-related speculation here throughout the day, with full write-ups of any deals they make, but if you want non-stop coverage of rumors, trades, and signings check out Hardball Talk for my analysis and Craig Calcaterra reporting from Dallas.
Hardball Talk on NBCSports.com
And of course you can follow me on Twitter for notes, snark, and links all day. It should be fun.
* * * * * * * * * * * * * * * * * * *
9:45 AM: Phil Mackey of 1500-ESPN says the Twins continue to focus on re-signing Michael Cuddyer and Darren Wolfson of KSTP-TV reports that they haven't even set up a face-to-face meeting with outfield alternative Josh Willingham.
10:15 AM: LaVelle E. Neal III of the Minneapolis Star Tribune adds in that "agents now are speculating that Cuddyer will end up back with the Twins" and it may only require a two-year contract because the market for him has been less than expected.
11:00 AM: On the other hand, Jerry Crasnick of ESPN.com reports that the Twins are among nine teams to "have called on" Willingham.
12:45 PM: Twins farm director Jim Rantz told Mel Antonen of USA Today that Chris Parmelee "still needs a year at Triple-A" despite his impressive September showing in Minnesota.
1:10 PM: Jayson Stark of ESPN reports that the Twins have asked the Rangers about David Murphy, presumably as a left-handed-hitting replacement for Jason Kubel.
1:30 PM: Not exactly a big move, but the Twins claimed 24-year-old shortstop Pedro Florimon off waivers from the Orioles. He hit .267/.344/.396 with eight homers and a 114/51 K/BB ratio in 133 games at Double-A in what was the best year of his career. He's a utility man at best.
2:35 PM: According to Rhett Bollinger of MLB.com the Twins are "tentatively scheduled" to meet with Willingham's agent Thursday "if the club doesn't reach a deal with Cuddyer" first.
3:20 PM: Enrique Rojas of ESPN Deportes has the Twins among five teams interested in free agent Carlos Guillen.
3:45 PM: Ken Rosenthal of FOXSports.com reports that the Twins joined the Marlins, Rangers, and Nationals in making an offer to Mark Buehrle, but adds that their offer is "not as strong."
5:50 PM: No word yet on the money, but Matt Capps re-signed with the Twins for a one-year deal with an option for 2013.
8:15 PM: Capps gets $4.5 million for 2012 and $6 million or a $250,000 buyout for 2013. Much more later, but for now: Yuck.