December 6, 2011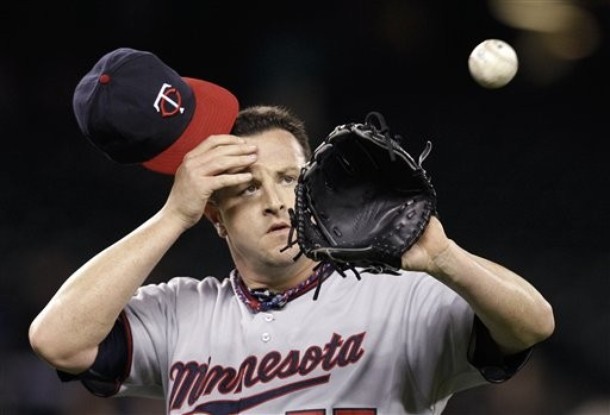 Day 1 of the winter meetings saw the Twins complete a move that has seemed inevitable for a few weeks, as they re-signed Matt Capps to a one-year, $4.5 million contract with a $6 million option or $250,000 buyout for 2013. Capps' return is far more complex than the average $4.75 million deal because it involves so many strong emotions, conjures up so much frustration, and extends a series of extremely questionable decisions.
By trading Wilson Ramos to the Nationals for Capps in July of 2010 the Twins made a massive blunder, parting with a 22-year-old top prospect for a non-elite reliever they vastly overvalued because he was a so-called "proven closer." Capps pitched well down the stretch in 2010, but then received $7.15 million via the arbitration process this year and had a poor season while Ramos established himself as one of baseball's best all-around catchers at age 23.
Capps' poor pitching combined with Ramos' continued development in Washington led to many fans being strongly opposed to Capps' return under any circumstances, but general manager Terry Ryan, pitching coach Rick Anderson, and manager Ron Gardenhire repeatedly made it very clear that they think he's likely to bounce back in a big way. And for the most part they're right, at least to an extent.
Capps revealed after the season that he pitched through arm problems, which while far from a positive thing does help explain his diminished velocity, vanishing strikeout totals, and overall struggles. Beyond that his 4.25 ERA and 34-to-13 strikeout-to-walk ratio in 66 innings equaled a 4.49 xFIP that's within shouting distance of his 4.01 career mark and fairly close to palatable for, say, a seventh-inning setup man making a couple million bucks.
Unfortunately unless the Twins beef up the bullpen with a trade Capps looks destined to pitch in a higher-leverage role than the seventh inning, with closing again a very real possibility, and $4.75 million is considerably more than a mediocre setup man should be worth to a team with multiple holes to fill and limited room in a payroll dropping $10-15 million. And perhaps worst of all by re-signing Capps the Twins forfeited a valuable asset for their ongoing rebuilding effort.
Thanks to changes within the new collective bargaining agreement the Twins no longer had to offer Capps arbitration in order to receive their compensation for the Type B free agent signing elsewhere. That meant the Twins were essentially handed a free supplemental first-round pick for Capps and they handed it right back, giving up a top-75 pick for the right to pay him $4.75 million instead of simply letting him walk and signing a different mediocre veteran reliever.
Re-signing Capps for $4.75 million is certainly questionable enough on its own, especially given the Twins' self-imposed payroll crunch, but re-signing Capps for $4.75 million and tossing away a supplemental first-round pick makes little sense. Why not let Capps walk, invest that same money in one of numerous other similarly mediocre veteran relievers available as free agents, and at least pocket what would be a valuable pick that he'll no longer fetch after this year?
Under different circumstances Capps is, was, and can still be a perfectly decent setup man. If the Twins had acquired him for a mid-level prospect, paid him modest salaries, and used him in the seventh inning the perception of his performance would have been dramatically different. Unfortunately they gave up a top catching prospect to get him, paid $7.15 million to keep him, and have forfeited a draft pick to re-sign him for $4.75 million. I'm baffled, then and now.
To keep tabs on today's batch of winter meetings Twins news and rumors, follow me on Twitter.