December 26, 2011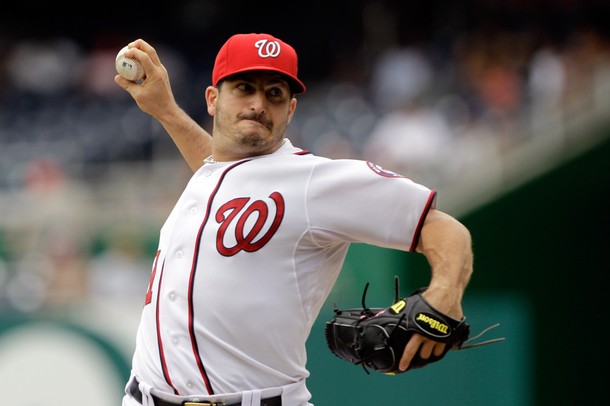 By cutting the payroll from $115 million to $100 million and then dumping Kevin Slowey on the Rockies for a marginal prospect the Twins forced themselves to go shopping for rotation depth in the bargain bin. They were linked to low-cost veterans like Paul Maholm, Jeff Francis, and Joel Pineiro, but ultimately settled on Jason Marquis and signed the 33-year-old right-hander to a one-year deal worth $3 million (which is $300,000 more than Slowey will get in Colorado).
Had the Twins kept the payroll stable from 2011 to 2012 there would've been plenty of money available to add a better starter via free agency or trade, but slicing $15 million off the budget limited their options and left them with less than $5 million to fill the final rotation spot and find right-handed bullpen help. As a fan that payroll drop is tough to swallow going into Year 3 of a publicly funded ballpark, but within the self-imposed spending limit Marquis is a decent pickup.
Marquis was once an innings-eater for the Cardinals, Cubs, and Rockies, averaging 32 starts and 196 innings from 2004-2009, including 190 or more innings if five of six seasons. That got him a two-year, $15 million deal from the Nationals as a free agent, but Marquis spent most of that time on the disabled list. Elbow surgery limited Marquis to just 13 starts in 2010 and his 2011 season ended in mid-August when a line drive fractured his right fibula.
Signing a 33-year-old who logged a total of just 191 innings during the past two seasons due to injuries doesn't really match the Twins' oft-stated focus on adding a durable starter, but $3 million doesn't buy a whole lot of durability and prior breaking his leg Marquis had a 4.43 ERA in 132 innings. In fact, if you ignore his abbreviated 2010 season that was wrecked by elbow surgery Marquis has posted an ERA between 4.00 and 4.75 in five of the past six years.
His secondary numbers are similar, with xFIPs between 4.00 and 4.99 in all but one of the past 10 seasons, as Marquis makes up for poor strikeout-to-walk ratios by inducing tons of ground balls. Of concern to the Twins is that Marquis' off-speed pitches have never been very effective and his fastball has steadily lost velocity, falling from 92-93 miles per hour in 2002-2004 and 90-91 miles per hour in 2005-2009 to just 89 miles per hour in each of the past two seasons.
Marquis has never missed many bats and this past season he averaged just 5.2 strikeouts per nine innings, which ranked 113th among the 132 pitchers to start 20-plus games. And among all active right-handed pitchers only Jon Garland has started more games than Marquis with a lower strikeout rate. Despite previous lip service to the contrary adding another soft-tossing, pitch-to-contact starter shows that the Twins haven't changed their preferred pitching mold.
Of course, hard-tossing, bat-missing starters aren't usually available for $3 million and at least Marquis keeps the ball on the ground. During the past three years his ground-ball rate of 55.1 percent is fifth-highest in baseball, trailing only Tim Hudson, Derek Lowe, Justin Masterson, and Fausto Carmona. Not surprisingly Terry Ryan called Marquis "a ground-ball machine" and noted that the Twins "have got to support him defensively."
However, the general manager also said Marquis "throws the ball over the plate" and ... well, that's just not true. He had 3.2 walks per nine innings in 2011, which is double Carl Pavano's rate of 1.6 per nine frames, and Marquis' career rate of 3.5 walks per nine innings is the exact same as Francisco Liriano. In fact, over the past two years only Lowe and Livan Hernandez have thrown fewer of their pitches in the strike zone than Marquis at 40.7 percent.
"Throws the ball over the plate" is an odd description of someone with twice as many walks as another pitch-to-contact starter like Pavano and the same walk rate as a bat-missing starter with control problems like Liriano. Marquis offsets the poor control and pitching to contact with lots of grounders, but that's a fine line for a 33-year-old with declining velocity and leaves little room for upside when combined with an infield defense that figures to be at best mediocre.
In his first go-around as general manager Ryan made an annoying habit of signing washed-up starters like Hernandez, Ramon Ortiz, and Sidney Ponson rather than trusting younger and cheaper in-house options to fill out the rotation. At first glance Marquis might seem similar, but he's a step up from the previous scrap-heap veterans and unfortunately the Twins don't have an obvious in-house option breaking down the door thanks to Kyle Gibson's elbow surgery.
Liam Hendriks is the best upper-minors pitching prospect, but he's 22 years old, far from elite, and has just 162 innings above Single-A. Aside from Hendriks the farm system lacks MLB-ready starters, Anthony Swarzak is iffy as even a fifth starter, and the Twins are smartly committed to shifting Brian Duensing back to the bullpen. Marquis throwing 175 innings with a 4.50 ERA would be worth $3 million, but he's an uninspired pickup made necessary by payroll slashing.