January 9, 2012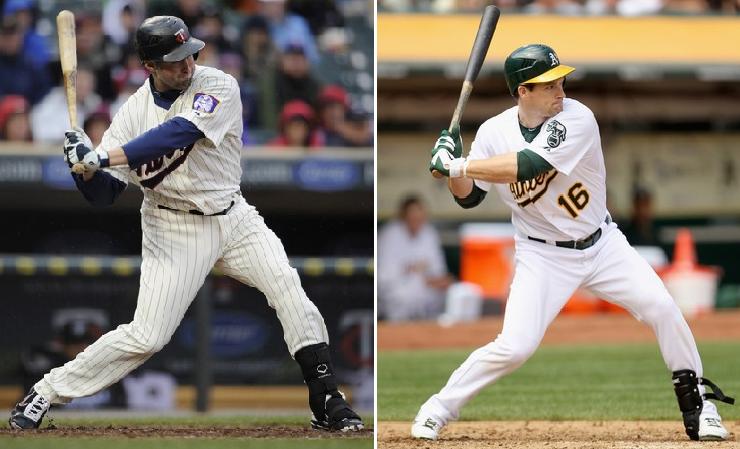 I wrote plenty about Josh Willingham replacing Michael Cuddyer when the Twins signed him last month, but here are some leftover notes about their new right fielder and old right fielder:
• If you don't count re-signings and Tsuyoshi Nishioka's posting fee the $21 million deal given to Willingham is bigger than any two previous Twins free agent signings put together. And the $10.5 million difference between Willingham's deal and Cuddyer's contract with the Rockies is larger than any Twins free agent signing from 1961-2010.
• Cuddyer made his MLB debut on September 23, 2001, starting at designated hitter in place of David Ortiz against Indians lefty Chuck Finley. Brian Buchanan was the cleanup man and the other seven hitters in the lineup were Luis Rivas, Cristian Guzman, Doug Mientkiewicz, Corey Koskie, Torii Hunter, Bobby Kielty, and Tom Prince. Cuddyer walked in his first plate appearance, went 1-for-2 with a double, and the Twins lost 4-2.
• Willingham didn't make his MLB debut until age 25 and didn't become a regular until age 27 despite hitting .277/.415/.512 in the minors, including .324/.455/.676 at Triple-A.
• Of the 47 players selected ninth overall in draft history Cuddyer ranks eighth in Wins Above Replacement despite being just 33 years old. Cuddyer has 11.8 WAR for his career, and Kevin Appier and Barry Zito are the only No. 9 picks with at least 20 WAR.
• Florida selected Willingham out of the University of North Alabama with the 491st pick in the 2000 draft. One pick later the Twins selected Paul Maholm, but failed to sign him.
• Over the past three years Cuddyer hit 48 percent ground balls and grounded into 21 double plays per 600 plate appearances, while Willingham hit 34 percent ground balls and grounded into 10 double plays per 600 plate appearances. Few hitters are on first base more often than Joe Mauer, Denard Span, and Jamey Carroll, so Willingham's ability to avoid double plays can have a sizable impact.
• Compared to Cuddyer during the past three seasons Willingham has struck out 40 percent more often, walked 44 percent more often, hit for 17 percent more power, and been hit by 129 percent more pitches.
• Willingham has a .213 career Isolated Power, which would be fourth in Twins history behind Harmon Killebrew, Bob Allison, and Justin Morneau. Cuddyer has a .179 Isolated Power.
• Cuddyer ranks 12th in Twins history with 1,139 games, between Greg Gagne with 1,140 and Cesar Tovar with 1,090, and ranks 16th in Twins history with a .795 OPS, between Marty Cordova at .799 and Jason Kubel at .794. He's also 10th in hits, 10th in homers, 10th in RBIs, and 11th in runs.
• According to Fan Graphs pitch values Willingham was 44 runs above average versus fastballs from 2009-2011, compared to four runs below average versus fastballs for Cuddyer during that time. Cuddyer was more effective than Willingham against sliders, curveballs, changeups, and cutters, doing most of his damage versus off-speed stuff.
• Cuddyer swung at 17 percent more pitches than Willingham from 2009-2011, which includes swinging at 65 percent more pitches outside the strike zone.
• In describing himself as a hitter following the signing Willingham said: "I think I'm at my best when I'm going deep into some counts and working some walks and seeing a lot of pitches."
• Willingham was linked to the Indians, but they dropped out citing a poor fit defensively and after signing with the Twins he revealed that the Reds were his second choice.
• Willingham and Ryan Doumit share the same agent in Matt Sosnick.
• Among free agent corner outfielders signed in the past five offseasons Cuddyer's three-year, $31.5 million deal is tied with Raul Ibanez for seventh-largest behind Carl Crawford, Jayson Werth, Matt Holliday, Jason Bay, Manny Ramirez, and Jose Guillen.
• Willingham got the same three-year, $21 million deal that the Dodgers gave Juan Uribe last offseason. Uribe is a shortstop/third baseman, but also a career .253/.298/.423 hitter.
• Dan Szymborski's great ZiPS projection system over at Baseball Think Factory has the Twins getting $25 million worth of value from Willingham during his three-year, $21 million deal.
• Along with saving $10.5 million over three seasons, by swapping Cuddyer for Willingham the Twins also added the No. 32 and No. 65 overall picks in June's draft.