January 20, 2012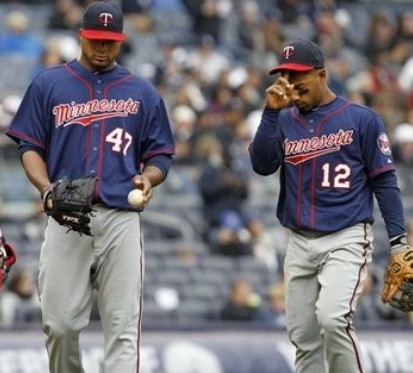 • Tuesday night was the deadline for players and teams to submit salary figures for arbitration hearings to be held next month, but the Twins avoided that with Francisco Liriano and Glen Perkins by signing them to one-year deals. Liriano got $5.5 million for his third and final year of arbitration eligibility, which is exactly what I projected as his salary last month. Perkins got $1.55 million for his second arbitration year, which is slightly less than my $2 million projection.
Alexi Casilla did not agree to a pre-deadline deal in his second arbitration year, filing for $1.75 million while the Twins countered at $1.065 million. If the two sides fail to reach a compromise they'll go to a hearing, present their cases, and have someone choose which salary he'll get for 2012, but given that the Twins haven't actually gone to arbitration with a player since Kyle Lohse in 2005 and 2006 odds are they'll split the difference on a one-year deal before then.
• Last month the Twins non-tendered Jose Mijares rather than retain him via the arbitration process, with general manager Terry Ryan explaining that "we didn't want to go there" with a salary bump. That struck me as very odd, because Mijares was paid $445,000 last season and projected to make about $725,000 in 2012, whereas the new minimum salary is $480,000. No team cuts a player they think has any sort of value over $250,000. Or at least they shouldn't.
Mijares didn't spend much time as a free agent and ended up with more money than he would have gotten from the Twins, quickly signing with the Royals for $925,000. He was bad enough last season that bouncing back is certainly no sure thing, but considering Mijares' modest cost and the fact that he's 27 years old with a 3.16 ERA and .243/.310/.381 opponents' line in 154 career innings makes letting him go for nothing a questionable move.
Mijares was an easy target for criticism because of his weight and supposed poor work ethic, but the oft-repeated notion that he was an ineffective pitcher who failed in key situations isn't supported by facts. In addition to his 3.16 ERA in 154 innings Mijares held opponents to a .219 batting average and .590 OPS in high-leverage situations and had a positive Win Probability Added, which measures performance in context to reward doing well in crucial spots.
• Fort Myers will be crowded after the Twins signed 25 players to minor-league contracts with invitations to spring training. I've written about most of those players, but neglected to cover J.R. Towles, Steve Pearce, and Aaron Thompson when they signed last month. Towles is the most interesting of that trio, both because he was once a top-ranked catcher prospect and because a decent alternative to Drew Butera as the Twins' third catcher would be nice.
After hitting well in the minors Towles hit .375 in a 14-game debut with the Astros in 2007 and was No. 53 on Baseball America's prospect list going into 2008. He flopped as a rookie, hitting .137 in 54 games, and has repeatedly failed in other brief chances with the Astros, hitting .187 in 155 career games spread over parts of five seasons. However, he's still just 27 years old and never ceased producing in the minors, batting .286/.389/.443 in 152 games at Triple-A.
Pearce was also once a top prospect, albeit briefly, ranking 89th on that same Baseball America list for 2008 after a monster 2007 season in which he hit .333/.394/.622 with 31 homers and 40 doubles in 134 games between three levels. He was already 24 years old at the time, his OPS dropped 300 points the next season, and Pearce hit just .232/.302/.366 in 185 games for the Pirates, but his Triple-A numbers remained strong and he's useful first base/outfield depth.
Thompson was the 22nd overall pick in the 2005 draft by the Marlins, but the left-hander's career never got enough traction to crack any top prospect lists. He pitched well in the low minors, but struggled some with injuries and has a 4.91 ERA in 473 career innings between Double-A and Triple-A. Thompson made his MLB debut last season, appearing in four games for the Pirates, but got knocked around and seems like a poor bet to make it back to the majors.
• Phil Mackey of 1500ESPN.com did some digging and found that the Twins recently extended their television contract with FOX Sports North, signing a new deal worth approximately $29 million per season. That may sound like a lot and it's certainly a big improvement compared to their previous television revenue, but relative to many other teams it actually puts them at a significant disadvantage.
For instance, the Angels were able to hand out massive long-term contracts to Albert Pujols and C.J. Wilson this offseason because their new television deal pays around $150 million per season and that pales in comparison to the estimated $400 million in revenue the Yankees get per season from their own network. Even the Rangers, who weren't previously viewed as a big-market powerhouse, inked a new television deal worth a reported $80 million per season.
• Speaking of which, Patrick Reusse of the Minneapolis Star Tribune spit some truth about the Twins' television broadcast as it relates to an overall trend in local announcers:
It was uncomfortable listening to Twins telecasts last season as Dick Bremer and, to a lesser extent, Bert Blyleven spent most of the three hours nightly trying to explain away the 99 losses as something other than a disaster wrought upon the public by the front office.

Apparently, they did have permission slips to denigrate Kevin Slowey. Injuries and Slowey's attitude--those were about the only factors that could be identified by the long-serving duo for this fine baseball organization to have fielded the worst team in the American League.

And we can't forget that a Bremer-Blyleven telecast is always rich with the fable that there's a Twins Way of playing baseball: exceptional fielding, being smart and aggressive on the bases, and throwing strikes. No matter that you have to go back to 2006 to find a Twins team that stuck to those principles.
Amen. I'd guess that my television was muted for about 90 percent of Twins games last year.
• Cutting payroll by $15 million luckily hasn't stopped the Twins from spending on prospects, as they signed 16-year-old pitcher Mauricio Silva out of the Dominican Republic for $370,000. Ben Badler of Baseball America praised Silva's fastball-curveball combo and calls the 6-foot-2 right-hander "one of the more promising Latin American pitching prospects" eligible to sign in 2011. And this will make you feel really old: Silva was born in Brad Radke's rookie year, 1995.
• They'll also be spending big in the draft, because in addition to having the No. 2 overall pick by virtue of their 63-99 record the Twins are projected to receive the No. 32 and No. 67 picks as compensation for losing Michael Cuddyer and the No. 41 pick as compensation for losing Jason Kubel. Toss in their own second-rounder and the Twins will likely have five of the top 70 picks in June's draft, which makes for one incredibly important day in their rebuilding process.
• Back in early 2008, when the Twins were in the process of trading Johan Santana, various reports had them seeking Fernando Martinez from the Mets as the centerpiece of a deal. At the time Martinez was a 19-year-old center fielder who twice ranked among Baseball America's top-20 prospects, so the Mets balked at including him and eventually the Twins settled instead for a four-player package of Carlos Gomez, Deolis Guerra, Kevin Mulvey, and Philip Humber.
Four years later none of those four prospects panned out as hoped and Guerra is the only one who remains in the Twins organization, but it turns out they wouldn't have been any better off with Martinez. Chronic knee issues and mediocre hitting caused his stock to plummet and last week the Mets placed him on waivers, giving up on Martinez for nothing. He didn't make it far, as the Astros used their No. 1 waiver priority to claim Martinez ... directly in front of the Twins.
• Of course, the Santana trade didn't work out particularly well for the Mets either. He missed all of last season following shoulder surgery, remains a question mark for the beginning of this season, and is owed $55 million over the next two years. Santana did at least give them 600 innings of a 2.85 ERA prior to going down in late 2010, which is even better than his 3.22 ERA in 1,309 innings with the Twins.
• Ron Gardenhire's son, Toby Gardenhire, has retired after playing seven years in the minors for the Twins and the former 41st-round pick is the University of Wisconson-Stout's new coach.
• Seth Stohs' annual Minnesota Twins Prospect Handbook is now available and as always I can't recommend it highly enough. Well worth the price, for the 180 pages of content and to support all the free blogging Stohs has provided over the years. Go buy it, you'll be glad you did.
• For a lot more on how the whole arbitration process works, plus analysis of the Joel Zumaya signing and talk about what moves the Twins have left to make this offseason, check out this week's podcast with special guests Nick Nelson and John Bonnes' horrible beard.