January 24, 2012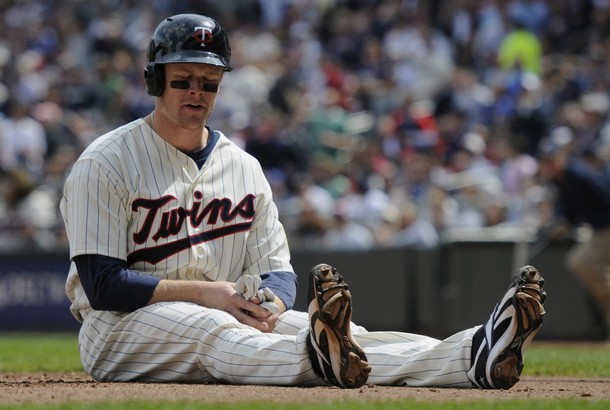 • Joe Christensen of the Minneapolis Star Tribune traveled to Arizona to see Justin Morneau's workout routine and wrote a lengthy article about his latest comeback. Morneau revealed that he had concussion symptoms as recently as last month, which is awfully worrisome considering his initial brain injury occurred nearly 18 months ago and he still hasn't begun taking batting practice or fielding ground balls. Here's more of what Morneau said:
I wouldn't say the head's perfect yet ... but what I was able to do today is miles ahead of where I was at this time last year. I've had problems with focus. Your mind kind of wanders, I guess, because your brain's so exhausted from trying to interpret what your eyes are seeing.
Not exactly encouraging with spring training around the corner, and lost in all the concussion concerns is that he also underwent neck, knee, foot, and wrist surgeries in 2011. Christensen writes that Morneau still lacks feeling in his left pointer finger, needs treatment on scar tissue in his knee, and has a big bump on his foot. And oddly the wrist injury has somehow flown under the radar despite being the official reason for his trip to the disabled list in June.
At the time little was said about the actual cause of the wrist injury and that remains true, as Christensen says that "his left wrist began bothering him in May" and "when he returned two months later, the wrist was still a big problem." Morneau eventually had surgery to "stabilize a tendon." And that's about it, except Nick Nelson of TwinsCentric reported way back in June that "Morneau's wrist injury was the result of a locker room tirade after a strikeout."
• Last month the Twins traded Kevin Slowey to the Rockies for minor leaguer Daniel Turpen, dumping him for a marginal pitching prospect following a drama-filled year during which neither side came off looking good. At the time he was slated to be Colorado's fifth starter and Slowey avoided arbitration by signing a one-year, $2.75 million contract, but the Rockies later traded outfielder Seth Smith for two potential starting pitchers and decided Slowey was expendable.
Six weeks after acquiring Slowey the Rockies traded him to the Indians, who wanted rotation help in case Fausto Carmona's legal situation in the Dominican Republic keeps him from being approved for a visa. Not only is he returning to the AL Central after the Twins banished him to the NL and the worst possible environment for a fly-ball pitcher, the Rockies managed to swap Slowey for Zach Putnam, who's a better prospect than they gave the Twins to get him.
Putnam is far from elite, but he's a 23-year-old former third-round pick with strong numbers in the minors and Baseball America ranked the right-handed reliever as the No. 10 prospect in the Indians' farm system. Kevin Goldstein of Baseball Prospectus has a lower opinion of Putnam, ranking him No. 20 in Cleveland's system, but still likes him more than Turpen. In fact, you'll be hard-pressed to find a prominent prospect analyst who doesn't have Putnam ahead of Turpen.
So how did the Twins trade Slowey for a marginal prospect only to see him swapped six weeks later for a younger, better prospect? Well, for one thing the Rockies sent $1.25 million to the Indians along with Slowey, whereas the Twins simply wiped him from their books. Beyond that Carmona's legal issues presumably meant the Indians were willing to give up more for Slowey than six weeks ago. And the Twins may have balked at trading him within the division anyway.
Ultimately the odds are against Putnam or Turpen having a significant impact in the majors and it's tough to place a value on how much of a prospect upgrade $1.25 million can buy, but given how the Twins mishandled the situation from start to finish their trading Slowey with his value at an all-time low becomes doubly frustrating when another team got more by letting him sit on their roster for a month. There wasn't even time for Slowey to piss off the Colorado media.
• In trying to figure out how much room the Twins have under their self-imposed $100 million payroll limit my assumption has been that Joe Nathan's buyout was part of the 2012 money. However, according to Christensen the Twins actually view the $2 million as part of "last year's books." If true, that means they should have more than enough payroll room to add a veteran right-handed reliever like Todd Coffey or Dan Wheeler or Brad Lidge or Chad Qualls.
• They won't be among the 25 non-roster players invited to spring training, but Luke French and Brad Thompson are the latest minor leaguers collected by the Twins. French was a decent enough prospect to be traded for a half-year of Jarrod Washburn in mid-2009. He's struggled in the majors with a 5.00 ERA and 79-to-57 strikeout-to-walk ratio in 155 innings and got killed at Triple-A last season, posting a 6.27 ERA with 30 homers allowed in 146 innings.
Thompson briefly had some success as a middle reliever for the Cardinals in 2005 and 2006, but struggled after that and the Twins are his fourth organization since 2010. He's still just 29 years old, but Thompson's fastball tops out in the high-80s and his career strikeout rate is 4.2 per nine innings. To put that in some context, Nick Blackburn has averaged 4.3 strikeouts per nine innings. French and Thompson are both destined for Rochester.
• Matt Tolbert, who the Twins dropped from the 40-man roster shortly after the season, inked a minor-league deal with the Cubs.
• We're recording a "Gleeman and The Geek" episode tonight, so if there are some questions you'd like to hear answered on the podcast leave them in the comments section.