January 30, 2012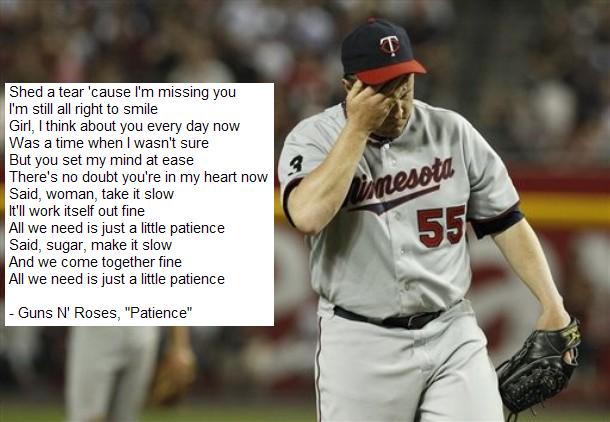 Back on December 5 when the Twins re-signed Matt Capps my objection to the move focused on three things. One was that he just isn't a closer-caliber pitcher. Two was that $4.75 million is far too high a price, particularly given their payroll constraints this offseason. And three was that in re-signing him they forfeited a supplemental first-round draft pick that would have been worth more than $1 million while aiding the much-needed rebuilding process.
There was a fourth issue, which is that this year's free agent class was as packed with quality veteran relievers as any in history and for a team that had baseball's worst bullpen last year there were far better ways to address that weakness for $4.75 million. However, at the time that was mostly an assumption, as many of those relievers had yet to sign and exactly what the Twins could have gotten instead for that same $4.75 million was purely hypothetical.
Eight weeks later the free agent reliever market has proven to be every bit as buyer-friendly as expected and then some, with quality veterans being forced to settle for modest one-year deals or even minor-league offers. And the Twins spending $4.75 million of their limited payroll space on Capps actually looks even worse now than it did then, as they've watched reliever after reliever come off the board for discount prices while mostly sitting on their hands.
At the beginning of the offseason I highlighted 14 veteran relievers who were worth targeting and figured to be reasonably priced. One of them, Frank Francisco, secured a multi-year deal. One of them, Joel Peralta, never actually hit the open market. And the other 12 either agreed to one-year contracts for less than Capps--and in some cases significantly less--or still remain unsigned with spring training right around the corner.
Jonathan Broxton      $4.00 million
Octavio Dotel         $3.50 million
Jon Rauch             $3.50 million
LaTroy Hawkins        $3.00 million
Takashi Saito         $1.75 million
George Sherrill       $1.10 million
Brad Lidge            $1.00 million
Dan Wheeler           Minor-league deal
Todd Coffey           Unsigned
Mike Gonzalez         Unsigned
Chad Qualls           Unsigned
Michael Wuertz        Unsigned
None of those dozen relievers got as much as Capps and in fact for the same $4.75 million the Twins could have signed two, three, or even four of them while also gaining a draft pick. And those are just the relievers I projected as bargains in November. It turns out the market was so saturated with quality veterans that Francisco Cordero, who saved 37 games with a 2.45 ERA last season, had to settle for a one-year, $4.5 million deal and a setup role.
I've never understood the Twins' infatuation with Capps, who cost them Wilson Ramos to get in mid-2009 and $7.15 million to keep for 2010, but the decision to re-sign him for $4.75 million is particularly baffling given the assortment of other, cheaper options. Not only did they vastly overrate Capps for the third time, they seemingly did so while failing to recognize how flooded the reliever market was. They couldn't wait to re-sign Capps and that impatience hurt them.
Cordero signed for less than Capps. Octavio Dotel and Brad Lidge combined to sign for less than Capps. Heck, for that same $4.75 million the Twins gave Capps there's a decent chance they could have built an entire bullpen of similarly valuable veterans like Lidge, Dan Wheeler, Todd Coffey, Chad Qualls, and Michael Wuertz. And that doesn't even factor in the draft pick they forfeited for the privilege of overpaying Capps in what was clearly a buyer's market.
Maybe the Twins still have a bullpen move up their sleeve and if they can sign, say, Coffey to a cheap one-year deal or add Wuertz on a minor-league contract the decision to overpay for a mediocre Capps in a reliever-rich market won't appear quite so bumbling. It still won't appear smart, of course, and the entire decision-making process has been flawed to say the least. For some reason that's standard operating procedure when it comes to the Twins and Capps.