February 27, 2012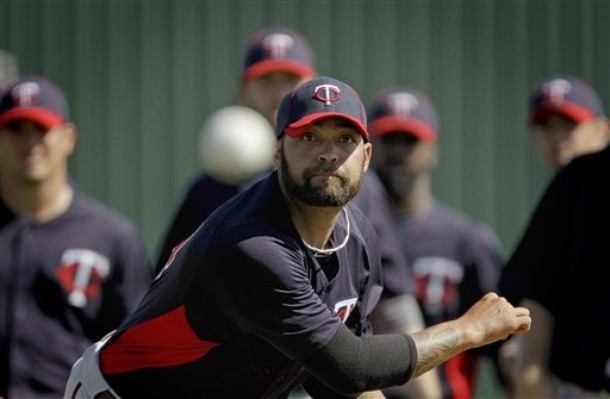 • It took 13 batting practice throws for Joel Zumaya to show why he was available to the Twins for a non-guaranteed, incentive-laden deal and why they were foolish not to add another setup man in a buyer's market flooded with veterans willing to sign cheaply. Zumaya felt elbow pain during Saturday's mound session, walked off with a trainer, headed to his too-familiar place in an MRI machine, and was diagnosed with a torn ulnar collateral ligament.
He'll miss the entire season, his Twins career is over before it even started, and Zumaya may call it quits at age 27 following what would be his seventh surgery in five years. And it's a shame, because throughout all the injuries Zumaya never lost the ability to throw gas--he reportedly showed mid-90s velocity in the abbreviated session Saturday--and signing him to a one-year deal worth just $400,000 in guaranteed money was a smart gamble by the Twins.
Not so smart was their decision to view Zumaya as something more than a lottery ticket, but by passing on cheap, decent bullpen options like Todd Coffey, Brad Lidge, Dan Wheeler, Chad Qualls, and Takashi Saito in favor of overpaying Matt Capps and counting on Zumaya they're left with a right-handed setup man void and only in-house arms like Anthony Swarzak, Alex Burnett, Kyle Waldrop, Jeff Gray, Lester Oliveros, and Carlos Gutierrez to fill it.
• Justin Morneau created a big stir last week when he showed up to spring training and gave a less than encouraging update on his now two-year-long concussion comeback. Morneau noted that he hasn't had concussion symptoms "since January." He meant that in a positive way, but that only dates back a month, and five weeks ago Morneau told Joe Christensen of the Minneapolis Star Tribune that he hadn't experienced symptoms "since December."
Asked what he'll do if the symptoms return this spring, Morneau said:
I don't think there will be a career if it's something I'm dealing with. That's the reality of the whole thing. I've kind of come to grips with that. I'm obviously not going to continue to mess around with this if it continues to be a problem. There comes a point when you can only torture yourself so long. It's something I love to do, but you keep preparing and keep being let down, that's something that nobody wants to go through, obviously.
In other words, his baseball career may very well be determined by the next six weeks.
• Denard Span's own comeback from a season-ruining concussion has flown under the radar a bit compared to Morneau, but Rhett Bollinger of MLB.com reports that "he still is bothered by an occasional bad day" nine months after the initial brain injury. This offseason Span changed his diet, took up yoga, and started seeing a chiropractor, but much like with Morneau there isn't a lot he can do now besides wait and see how his brain responds to increased activities.
• As much as injuries wrecked the Twins last season, it could have been worse. Well, sort of. Jeff Zimmerman of Fan Graphs crunched the numbers and the Twins were close to the middle of the pack when it comes to total days spent on the disabled list in 2011, ranking 13th. They did, however, lead baseball in disabled list stints with 28. By comparison, no other team had more than 24 disabled list stints and the Royals only used the disabled list nine times.
• Because they didn't make any changes to the training and medical staff it's unclear how the Twins plan to achieve their oft-stated goal of keeping players on the field and off the DL more this year, but what we do know is that injury information will be disseminated differently. Last season Ron Gardenhire was often tasked with giving medical updates to reporters, which was no fun for the manager and frequently led to confusing or misleading details.
This time around general manager Terry Ryan and assistant general manager Rob Antony will take responsibility for giving those day-to-day injury updates. Ryan explained that the change is in part to "streamline the process" and in part to let Gardenhire focusing on managing. Asked if he was in favor of the change, Gardenhire said: "When he announced that, I wanted to give him a man hug. I'm happy. Yeah, that's the last thing I want to talk about is injuries."
• Bollinger reports that "the Twins are widely expected to carry three catchers to start the season." While perhaps not ideal, particularly when one of those three catchers will almost surely be Drew Butera, no one should be surprised. In fact, in projecting the Opening Day roster back in mid-December my assumption was that they'd carry Butera along with Joe Mauer and Ryan Doumit. At this point I'd be surprised if they didn't.
Mauer's durability plays a big factor, as does Doumit being counted on to be the starting designated hitter. Toss in Gardenhire's longstanding fear of having to forfeit the DH role in the middle of a game if the DH is needed behind the plate and Butera's spot seems fairly safe despite his ghastly .178/.220/.261 career line in 142 games. Elias Sports Bureau found that the Twins have lost the DH spot mid-game just eight times in 10 years under Gardenhire.
• Old friend Cristian Guzman, who sat out last season, will attempt to get back into the AL Central after agreeing to a minor-league contract with the Indians. Cleveland manager Manny Acta managed Guzman in Washington and apparently talked the 33-year-old into making a comeback as a potential utility man. Guzman has hit .279/.314/.384 in 565 games since leaving the Twins as a free agent following the 2005 season, including .266/.311/.337 in 2010.
• Another old friend, Juan Rincon, signed a minor-league deal with the Angels. Rincon's four-year run as a dominant setup man tends to be overlooked--he posted a 2.93 ERA with 318 strikeouts in 319 innings from 2003-2006--but he was pretty much washed up at age 29 when the Twins released him in mid-2008 and since then has logged a total of just 66 innings with a 6.27 ERA for three different teams.
• Just a reminder: John Bonnes and I are hosting a get-together/meet-up/viewing party next Monday night, March 5 at Wild Boar in Hopkins, where we'll watch the Twins-Red Sox spring training game on television, record a "Gleeman and The Geek" podcast episode, drink beer, and talk baseball. It should be fun and if the turnout is decent we'll probably do a lot more events during the season, so come hang out.