March 12, 2012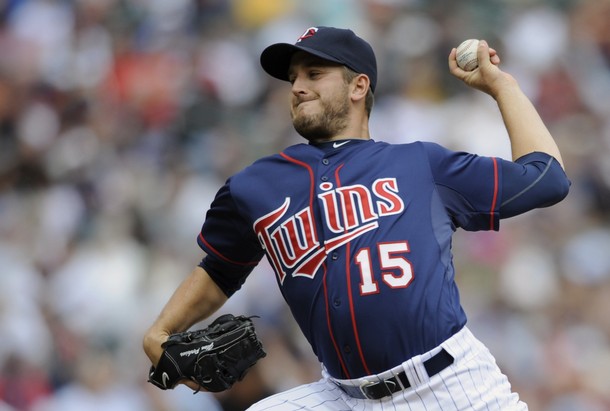 • Two months after avoiding arbitration for this season with a one-year, $1.55 million deal Glen Perkins and the Twins agreed to a three-year, $10.3 million extension that includes a team option for 2016. Perkins would have been arbitration eligible for the final time in 2013, so the extension pre-pays that bill and then covers his first two seasons of free agency while giving the Twins a $4.5 million option or $300,000 buyout for his third season of free agency.
Between his 5.06 ERA as a starter and an injury grievance filed against the team Perkins was deep in the doghouse and close to being discarded, but instead he stayed with the Twins and shifted to the bullpen with great success. Perkins wore down late in the season, but that isn't shocking from a 29-year-old working as a full-time reliever for the first time ever and he still finished with a 2.48 ERA and 65-to-21 strikeout-to-walk ratio in 62 innings overall.
Perkins wasn't quite as great as his ERA suggested, largely because allowing just two homers in 253 plate appearances isn't sustainable, but his 2.92 xFIP ranked 16th among all relievers with 50 or more innings. And while committing $10.3 million to a 29-year-old with a 4.41 career ERA is certainly risky, Perkins was a completely different pitcher last season thanks to adding 3-4 miles per hour to his fastball moving from the rotation to the bullpen.
Obviously waiting to see if Perkins could duplicate that success before making the commitment would have been ideal for the Twins, but another standout year would establish him as an elite reliever and leave him just one season away from a big contract in free agency. Once a player can sniff the open market the motivation to sign a long-term deal often vanishes, so if the Twins believe the Perkins they saw in 2011 is the real deal they did well to sign him now.
Perkins will get $2.5 million in 2013, $3.75 million in both 2014 and 2015, and $4.5 million or a $300,000 buyout in 2016, all of which will be bargains if he keeps thriving as a reliever. And while the deal also includes incentives based on games finished to raise those salaries if he becomes a closer, by signing Perkins as a setup man the Twins don't have to worry as much about how racking up saves would strengthen his bargaining power and perceived value.
• More and more lately I've been trying to take the "if you don't have anything nice to say, don't say anything at all" approach to the local mainstream Twins coverage, but sometimes it's just too tough. Last week Tom Powers of the St. Paul Pioneer Press wrote a pair of columns about Twins prospects that really had me shaking my head. First he wrote a column entitled "Brian Dozier is going to be the next big thing for Twins" that was full of fawning hyperbole:
Dozier, a shortstop from Tupelo, Miss., is going to be the next big thing for the Twins. The only question is: How soon is next? ... At the moment, there seems to be no alternative [at shortstop]. However, Twins fans should take comfort in knowing this dire situation appears temporary. Because Dozier has been advancing through the farm system at breakneck speed.
Apparently in Powers' mind "advancing through the farm system at breakneck speed" means a soon-to-be 25-year-old who began last season at high Single-A and has yet to play a game at Triple-A. But wait, there's more:
Everyone seems convinced that Dozier is the next big thing. Of course, spring training is all about hope. If you can't get excited over a prospect in spring training, heck, you should be watching a different sport. But in this case, I really do think that "next" is going to be pretty darn quick.
Powers writes that "everyone seems convinced that Dozier is the next big thing." In reality, Dozier appeared on zero prominent top-100 prospect lists and doesn't even rank as one of the Twins' top seven prospects according to John Manuel of Baseball America or Kevin Goldstein of Baseball Prospectus or Keith Law of ESPN.com. Dozier has the potential to become a solid big leaguer, but the picture being painted by Powers is misleading at best.
And then a couple days later Powers wrote another column with similarly hyperbolic prose touting Chris Parmelee as a future middle-of-the-order slugger:
A true power hitter has a different air about him when he talks about home runs. It's not about getting a good pitch to hit or guessing right on a fastball, but rather it's about a certain feeling that occurs when bat and baseball collide. True power hitters get sort of a faraway look just describing it.

"It's some feeling when you know you got it," Chris Parmelee said. "It's a good feeling, a great feeling." And if the ball is going over the fence anyway, it might as well go waaayyy over the fence, right? "Yeah, why not?" Parmelee said with a chuckle.
Parmelee, like Dozier, has the potential to be a solid big leaguer. He also has a grand total of 19 homers in 253 games and 1,073 plate appearances at Double-A. But wait, there's more:
Called up Sept. 6, Parmelee, a lefty first baseman, hit .355 in 76 at-bats. His on-base percentage was .443, and he had six doubles and four home runs. And those homers traveled a long way. ...

The good news is that he never has lost sight of his best attribute: the ability to hit the baseball a long way. In other words, his role is that of a power hitter. ... Here's a kid who can hit the ball a mile. Put him in the lineup until he shows he doesn't belong there.
Powers makes a huge deal about the four homers Parmelee hit for the Twins in September, using them as evidence that the 24-year-old with zero Triple-A experience should be playing every day in the majors, and repeatedly writes things that make it seem as though he's a big-time slugger. Yet not once in the entire 20-paragraph article does Powers mention that Parmelee had just 19 homers and a .416 slugging percentage in two seasons at Double-A.
• J.J. Hardy joined David Ortiz in saying that the Twins coached him not to maximize his power potential, although unlike Ortiz he later clarified the comments to be less critical. Whatever the case, the Twins' homer total hasn't been among the league's top five since way back in 1988 and they've ranked 10th or worse 16 times during that span. They've also had one of the league's top five offenses just three times in the past 19 seasons.
• Alexi Casilla didn't look awful and graded out decently statistically in 36 starts at shortstop last year, but apparently the Twins weren't impressed. During an in-game interview on FSN last week Terry Ryan said: "We tried Casilla at shortstop a couple times and it didn't really work out."
• Kevin Mulvey, who was acquired from the Mets in the Johan Santana deal and then traded to the Diamondbacks for Jon Rauch, has re-signed with the Mets on a minor-league contract after being released by the Diamondbacks. And at age 26 he's little more than Triple-A filler.
• California high school right-hander Lucas Giolito is one of the Twins' potential targets with the No. 2 overall pick, but he'll miss the rest of the season with an elbow injury.
• Bobby Valentine, who managed Tsuyoshi Nishioka in Japan for six years, says he predicted Nishioka's broken leg and even warned him about it last spring.
• Drew Butera has hit .178/.220/.261 in the majors after hitting .214/.296/.317 in the minors, which makes this article pretty hilarious.
• Jason Pridie was suspended 50 games after testing positive for a "drug of abuse," which means the Twins probably won't try to acquire him for a third time.
• Doug Mientkiewicz, who last played in 2009, is the Dodgers' new rookie-ball hitting coach.
• Joel Zumaya is scheduled for Tommy John surgery and will attempt another comeback.
• Gary Gaetti's son is marrying Dan Gladden's daughter.