March 22, 2012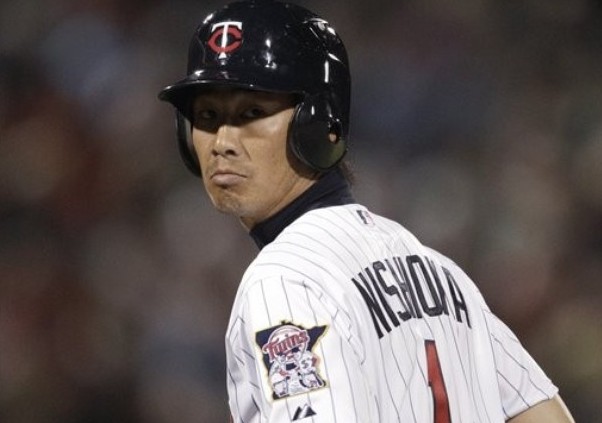 This time last spring there was genuine excitement surrounding Tsuyoshi Nishioka, but one year, one broken leg, and 68 terrible games later the Twins demoted their $14.5 million investment to Triple-A. Nishioka was a colossal failure and reportedly showed no signs of improvement early in camp, but I'm still surprised that the Twins demoted him as part of the second round of cuts and did so without an obvious in-house utility infielder alternative.
Expectations for Nishioka were inflated by winning the Japanese batting title in 2010 with a .346 average, but that was fueled by an unsustainable .395 mark on balls in play and his prior track record wasn't nearly as impressive. With that said, based on his career numbers my "optimistic" projection for Nishioka was .275/.335/.375 and as a 26-year-old Gold Glove winner at both shortstop and second base he seemed likely to be a mediocre regular at worst.
Instead he was simply the worst, hitting .226/.278/.249 with horrible defense that included no idea how to turn a double play as a second baseman and not enough arm strength to make routine plays as a shortstop. In retrospect it's hard to fathom how the Twins could have scouted him extensively and concluded that he was worth $14.5 million, and that mistake was compounded by trading J.J. Hardy for pennies on the dollar to make room for Nishioka.
In addition to a fluky batting average Nishioka's lack of power, questionable arm strength, and the fact that Kaz Matsui was an awful shortstop despite winning multiple Gold Glove awards in Japan were all obvious red flags for his transition to the majors. However, at the time my problem with the Hardy-for-Nishioka swap was far more about misguidedly dumping Hardy than about signing Nishioka to what seemed like a fairly reasonable, albeit risky, deal.
Of course, those decisions can't be undone and the $14.5 million is a sunk cost, so sending Nishioka to the minors makes sense whether the Twins think he still has a chance to be a useful role player or they simply don't want anything to do with him. Either way he'll get plenty of playing time at various positions in Rochester while making $3 million and the Twins owe him another $3 million for 2013, plus a $250,000 buyout of a $4 million option for 2014.
As for who'll take Nishioka's place on the roster, assuming the Twins carry 12 pitchers that leaves just four bench spots and three of them are reserved for Trevor Plouffe, Luke Hughes, and either Drew Butera or J.R. Towles. Plouffe played shortstop for seven seasons in the minors, but was so bad there as a rookie that the Twins are committed to using him strictly in the outfield. Hughes is a poor defender at second base who has no business at shortstop.
All of which means the Twins need someone capable of playing shortstop for that final bench spot, although it's possible they could treat starting second baseman Alexi Casilla as the de facto backup shortstop behind Jamey Carroll and then use Hughes at second base whenever Casilla is needed at shortstop. That could work, at least in the short term, although when your starting shortstop is 38 years old having a true backup on the roster seems like a better idea.
Brian Dozier is the only decent upper-minors middle infield prospect in the entire system and the Twins haven't been shy about talking him up, but he's yet to play an inning at Triple-A and has just 78 games above Single-A. Dozier is already old for a prospect at 25, so furthering his development and suppressing his service time perhaps aren't as important as usual, but it would certainly be very uncharacteristic for the Twins to call him up to fill a part-time role.
Instead the better plan would be to let Dozier spend two months at Triple-A while the Twins find out if they're contenders and give the final bench spot to a true utility infielder who can handle shortstop defensively and is more suited for sporadic playing time as a backup. Ideally the Twins should have a few in-house options who fit that description, but Pedro Florimon and Michael Hollimon are probably the closest fits and neither warrants a big-league job.
Typically near the end of spring training teams try to pass players through waivers while setting their 40-man roster and making decisions on non-roster invitees, so the Twins should be able to snag a decent utility man off waivers or acquire one in a minor trade. It's not a role that requires much beyond a solid glove, so I'd let a a non-prospect keep the spot warm while Dozier hopefully thrives in Rochester, where his double-play partner would be ... Nishioka.