April 12, 2012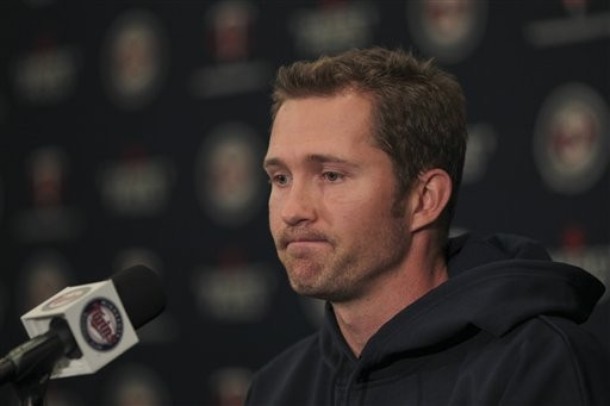 As if their 1-4 start wasn't bad enough the Twins announced yesterday that Scott Baker will undergo season-ending surgery to repair the flexor pronator tendon in his right elbow. Baker has battled elbow problems since 2010, needing two disabled list stints last season and beginning this year back on the shelf, yet last week the Twins gave him an MRI exam and Terry Ryan called the results "very similar to what it showed last July" and "good news."
Baker sought a second opinion from Dr. David Altchek, who performed Tommy John surgery on Joe Nathan in 2010 and Kyle Gibson last year, and he recommended that Baker go under the knife as well. While the recovery timetable for Baker is six months, as opposed to 12-18 months for Tommy John surgery, he'll miss the entire season and may have pitched his final game for the Twins given that they'll surely decline his $9.25 million option for 2013.
It's remarkable that Baker pitched as well as he did last season, posting a 3.14 ERA and 123-to-32 strikeout-to-walk ratio in 135 innings, but unfortunately pitching well between DL trips is the story of his career. Only nine pitchers in Twins history have made more starts with a better adjusted ERA+ than Baker and his strikeout-to-walk ratio is the second-best in team history behind only Johan Santana, but 2007 is his lone season with more than 175 innings.
Baker was typically one of the Twins' two best starters when healthy and his 150-175 innings were often more valuable than 180-200 innings from a lesser pitcher, but between the DL stints and tendency to serve up some monster homers as an extreme fly-ball pitcher he never seemed to gain much traction as a fan favorite. None of that matters now, of course, but in remembering a Twins career that's ending too soon it adds another unfortunate layer.
Baker is 30 years old, so if the surgery can fix the elbow problem that has plagued him for three seasons he'll have plenty of opportunity to reestablish himself as a solid mid-rotation starter in 2013 and beyond. It's just hard to imagine it being in Minnesota, in part because there's no way to justify paying him $9.25 million and in part because both sides seem likely to be in favor of moving on nine years after he was a second-round pick out of Oklahoma State.
Even a somewhat healthy Baker would have been able to fetch a decent prospect or two at the trade deadline, but that's obviously a moot point now and his surgery opens the door for Liam Hendriks to stick in the Twins' rotation instead of merely being a short-term fill-in. Hendriks was supposed to start the third game of the season in place of Baker, but instead was hospitalized for food poisoning and is now slated to make his 2012 debut Sunday.
Hendriks ideally could use a half-season at Triple-A, where he made just nine mediocre starts before being promoted to the majors at age 22 last year, but with Gibson recovering from Tommy John surgery he's the organization's top pitching prospect by default and the Twins don't have a ton of other options. They could turn to Anthony Swarzak once he's no longer needed to fill-in for Jason Marquis, but taking a longer look at Hendriks seems to be the plan.
Baker, Marquis, Carl Pavano, and Francisco Liriano will all be free agents after the season, so right now the 2013 rotation is Hendriks, Nick Blackburn, and three vacancies. That's not encouraging, although not much is with the Twins these days, and hopefully Baker's injury speeding up Hendriks' timetable won't hurt his development. Because if Hendriks develops as hoped and stays healthy his long-term upside is basically a more durable version of Baker.
This week's blog content is sponsored by GoBros, a locally owned family business offering quality outdoor gear and free shipping. Please support them for supporting AG.com.