April 19, 2012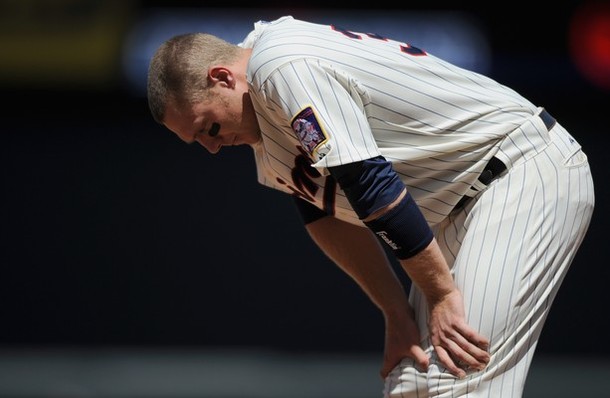 Jason Marquis' return forced the Twins to open a roster spot and rather than drop a pitcher, cut loose Sean Burroughs, or option Chris Parmelee to Triple-A they designated an out-of-options Luke Hughes for assignment. I'm no fan of a 13-man pitching staff and Parmelee, like Ben Revere, would be better off playing regularly in Rochester if he's going to continue sitting often in Minnesota, but it's tough to imagine Hughes coming back to haunt the Twins.
For one thing he's largely superfluous with Trevor Plouffe around, as Hughes offers a similar skill set with less upside and bigger flaws. And beyond that he simply isn't very good. Hughes was never a top prospect, peaking at No. 17 on my annual Twins farm system ranking in 2009 before falling to No. 23 in 2010 and No. 33 last year. He hit .224/.285/.342 in 102 games for the Twins and .257/.319/.440 in 118 games at Triple-A, and turns 28 years old in August.
Hughes is capable of being a useful bench bat or platoon starter versus left-handers, but he's a tweener in that his second base and third base defense is sub par and the higher offensive standard for that role at first base or an outfield corner is likely over his head. He strikes out too much, doesn't walk enough, had poor batting averages in Rochester and Minnesota, and his good but not great power is nothing special for part-timers at offense-driven positions.
Keeping him around would have been fine and the Twins had several other reasonable choices that would've allowed them to do so, but ultimately Hughes is a marginal major leaguer who seems finished developing and those are the types of players teams designate for assignment all the time. He might clear waivers, in which case the Twins could stash him at Triple-A minus the 40-man roster spot, but even if Hughes gets claimed the loss is minimal.
This week's blog content is sponsored by PickPointz, where you can make predictions, pick games, and win prizes for free. Please support them for supporting AG.com.