May 8, 2012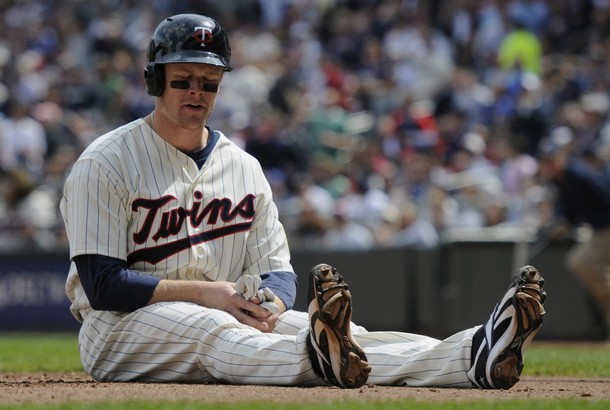 Justin Morneau exited last Monday's game with soreness in his surgically repaired left wrist, immediately flying from California to Minnesota to be examined by team doctors and admitting that the injury had been bothering him for several days. At the time I wondered why the Twins wouldn't just put him on the disabled list for two weeks if the situation was serious enough for a cross-country flight and an MRI exam for a chronically injured player.
Instead, as they've done far too many times with far too many injured players during the past few seasons, they kept Morneau on the active roster for a week despite his being unavailable to actually play and then, only after completing an entire West Coast road trip with a one- or two-man bench, finally put him on the DL. Sadly when it comes to both Morneau's health and the Twins' handling of injuries, it turns out not much has changed.
When the Twins finally decided to shut down Morneau it set in motion a series of moves that reshaped the roster following an MLB-worst 7-20 start. Brian Dozier was called up from Triple-A and handed the starting job at shortstop, shifting Jamey Carroll into a utility man role that will also involve pushing second baseman Alexi Casilla and third baseman Danny Valencia for playing time.
Scott Diamond joined Dozier in being promoted from Triple-A and will step into the rotation for Liam Hendriks, who allowed 18 runs in 18 innings replacing the injured Scott Baker. And then just for good measure the Twins swapped backup outfielders too, designating Clete Thomas for assignment three weeks after claiming him off waivers from the Tigers and replacing him by claiming Erik Komatsu off waivers from the Cardinals.
Dozier arrives with inflated expectations thanks to assorted fans who don't know any better and media members who should know better touting him as a top prospect. In reality Dozier is 25 years old with limited upside and was at Single-A as of the middle of last season. He can certainly be a valuable player and ranked 10th on my annual list of Twins prospects coming into the season, but he hit just .276/.339/.371 in 28 games at Triple-A before the call-up.
There are also plenty of questions about Dozier's defense, with many prospect analysts believing he's better suited for second base than shortstop. Ron Gardenhire has been publicly clamoring for Dozier since last season, so it's not surprising that the manager would anoint him the starting shortstop upon arrival, but it's worth noting that Carroll was perfectly solid defensively even if he wasn't hitting.
Whenever a 38-year-old hits .208 through 27 games it's natural to wonder if he's simply washed up, particularly since Carroll was never exactly a star-caliber player to begin with, but drawing 13 walks with just 14 strikeouts in 116 plate appearances are positive signs at the plate and while he's in no danger of reminding anyone of Ozzie Smith range-wise his defense was hardly a major weakness at shortstop.
By signing Carroll to a two-year, $6.5 million contract the Twins committed to him as more than just a short-term stop gap, as he's both in their plans for next season and being paid way too much for a typical backup role. In other words, expect to see Carroll in the lineup plenty even if Dozier sticks at shortstop and expect to see plenty of speculation about the Twins parting ways with Casilla and/or Valencia in the near future.
Hendriks' struggles are more a confirmation that he wasn't ready to thrive in the majors than an indictment of his future value. He remains a potential mid-rotation starter, perhaps as soon as later this season, but at 23 years old and with just nine starts at Triple-A pushing him to the big leagues was always an iffy idea. Diamond is 25 and a lesser prospect with 39 starts at Triple-A, so turning to him while giving Hendriks a chance to develop further makes sense.
Last year the Twins selected Diamond in the Rule 5 draft, decided they couldn't keep him in the majors all season, and traded former second-round pick Billy Bullock to the Braves for the ability to stash him in the minors. That move made no sense to me at the time and was even weirder when they called up Diamond in July anyway. He didn't pitch well at Triple-A last year and struggled in seven starts for the Twins, but did some nice work in Rochester this season.
Diamond was my 35th-ranked Twins prospect coming into the season and projects as a potential back-of-the-rotation starter who'll hopefully make up for modest velocity and poor strikeout totals by inducing lots of ground balls. He posted a 2.60 ERA and 26-to-7 strikeout-to-walk ratio in 35 innings for Rochester before the call-up, but that only improved his career Triple-A numbers to a 4.50 ERA with just 6.3 strikeouts per nine innings.
Three weeks ago the Twins claimed Thomas off waivers from the Tigers because they decided he was much better suited for a little-used bench role than Ben Revere, who at 24 years old deserved a chance to continue developing by playing regularly at Triple-A. Thomas homered in his second at-bat for the Twins and they proceeded to give him more starts than Revere was getting, but when he followed the homer by going 3-for-26 with 16 strikeouts they cut bait.
Thomas isn't as bad as he looked for the Twins, mostly because it's nearly impossible to actually be that bad, but as I noted at the time of the waiver claim he's a 28-year-old with a mediocre track record in the minors and majors who rates as essentially a replacement-level outfielder. In designating Thomas for assignment they removed him from the 40-man roster and exposed him to waivers again, assigning him to Rochester after he went unclaimed.
They filled his spot by claiming Komatsu, who's now with his fourth team in 10 months after the Nationals acquired him from the Brewers for Jerry Hairston last July only to lose him in the Rule 5 draft when they opted not to protect him with a 40-man roster spot. Rule 5 picks must remain in the majors all season or be offered back to their original team, which means the Twins won't be able to send Komatsu to the minors if they sour on him like they did Thomas.
It's also worth noting that the Twins picked second in the Rule 5 draft and passed on Komatsu to select Terry Doyle, whom they returned to the White Sox. None of which means Komatsu isn't a useful player. He lacks Thomas' power, but is four years younger with much better plate discipline. Because he skipped Triple-A it's tough to get a feel for Komatsu's readiness, but he plays all three outfield spots and hit .302 with a .389 on-base percentage in the minors.
Much of that was in the low minors and isn't particularly relevant now, but Komatsu spent all of last season at Double-A as a 23-year-old and hit .277/.367/.382 with 21 steals and nearly as many walks (64) as strikeouts (66). Commanding the strike zone that well is impressive for a hitter with just seven homers in 124 games, as pitchers certainly weren't afraid to throw him strikes. He doesn't project as a regular, but Komatsu's skill set fits the backup outfielder role.
This week's blog content is sponsored by Coordinated Business Systems, which offers innovative technology solutions for Minnesota businesses. Please support them for supporting AG.com.