July 11, 2012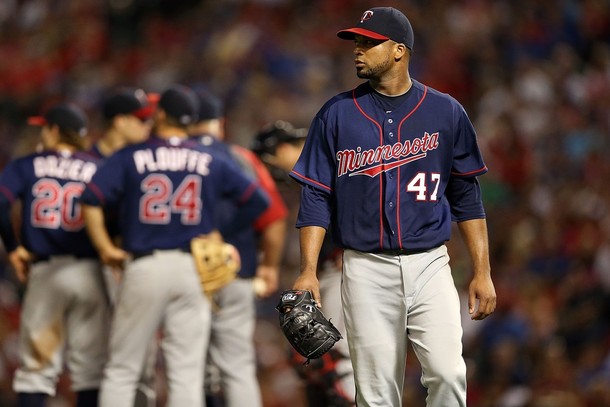 With the league's second-worst record at 36-49 and an 11-game deficit in the AL Central at the All-Star break the Twins have made it clear that they should be sellers leading up to the July 31 trade deadline. Determining which players they should be willing to sell and how much they should expect to get in return is a more complicated question, so today I'll break down the pros and cons of pitchers potentially being shopped and later I'll do the same for hitters.
---
Francisco Liriano, 28-year-old starting pitcher
Why trade him? Liriano is an impending free agent with a maddeningly inconsistent track record that now includes following up an unexpectedly brief mid-May demotion to the bullpen with an extremely impressive eight-start stretch in which he held opponents to a .175 batting average with just one homer in 202 plate appearances and logged 49 innings with a 2.74 ERA and 9.5 strikeouts per nine innings.
Two months ago he was all but out of the Twins' plans and two months from now he'll be on the open market, so if a contender wants to trust that Liriano is again among the league's top starters and pay accordingly ... well, let them. Maybe the Twins actually trust Liriano's rebirth, but there's no guarantee he'd sign long term with free agency around the corner and if his asking price was, say, four years and $35 million that's an awfully scary commitment anyway.
Why not trade him? If the Twins' only options were to let Liriano walk for nothing, deal him for something, or make a risky long-term investment to keep him the trade route would likely be my choice, but under the new collective bargaining agreement they can also make a one-year, $12 million qualifying tender. If he accepts, they keep him for 2013 without a multi-year deal. If he declines, they get two draft picks as compensation when he signs elsewhere.
---
Jared Burton, 31-year-old relief pitcher
Why trade him? Essentially found money, Burton has been one of MLB's top relievers after the Twins plucked him off the scrap heap on a minor-league contract this offseason. It was a smart pickup, as Burton was an effective setup man for the Reds from 2007-2009 before arm injuries derailed his career, but no one could have expected him to be this good after back-to-back lost seasons and a 31-year-old with a history of arm problems isn't the safest bet going forward.
As the Twins sadly showed with Matt Capps every once in a while a contender is willing to vastly overpay for bullpen help at the trade deadline and turning a minor-league signing in November into a quality prospect in July would be quite a feat. He's been excellent, but 35 innings are still only 35 innings and selling high on a scrap-heap find and then diving back into the scrap heap in search of the next Burton makes plenty of sense.
Why not trade him? Because the Reds cut Burton loose before he reached free agency the Twins have him under team control via arbitration for next year at a relatively cheap salary. If he were an impending free agent trying to cash Burton in for whatever they can get might be smart, but with one-and-a-half more seasons at their disposal there's no rush to trade him and little reason to do so unless there's legitimately good value coming back in the deal.
---
Matt Capps, 28-year-old relief pitcher
Why trade him? Capps has actually been decent for the Twins, throwing 119 innings with a 3.55 ERA and 71-to-25 strikeout-to-walk ratio since they acquired him from the Nationals for Wilson Ramos in mid-2010, but the problem is that he's a setup-caliber reliever miscast as a closer, they inexplicably gave up a top prospect at a premium position to get him, and have vastly overpaid to keep him at $13 million for those 119 innings.
Some of that is Capps' fault, but most of that is former general manager Bill Smith's fault and the situation as a whole is an example of why focusing on "proven closer" instead of "good reliever" is so silly. With that said, when healthy Capps is a perfectly reasonable 28-year-old setup man who could help plenty of contending teams in a non-closer role and presumably even the Twins aren't crazy enough to pick up his $6 million option for next season.
Why not trade him? There aren't really any reasons for the Twins not to trade Capps, but there are reasons why Capps might not be traded. For starters he's currently on the disabled list with a sore shoulder that has sidelined him since mid-June. Beyond that he's owed about $2 million for the second half, plus a $250,000 buyout of his $6 million option for 2013, and the Twins might have to eat all of that money just to get a marginal prospect in return.
---
Carl Pavano, 36-year-old starting pitcher
Why trade him? Trading marginal prospect Yohan Pino to the Indians for Pavano in 2009 was a shrewd move and re-signing him for $7 million in 2010 was equally sound, but re-signing him a second time last offseason has proven to be a mistake. Pavano's age, injury history, and declining strikeout rate suggested a two-year, $16.5 million commitment was overkill and sure enough he's given them 285 innings of a 4.67 ERA for that money and is now injured.
Before unsuccessfully pitching through a shoulder injury Pavano was still a useful fourth or fifth starter and contenders that miss out on big-name trade targets often look to plug rotation holes with an innings-eating veteran. That's basically what the Twins were doing when they acquired Pavano in mid-2009, and as an impending free agent with no hope for draft-pick compensation he'd be a cheap, no-frills fallback option.
Why not trade him? Much like with Capps there's no reason not to trade Pavano but plenty of reason why he might not be traded. For one thing he's on the DL with a shoulder injury that dates back to May and could still be there on July 31. That makes it tough and perhaps even impossible to sell him, let alone sell him as an innings-eater, and the Twins would have to eat the remaining $4 million he's owed to even start a conversation for a low-level prospect.
---
Nick Blackburn, 30-year-old starting pitcher
Why trade him? Blackburn has been bad, hurt, or bad and hurt since the Twins mistakenly handed him a four-year contract in 2010. They erred simply making a long-term investment in a mediocre pitcher with a miniscule strikeout rate and overstated ground ball-inducing ability, but the other issue is that Blackburn was already under team control via arbitration through 2013. Had they smartly gone year-to-year with Blackburn he'd have been cut long ago.
Instead he's being paid $4.75 million to pitch at Triple-A and is owed another $5.5 million next year, although at least his $8 million option for 2014 can be declined without a buyout. Since signing the deal Blackburn has a 5.51 ERA in 65 starts and ranks dead last among all starters in strikeouts per nine innings (4.2), batting average against (.309), and slugging percentage against (.500). And if they don't trade him, you know he'll be back in the rotation eventually.
Why not trade him? Well, it's not like they'll get anything for him. It's possible they could find a taker if they ate his entire deal, but that won't save any money and certainly won't fetch any kind of useful prospect. Admitting that he's a sunk cost and wiping the slate clean might be addition by subtraction, but with next year's rotation wide open they'll need someone to start games and why dump Blackburn only to spend more signing another washed-up veteran?
---