July 12, 2012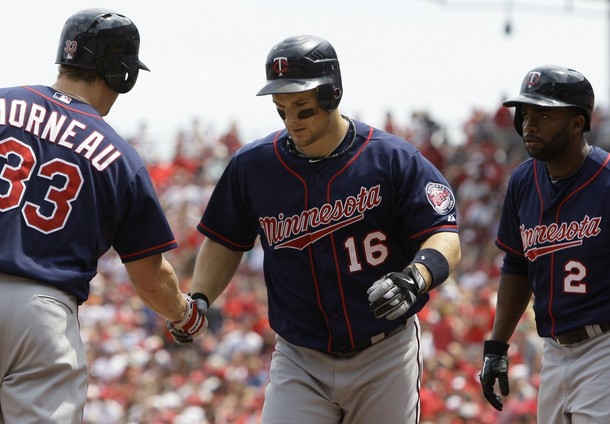 With the league's second-worst record at 36-49 and an 11-game deficit in the AL Central at the All-Star break the Twins have made it clear that they should be sellers leading up to the July 31 trade deadline. Determining which players they should be willing to sell and how much they should expect to get in return is a more complicated question, so yesterday I broke down the pros and cons of pitchers potentially being shopped and today I'll do the same for hitters.
---
Denard Span, 28-year-old center fielder
Why trade him? He's a 28-year-old center fielder with solid defense, good on-base skills, and a reasonable contract that has him under team control through 2015. Ideally that would make him a building block, but it also potentially makes him the Twins' most valuable trade piece and if the reports about the Nationals' interest in Span last year at this time are any indication he's one of the organization's few veteran assets who would bring back a hefty return.
If it takes the Twins another two seasons to build a legitimate contender Span would be 31 years old at that point, with just one season and $9.5 million remaining on his contract, so the idea of building around him is somewhat flawed. Toss in Ben Revere's presence as an obvious center field replacement and there's certainly a strong argument to be made for Span having more value as a means to further the rebuilding effort than as part of the rebuilding effort.
Why not trade him? Just because Span might be over 30, expensive, and close to free agency by the time the Twins put a consistent winner on the field doesn't mean they're forced to trade him now. It's possible his market will be even stronger this offseason or leading up to next year's trade deadline. And while Revere has played well there are still questions about him as an everyday center fielder and leadoff man. If they trade Span they need to get great value.
---
Josh Willingham, 33-year-old left fielder
Why trade him? It seems odd that teams would be willing to give up significant value to trade for Willingham now when they could have simply out-bid the Twins to sign him as reasonably priced free agent this offseason, but that appears to be the case. Willingham is 33 years old, has yet to spend any time on the disabled list after a career filled with minor injuries, and is hitting better than ever, so his perceived value may very well be at an all-time high.
His value to the Twins shouldn't be overlooked since his deal runs through 2014, but as much as I loved the signing at the time it would be a nifty trick to bring in a 33-year-old free agent without forfeiting a draft pick, pay him a modest salary for a great half-season, and then flip him for a quality prospect or two. It's not crazy to imagine the prospects and $14 million saved having more value to a rebuilding team than Willingham's age-34 and age-35 seasons.
Why not trade him? From a "players are also people" standpoint trading him six months into a three-year deal would probably ruffle some feathers and potentially cause future free agents to think twice about coming to Minnesota. And while Willingham is old, injury prone, and unlikely to maintain his current level of production he's been a damn good hitter for entire career, fits Target Field perfectly, and should maintain substantial trade value past July 31.
---
Justin Morneau, 31-year-old first baseman
Why trade him? Aside from a short disabled list stint due to soreness in his surgically repaired wrist Morneau has been mostly healthy and his lack of concussion-related issues is especially encouraging, but he's been a shell of his former. Dating back to the concussion on July 7, 2010 he's hit .236/.298/.386 with 15 homers in 134 games, although he's at least shown signs of life this season with some hot streaks and vintage production versus righties.
Morneau has hit .313/.389/.571 off righties, but his overall numbers are below average for a first baseman thanks to a putrid .124/.160/.202 mark and 27-to-4 strikeout-to-walk ratio off lefties. Contenders in need of left-handed thump may still be interested in gambling on a former MVP and with 2013 being the final season of his six-year, $80 million contract the Twins will likely have moved on from Morneau in 2014 whether he's traded or leaves as a free agent.
Why not trade him? Even if teams are willing to take on the $14 million Morneau is owed next season it's unlikely they'd be desperate enough to do that and give up a decent prospect for a 31-year-old first baseman hitting .246/.312/.440 after missing most of the past two seasons with serious injuries. Simply unloading his salary would have value, but if the Twins believe he's still capable of big-time pop then moving him at next year's deadline is more appealing.
---
Jamey Carroll, 38-year-old second baseman
Why trade him? Carroll's defensive versatility, solid glove, and excellent on-base skills have been as advertised at age 38, but unfortunately so has his lack of power and he's hitting just .234 after four straight seasons above .275. Some of that can be blamed on a .272 batting average on balls in play that's 50 points below his career norm and with a little better luck he's still a very passable stop-gap starter at second base, third base, or even shortstop.
There isn't really a strong need for that on a rebuilding team even if his continued presence won't be a bad thing, but contenders looking to plug an infield hole cheaply could give Carroll a look and he'd fit on plenty of teams as a utility man. Whether teams view him as a starter or a utility man obviously the Twins aren't going to get much for a 38-year-old hitting .234/.318/.278, but clearing his $3.75 million salary from next season's books would have some value.
Why not trade him? It'd be one thing to dump Carroll if his departure cleared room for a top middle prospect ready for an extended opportunity, but as usual the Twins are short on those. Brian Dozier's arrival in the majors already pushed Carroll from shortstop to second base two months ago, 2011 first-round pick Levi Michael is struggling at high Single-A, and the rest of the middle infield cupboard is bare. Dumping him just to dump him wouldn't accomplish much.
---
Danny Valencia, 27-year-old third baseman
Why trade him? Valencia earned his mid-May demotion to Triple-A by playing horribly on both sides of the ball and has since been equally terrible in Rochester, hitting .244/.281/.404 with a 34-to-11 strikeout-to-walk ratio in 55 games. That alone is more than enough to push him out of the Twins' plans and whatever slim chance he had of reclaiming the starting job at third base has vanished with each Trevor Plouffe homer.
He's not as awful as he looked this season, but as a 27-year-old career .263/.303/.391 hitter in the majors and .275/.310/.418 hitter at Triple-A there's little to suggest Valencia has any kind of offensive upside worth waiting for and he's never been much of a defender. It would be delusional to think the Twins could get more than a marginal prospect in return for Valencia, but if a team thinks he'd benefit from a change of scenery they should pull the trigger.
Why not trade him? If you set aside the back story and failure to meet inflated expectations to simply focus on Valencia's skill set he'd have some value as a part-time player. Valencia has flailed away against right-handers, but he's a career .325/.374/.485 hitter versus left-handers and won't top a minimum salary until at least 2015. That makes him useful enough as a cheap platoon player and backup third baseman/first baseman to keep around if there's zero market.
---
Alexi Casilla, 27-year-old second baseman
Why trade him? Much like Luis Rivas before him Casilla has gone from young and supposedly promising to 27 years old and simply not very good, all while the Twins waited and waited for an upside based more on faith than evidence. They've invested six seasons and more than 1,600 plate appearances into the notion that Casilla is capable of being a quality everyday second baseman, but he's a career .250/.306/.333 hitter who's shown zero signs of improving.
This year he went from Opening Day second baseman to little-used utility man despite being paid $1.4 million and it's tough to imagine the Twins retaining Casilla for a third and final year of arbitration at a similar price. It's possible, however, that another team still believes in his speed and athleticism, so if he's not playing now and he's not in the Twins' plans for 2013 and beyond trading Casilla for even a marginal prospect would beat non-tendering him this winter.
Why not trade him? It's also possible every other team has given up on Casilla being more than a decent backup too, in which case he won't fetch anything via trade and the question is whether he's worth keeping around for 2013. I'd say no, in part since iffy defensive shortstops make poor utility men and in part because enough is enough, but if the Twins still aren't ready for a clean breakup at least $1.5 million or so wouldn't put much of a dent in the payroll.
---