July 25, 2012
• In what may have been his final start in a Twins uniform Francisco Liriano turned in a clunker Monday night in Chicago, failing to make it out of the third inning while the White Sox got to him for seven runs. Coming into the game Liriano had gone at least five innings in every start since April 27, but he allowed three homers in 2.2 innings after allowing a total of three homers in his previous 71 innings.
Obviously one bad start isn't likely to significantly impact someone's trade value and even with the ugly outing Liriano has a 3.68 ERA, .190 opponents' batting average, and 10.8 strikeouts per nine innings in 11 starts since rejoining the rotation in late May. Still, it was rough timing considering he has a maximum of one more start before the July 31 trade deadline and at least a half-dozen scouts were on hand to file reports to interested teams.
In terms of what the Twins might actually get for Liriano, the Marlins' haul for fellow impending free agent starter Anibal Sanchez offers some clues. Miami sent Sanchez and good but not great infielder Omar Infante to Detroit for a three-prospect package led by 21-year-old right-hander Jacob Turner, a 2009 first-round pick who ranked among Baseball America's top 30 prospects in 2010, 2011, and 2012. Fans should be thrilled with a Turner-like prospect.
• On a related note, this week's Gleeman and The Geek episode featured me arguing with John Bonnes about whether or not Liriano's trade value was likely to continue rising if the Twins held off making a trade until right before the deadline.
• Terry Ryan made it clear he'll be looking for high-upside prospects rather than MLB-ready prospects at the trade deadline, which is good to hear. Putting a decent team on the field for 2013 would be nice, but taking a short-term view of a long-term problem would be a mistake and Ryan deserves credit for recognizing that even when he might not be general manager for the long haul. They simply need talent and putting any limits on that search is silly.
• Two weeks ago Glen Perkins publicly outed himself as a Fan Graphs-reading, batting average on balls in play-quoting stat-head, which means he's now subject to the same anti-sabermetrics taunting that lowly bloggers like me have long endured on a regular basis. Case in point, this Twitter exchange between Perkins and a media member bully following Monday night's game in which Twins hitters grounded into five double plays: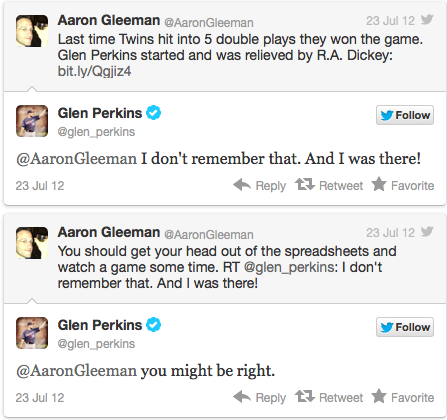 Nerds are the worst, amirite?
• Carlos Gutierrez has been limited to 10 appearances at Triple-A due to shoulder problems and now the 2008 first-round pick may be out until next season following arthroscopic surgery. If healthy Gutierrez still projects as a potential ground ball-getting middle reliever, but with a 4.90 ERA in 257 innings between Double-A and Triple-A his on-field performance has never matched the Twins' frequent touting of his raw stuff and he'll be 26 years old in September.
• Brett Jacobson, the minor-league reliever acquired from the Orioles along with Jim Hoey for J.J. Hardy, has been released. Jacobson was always a marginal prospect and completely fell apart at Double-A this season, walking 45 batters and allowing 41 runs in 42 innings. Hoey was lost on waivers to the Blue Jays back in December, so the Twins officially got zero value out of the Hardy trade that was all kinds of misguided even if they'd gotten a better return.
• Jason Kubel had a three-homer game this week and is hitting .297/.368/.577 with 21 home runs and an NL-leading 71 RBIs for the Diamondbacks, but it's tough to blame the Twins for letting him walk. Ryan Doumit has matched his Twins production at a fraction of the cost and Kubel has hit .257/.320/.414 away from Arizona's hitter-friendly ballpark. And for all the talk about Target Field killing Kubel's power he hit .275/.335/.450 on the road in 2010-2011.
• I'm not saying this couldn't have been me, but it wasn't me: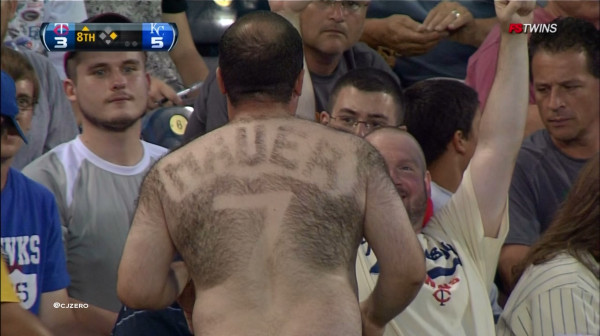 My favorite part? Someone else had to do the sculpting of that Joe Mauer back-hair jersey.
• It's too bad that so much of Chris Parmelee's season has been spent collecting dust on the Twins' bench, because when given a chance to play regularly at Triple-A for the first time in his career he's been very impressive. Parmelee, who initially skipped Triple-A to begin this season in the majors, has hit .302/.446/.510 with four homers, eight doubles, and more walks (24) than strikeouts (18) in 28 games for Rochester.
• In their never-ending search for pitching depth the Twins have signed Eric Hurley, a former first-round pick who was released from Triple-A by the Angels. Hurley is still just 26 years old and ranked among Baseball America's top 100 prospects in both 2007 and 2008, but hasn't pitched in the majors since 2008 and has a 5.43 ERA in 60 career starts at Triple-A. He's purely depth for Rochester at this point.
• Trevor Plouffe's thumb injury is a shame, because even after his power binge of 13 homers in 22 games came to an end in mid-June he's hit .283/.354/.460 with five homers, five doubles, and 11 walks in 26 games since. And overall since carrying a .133 batting average into May 15 he's hit .296/.344/.618 with 18 homers in 52 games.
• When asked by Ken Rosenthal of FOXSports.com if the Twins are shopping Josh Willingham an unnamed general manager replied: "He's out there if you want to pay, like, forever."
• Michael Rand of the Minneapolis Star Tribune passes along the best Tom Kelly picture ever:
I'm waiting for Zubaz to make a comeback. Maybe we can get hipsters to wear them ironically?
This week's blog content is sponsored by Ballplayer: Pelotero, a controversial new documentary about baseball prospects in the Dominican Republic starring Miguel Sano as a 16-year-old.