September 10, 2012
Previous sifting through the wreckage: Darin Mastroianni.
As the Twins head for a second straight 90-loss season one of the few positives about all the losing is that it provides an excuse to give extended looks to marginal prospects, career minor leaguers, and various other players who wouldn't get the same opportunities for a 90-win team. There's a finite amount of playing time available over the course of 162 games and losing teams can squeeze value out of that by uncovering players who might be future assets.
In rare cases giving those chances to players who might not otherwise get them leads to guys like Trevor Plouffe and Scott Diamond emerging as potential long-term building blocks, but most of the time it simply means finding a decent fifth starter or solid middle reliever or capable fourth outfielder. Either way, as they play for little more than draft position and pride down the stretch the Twins can evaluate role players for jobs in 2013 and beyond. Players such as ...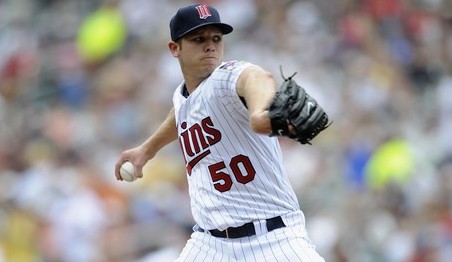 Casey Fien was originally picked out of college by Detroit in the 20th round of the 2006 draft and spent the first five seasons of his career in the Tigers' farm system, but the 6-foot-2 right-hander has bounced around a ton since then. During the span of just three weeks in March of 2010 he was waived by the Tigers, claimed off waivers by the Red Sox and then the Blue Jays, released by the Blue Jays, and then re-signed to a minor-league deal by the Tigers.
He spent most of 2010 at Triple-A for the Tigers, with a pair of one-game stints in the majors mixed in, and then left as a minor-league free agent that winter. Fien signed with the Astros, spent all of 2011 at Triple-A, and then hit the open market as a minor-league free agent again last offseason. And that's how he wound up with the Twins, signing a minor-league contract in January and heading to Rochester after failing to win an Opening Day roster spot.
Fien and his agent did well in choosing the Twins, because few other pitching staffs have had the combination of injuries and terrible performances needed for him to get another chance in the majors at age 28. His work at Triple-A wasn't exactly screaming out for a call-up, although looking beyond his 4.20 ERA in 33 relief appearances Fien also had a strong 42-to-14 strikeout-to-walk ratio in 46 innings and held opponents to a .228 batting average.
And those solid numbers are more or less in line with the rest of his track record, which includes 206 total innings at Triple-A with a 3.46 ERA and 193-to-54 strikeout-to-walk ratio. In those 206 innings he's also served up 27 homers, which is a lot for a Triple-A reliever, and Fien's extreme fly-ball tendencies make him a risky choice for high-leverage spots. However, as we've seen since his July 4 call-up Fien's raw stuff is actually pretty good.
His average fastball has clocked in at 93 miles per hour, his slider has looked sharp, and his cutter gives him a solid three-pitch repertoire. Small sample size caveats apply to his 27 innings with a 1.32 ERA and 26/8 K/BB ratio, especially since he's yet to allow a homer on 35 fly balls, but between his consistently strong minor-league track record and fastball/slider combo Fien looks capable of being a useful middle reliever if the Twins decide to stick with him.
This week's blog content is sponsored by Mr. Base Man, a book about personal redemption and the Minnesota Twins by Darrell Roehl. Please support him for supporting AG.com.