September 11, 2012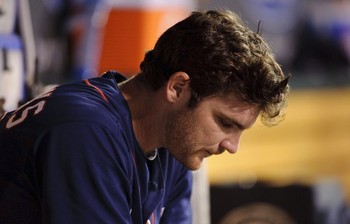 Much has been made about Liam Hendriks beginning his career with a 0-9 record and failing to record a win through 16 starts. Judging pitchers on wins and losses is mostly pointless, especially when one of those "losses" was a complete game in which he allowed one run, but even setting that aside Hendriks has a 6.19 ERA and .324 opponents' batting average while serving up 15 homers in 84 innings.
In other words, it hasn't been pretty whether you focus on his record or his overall numbers. With that said, Hendriks is still just 23 years old with a sub-3.00 ERA at every level in the minors and a young pitcher struggling in his first taste of the big leagues is hardly a death sentence. In fact, here's how Hendriks' current numbers through 16 career starts compare to another young Twins pitcher--let's call him "Pitcher X" for now--through 16 career starts:
                                 IP      ERA     SO     BB     HR     OAVG
Hendriks after 16 starts       84.1     6.19     54     25     15     .324
Pitcher X after 16 starts      93.1     5.40     49     25     17     .339
"Pitcher X" is Brad Radke, about whom people probably said things like "he doesn't throw very hard" and "he gives up too many homers" as he posted a 5.40 ERA through 16 starts with a .339 opponents' average and 17 homers in 93 innings. That doesn't prove anything, of course--plenty of other pitchers have had similarly poor numbers through 16 starts and simply gone on to be bad pitchers--but the point is that writing off Hendriks would be a mistake.
---
A quick note for Gleeman and The Geek listeners: This week's episode has been pushed back until tonight because ... well, John Bonnes apparently has a life or something. My apologies. Delaying the recording does give us a chance to solicit questions and/or topic ideas, so if you have anything to ask us please post it in the comments section and we'll answer it on the podcast tonight. And it definitely doesn't have to be about the Twins or even baseball.
This week's blog content is sponsored by Mr. Base Man, a book about personal redemption and the Minnesota Twins by Darrell Roehl. Please support him for supporting AG.com.