September 19, 2012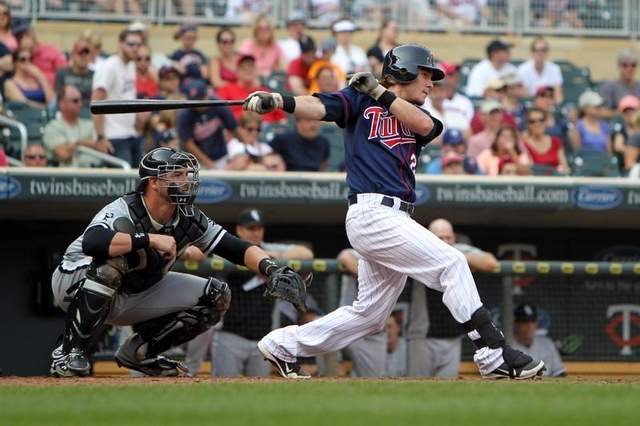 • As part of September roster expansion the Twins called up just two players, Luis Perdomo and Eduardo Escobar, but injuries to Joe Mauer and Ryan Doumit left Drew Butera as the team's only healthy catcher and led to Chris Herrmann being added to the 40-man roster as a third call-up. Herrmann ranked 20th on my list of Twins prospects coming into this season and should hold a similar spot for next year after a solid Double-A campaign.
Herrmann hit .276/.350/.392 in 127 games for New Britain, nearly matching his .264/.357/.382 career line and showing his usual on-base skills, good strike-zone control, and modest power with 58 walks versus 89 strikeouts and 10 homers in 558 plate appearances. His performance at Double-A was nothing special, particularly for a 24-year-old repeating the level after playing 97 games there in 2011, but Herrmann likely has a big-league future beyond this month.
How long and in which role that future will be depends largely on his defense behind the plate, as Herrmann was an outfielder at the University of Miami before moving to catcher at high Single-A in 2010. This season he played 83 games at catcher compared to 43 games between left field and designated hitter. His defense gets mixed reviews, but Herrmann threw out 44 percent of steal attempts this year and 38 percent in 2011.
Another issue for Herrmann is that he's a left-handed hitter hoping to become the third catcher behind a left-handed hitter in Mauer and a switch-hitter who swings better from the left side in Doumit. That makes Herrmann less than an ideal fit, although his ability to play other positions should be handy and it's not as if Butera's offensive ineptitude coming from the right side helps anyway. Herrmann is likely Triple-A bound next year, but he's shooting for Butera's job.
• Rene Rivera, a journeyman catcher who played 45 games for the Twins last year, indicated via Twitter that he was upset about being passed over for the call-up in favor of Herrmann:
I guess I should not expect promises to be kept. Best of luck to everyone. #Disappointed #Lies
Rivera later tried to put that toothpaste back in the tube, tweeting that he never mentioned the Twins and various other damage control, but there seemingly isn't a whole lot of nuance or need for interpretation in his original words. I have no idea what was or wasn't promised, but based on performance alone Rivera didn't warrant more time in the majors. He's a 29-year-old career .193 hitter in the majors and hit .226/.307/.385 at Triple-A this year.
• After going 3-for-4 with two walks last night Mauer is now hitting .325 with a league-leading .419 on-base percentage, which is remarkable considering he was hitting .265 on May 18. Here's a list of all the players in Twins history with an on-base percentage of .410 or higher:
                    YEAR      OBP
Joe Mauer           2012     .419
Joe Mauer           2009     .444
Joe Mauer           2008     .413
Joe Mauer           2006     .429
Chuck Knoblauch     1996     .448
Chuck Knoblauch     1995     .424
Rod Carew           1978     .411
Rod Carew           1977     .449
Rod Carew           1975     .421
Rod Carew           1974     .433
Rod Carew           1973     .411
Harmon Killebrew    1970     .411
Harmon Killebrew    1969     .427
And then there's also this: Mauer's current OPS? .877. Mauer's career OPS? .874.
• Pedro Florimon looks good defensively at shortstop and can't hit, so Ron Gardenhire has predictably taking a liking to him immediately:
I'm very comfortable with him out there. We're not going to name a starting lineup [for 2013] or anything like right now, or even later, but I really like him out there. I think there are things he can get better at ... but I like him. I like the way he moves, I like the way he watches. He pays attention. He's got great hands.
Assistant general manager Rob Antony agreed about Florimon and also indicated that Brian Dozier's future may no longer be at shortstop:
Florimon has kind of made the plays and shown some of the range that you really like from a shortstop, that Dozier didn't necessarily do. So it might be a situation where we still think Dozier can be a good player, but he may end up being a second baseman instead of a shortstop.
While perhaps a surprise to the people who didn't know any better and bought into the misguided hype surrounding Dozier's arrival, his defense at shortstop has always been in question. Of course, for as bad as Dozier was offensively this year there's at least some reason to believe he's capable of being a decent hitter. The same is not really true of Florimon, who has hit .228/.284/.327 in the majors and .250/.318/.352 between Double-A and Triple-A.
• According to Baseball-Reference.com the Twins' attendance is down 4,967 fans per game, which is a drop of 372,000 total fans compared to this same point last season. And that represents tickets sold rather than actual attendance, of course. Only the Astros have seen their attendance drop more than the Twins this year, no other team is down more than 3,400 fans per game, and across baseball overall attendance is up nearly 1,000 fans per game.
• In their last 324 games (two full 162-game seasons, basically) the Twins are 127-197 for a .392 winning percentage.
• Josh Willingham became the fourth player in Twins history with 30-plus homers and 100-plus RBIs in a season, joining Harmon Killebrew (seven times), Justin Morneau (three), and Gary Gaetti (two). Overall the Twins now have 13 of the 665 total instances of a hitter reaching 30-100 since 1961. By comparison, Alex Rodriguez has 14 seasons with 30-100 all by himself.
• After eight years with Beloit as their low Single-A affiliate the Twins have switched their Midwest League team to Cedar Rapids, which offers better facilities in addition to being closer to Minnesota.
• Phil Miller of the Minneapolis Star Tribune does Twins updates for Baseball America and got an interesting quote on Tsuyoshi Nishioka from vice president of player personnel Mike Radcliff:
The player we all saw was not the player we scouted in Japan. For whatever reason, we haven't seen that guy. I mean, none of us believed that he wouldn't hit.
When the Twins spent $15 million to acquire Nishioka in December of 2010 he was coming off a batting title in Japan, but a deeper look at his numbers showed that the .346 average was due to unsustainable success on balls in play. However, even projections adjusting for that had Nishioka as a decent all-around hitter. Instead he's hit .215/.267/.236 for the Twins and .260/.318/.327 for Rochester. Radcliff is right, but sadly the Twins were very wrong.
• Twins prospects Miguel Sano and Oswaldo Arcia were both selected for Baseball America's minor league all-star team, which includes a total of 30 players.
• This year eight American League pitchers with at least 50 innings have posted an Expected Fielding Independent Pitching (xFIP) worse than 5.00. Three of them are Twins: Jeff Gray, Nick Blackburn, Alex Burnett.
• Perdomo, who the Twins called up while leaving Anthony Slama and his consistently great numbers to rot in the minors, now has a 5.06 ERA and 10 walks in 10.2 innings this season.
• Complete list of players in Twins history with more plate appearances and a lower OPS than Alexi Casilla: Al Newman, Danny Thompson.
• Old friend Pat Neshek, who spent most of the past three seasons at Triple-A before being called up by Oakland three weeks ago, now has a 0.63 ERA in 17 appearances for the A's.
• Regarding the Twins' offseason plans John Shipley of the St. Paul Pioneer Press wrote that the free agent starting pitcher market "isn't deep." That jibes with some comments general manager Terry Ryan made previously, but on this week's Gleeman and The Geek episode we spent about 45 minutes breaking down the various free agent starters and found that to be anything but true. It's plenty deep, especially in the type of pitchers the Twins usually go after.
This week's blog content is sponsored by Sky Spinner Press and EmilyMeier.com. Please support them for supporting AG.com.