September 21, 2012
• If they ever discover something like this in Chinese food I'm going to be a billionaire.
• Headline of the week/weak: "Man killed by truck after allegedly running from Waffle House without paying."
• On second thought, maybe this is actually the headline of the week/weak: "Woman finds out late husband was also her father."
• I'm pretty sure they're just taunting me now.
• Forget the fact that this happened in a Yankee Stadium bathroom, the bigger story is that it happened despite the guy wearing a CC Sabathia shirsey.
• I hadn't watched Survivor since the first season back in 2000, but Jeff Kent being on the show got me tune in for the new season premiere and I recapped the former MVP's debut.
• As part of this season's hazing Twins rookies dressed up like they were in a chain gang: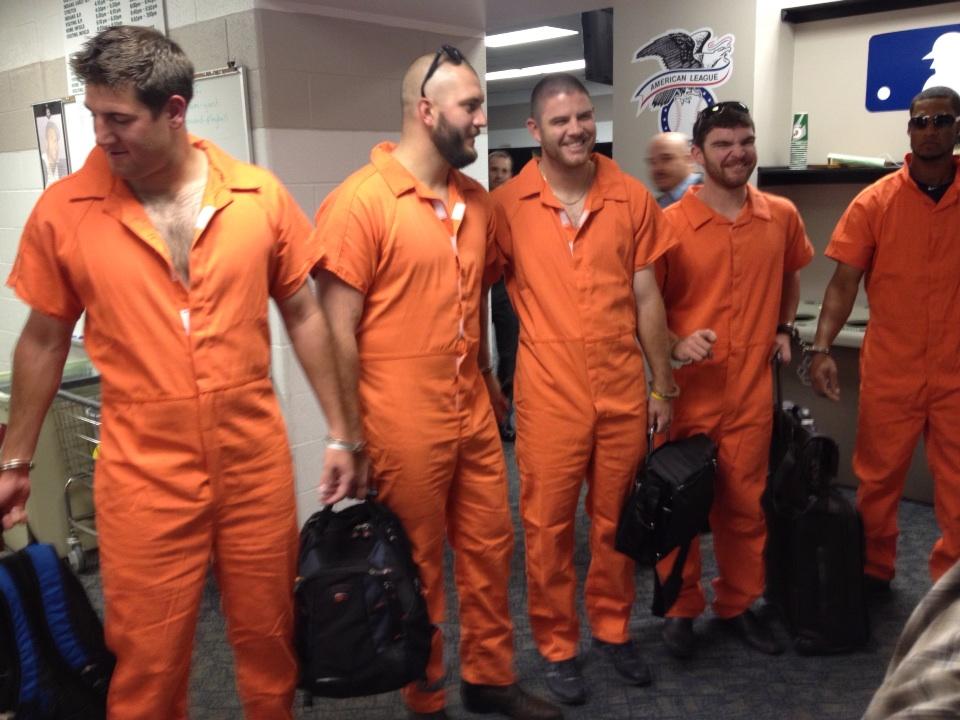 All things (and potential outfits) considered, the rookies got off pretty easy this year.
• Some things are too far-fetched even for science fiction.
• Vince Young really knew how to party.
• If you're wondering how the Twins can fix their starting rotation this offseason, we broke down all the free agent pitching options for 45 minutes on this week's Gleeman and The Geek.
• And if you're wondering what a Gleeman and The Geek recording looks like, here's a picture of us in "action."
• One of the original baseball bloggers, Jon Weisman of Dodger Thoughts, called it quits after 10 years of great work. He was willing to keep going, but couldn't justify taking so much time away from his family and day job without getting paid to write about the Dodgers. Hmm.
• I love Google and I love DMX, so DMX's reaction to learning about Google was great:
Reminds me of my grandparents' reaction when we bought them a computer a few years ago.
• Not only did the great Tom Scharpling direct Aimee Mann's new video, he got Jon Hamm to play him in the video.
• Ted Williams writes pretty well for a 95-year-old who's been dead since 2002.
• I sometimes write posts on HardballTalk just for the accompanying picture choice.
• Kansas City police went undercover to stop underage binge drinking at Royals games and then made some jokes at the Royals' expense.
• Who is Chris Herrmann? I'm glad you asked.
• One of my favorite basketball writers, Sebastian Pruiti, has left Grantland to take a job as the Oklahoma City Thunder's video analyst. I'll miss his Twitter ramblings most.
• I'm starting to like the White Sox more and more.
• This week in Chelsea Peretti being awesome involves Bobby Lee and lots of weirdness:
I suppose at this point I should just make her an Official Fantasy Girl of AG.com candidate.
• Good on former MLB Network host and current CSN New England reporter Trenni Kusnierek for publicly sharing her struggles with depression.
• My modest contribution to sabermetrics is still (sort of) breathing despite me.
• Back by popular demand, this week's most amusing, weird, and random search engine queries that brought people here:
- "How to make chicken wings like Pizza Hut"
- "320 pounds and want to conceive a baby"
- "Bryce Harper fan fiction"
- "Ron Mahay wife"
- "Yuengling in Minneapolis"
- "Picture of old man asleep in a meeting"
- "Kevin Slowey engaged"
- "Boof Bonser tramp stamp"
- "Ricky Rubio my husband"
• I'm hoping everyone checked out the AG.com sponsor of the week, Emily Meier, a fiction author with a very compelling story. Here's part of a Minneapolis Star Tribune profile of her:
For years, there had been nibbles from publishers in New York, but no bites. Now, with breast cancer metastasizing through her bones, she decided she didn't have time to wait; she would publish them herself. But because she was Emily Meier--driven, focused, hardworking--she didn't do this halfway. Instead, she started her own publishing company.

Sky Spinner Press of St. Paul, incorporated as a for-profit business and co-owned by Meier's son and daughter, has published all six of her books in record time. ... The books are done, but Meier continues to write daily---her website (www.emilymeier.com) is an orderly maze of drop-down menus and essays and suggestions for book clubs and links to reviews and interviews. There's even a page of quotes from rejection letters she received over the years.
As someone whose entire writing career has been shaped and fueled by rejection I view Meier as a kindred spirit and it would make me incredibly happy if everyone who visited AG.com this week would take some time to visit her website as well. Poke around Meier's site, look at the rejection letters, get familiar with her collection of writing, and help fulfill someone's dream.
• Finally, in honor of the Twins' rookie hazing outfits this week's AG.com-approved music video is "Chain Gang" by Sam Cooke from 1960: